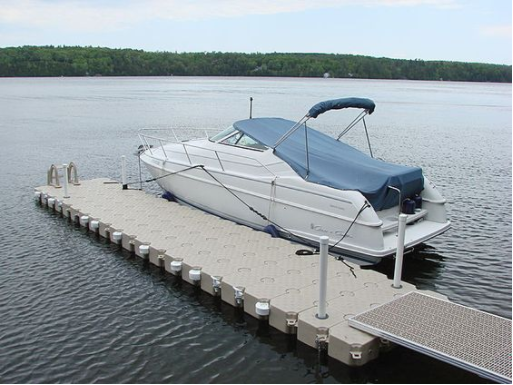 Source: Pinterest
Plastic floating docks have been famous for lakes and ocean bays for the past decades. These modular cubes of synthetic resins are easy to build, install, and remove, as well as versatile, affordable, and only require minimal maintenance.
Another is that they can be modified. You would be surprised about the cool things you can do with a floating dock. Here are the ten styles for different waterfront solutions with their beneficial features.
Residential Floating Dock
Residential floating docks are floating platforms that have:
Topnotch Floating Capability
Floating docks are resilient and designed to float on the water's surface, making them adaptable to the tide's natural movement. As a result, they are reliable substitutes for stationary docks.
Additional Choices for Customization
Modular floaties may be in different forms and sizes. Still, they can be customized to whichever type of platforms you want to assemble.
Floating Swim Platform
They can also be used as a floating swimming platform.
You can customize your docks into a floating swimming platform. What is more, you may extend it based on your preference and style the way you want it, like a simple rectangular shape, U-shape, L-shape, and more.
Floating Bridge and Walkway
Floating bridges and walkways are manufactured and designed to administer a durable decking that is: 
Resistant to Heavy Traffic
Most manufacturers use high-quality, high-density polyethylene (HDPE) to produce durable products coated with an anti-UV agent. Thus, pontoon walkways and bridges are durable enough to endure heavy traffic and other types of impact.
The modular tabs with thick lags ensure a secured connection of the entire floating dock system. 
Given with Additional Safety
Modular plastic floating walkways and bridges have secured handrails and anti-slip for safety.
Floating Platform
A floating island on the water can serve several purposes, such as:
Floating platforms can be wide as you want them to be, as long as you adhere to your area's standard building restrictions. They can be used for industrial assembly events.
They can be used as a spot for relaxation and water recreational activities.
Extended floating platforms help you get closer to your desired spot on the water.
Floating Drive-on Boat Dock
This docking system helps and supports boat owners because of:
If you prefer a great parking space for your boat, you can quickly expand your drive-on boat dock.
Portable Parking Lot on Water
This docking system is like an auto parking space, only on the water. So now, you can park your boat at your waterside property.
Easy Access and Better Security
You can stop worrying about your boat being vandalized, damaged, or taken from the port because you can park it near your residential area.
Cage Fish Farming
Are you familiar with a floating fish farming cage? Fish cage farming, the method of keeping fish in cages or pens, is done all over the world. Thanks to modular floating docks, an alternative material can be used in keeping fish concentrated in a particular area.
Land Saving and Full Usage of Water
Modular floaties can achieve the same goal in cage fish farming. Besides, only less labor will be required since there's no need to dig a fish pond.
You can quickly put more portable floats if expansion is necessary. 
Good Fish Farm Management
Cage culture floats can endure water flotations. Through these cages, it will be quicker to feed and catch fish. Therefore, having proper fish farming management.
Rowing Dock
A rowing dock system requires focus and attention to dock structuring details. But whatever type of modular plastic floaties you have, you can surely design your rowing docks. 
Durable and stable rowing docks offer a secured docking system for rowers and coaches to quickly enter and exit their shells.
A low floating dock is perfect for calm water types, providing easy rowing access.
Jet Ski Dock
If you have a jet ski, you might require a jet ski dock because of the following reasons:
Acquiring a jet ski dock helps you keep your watercraft in good condition and inhibits possible damages made by marine inhabitants.
They Give Easy Access on Water
It will be less hassle to transport and store your jet ski once you have this. But, more than that, it will be fun to experience launching your jet ski directly to the water's surface.
They are Good Investments
Your jet ski will only demand lesser maintenance because of dock safekeeping. Indeed, you will get your money's worth.
Floating Marina Docks
Marina docks are used for the mooring of boats and other types of personal watercraft (PWC). Plastic floating docks can be used to construct and install marina docks.
Easy Access on PWC and Water
Because of floating marina docks, anyone can have quick access to their PWC on water.
They can serve as parking spaces for your PWC.
Floating Restaurant
Plastic floating docks support floating house structures, as well as floating restaurant ventures. They provide:
Getting a good view of the sea while eating in a café or resting in your dwelling space gives a good sense of relaxation.
Cost-effective Investment
A floating café or seaside resort will draw tourists, who can be your source of good business opportunities. Instant access to the sea with a beautiful ocean view will keep your money rolling.
Conclusion
It is surprising to know that there are many nifty waterfront solutions that you can do to portable floating docks. Since they are handy and multipurpose, they can be a source of a good investment.