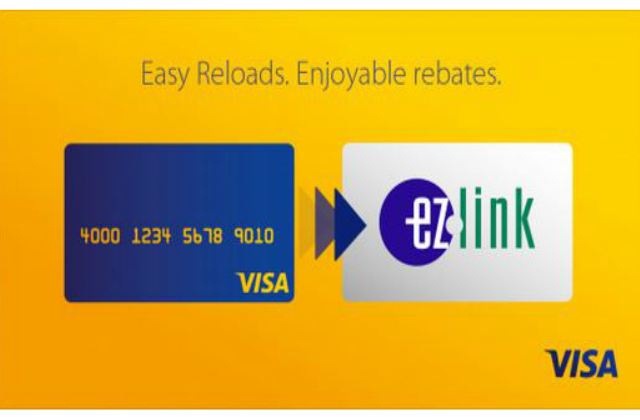 VISA has launched a new promotion and is rebating $30 credit back to your EZ-Link Card.
From 1 Jun to 31 Jul 2015, the first 992 eligible cardholders who make a minimum of $30 top-up selection on their EZ-Link card will receive a $30 rebate on their first top-up.
You need to register for the EZ-Reload auto top-up using your VISA credit or debit card.
Steps:
1. Apply for EZ-Reload by clicking on EZ-Reload by Card on http://ezlink.com.sg/ez-reload-auto-top-up
2. Fill up the application form. (Make sure you select $30 on the "EZ-Reload amount")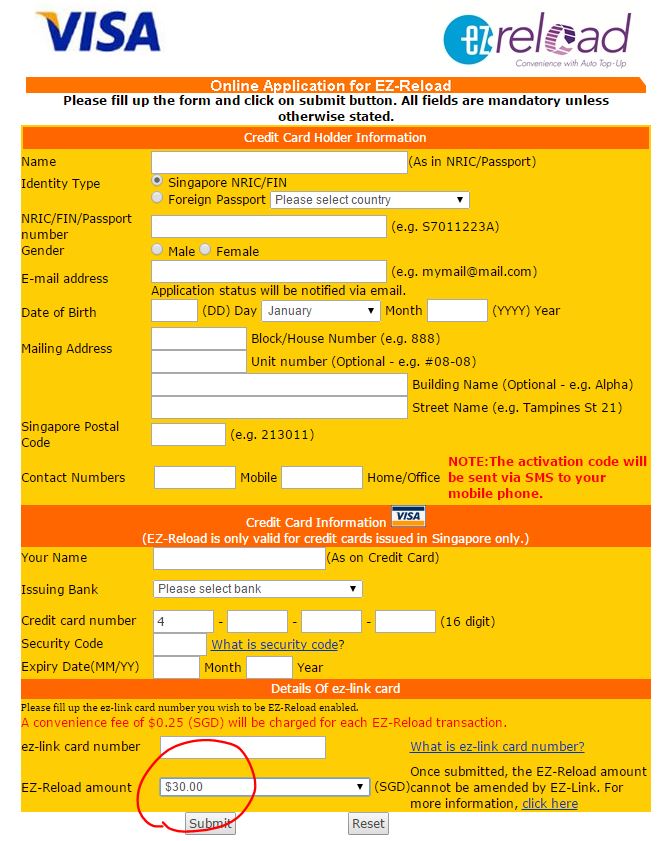 3. You will receive
An acknowledgement email within 24 hours
An SMS with the Activation code (ARN) within 3 working days
A second email with your application status within 5 working days
4. Activate EZ-Reload with the Activation code (ARN) at any General Ticketing Machine with your ez-link card. For activation instructions please click here.
Terms & Conditions
Promotion period: 1 June 2015 – 31 July 2015.
This promotion is open to ez-link cardholders who sign up for EZ-Reload by Card facility using their Visa card online via the EZ-Link website. To qualify, ez-link card holder must activate the EZ-Reload facility on the card and made at least one EZ-Reload top-up on his ez-link card with a minimum top-up selection of $30 value within the promotion period.
The following customers will not be eligible to participate in the lucky draw:


| | |
| --- | --- |
| (a) | Customers with outstanding payment(s) to EZ-Link; |
| (b) | Cards that have been terminated/pending termination do not qualify. Each customer can only win once in this promotion, but may still qualify for other promotions held by EZL; or |
| (c) | Customers who have signed up for EZ-Reload on their co-brand ez-link cards issued by banks. |

The first 992 eligible cardholders during the Promotion period who activate their card after they have signed up for EZ-Reload by Card using their Visa card with a minimum top-up selection of $30 value and successfully initiate a top up from 1 June 2015 to 31 July 2015 will receive a $30 rebate on the first top-up value.
The $30 rebate amount will be credited back into the cardholder's registered ez-link card, and they will have to use My EZ-Link Mobile App (for those with NFC phone, or proceed to any OCBC ATM or AXS machine to synchronise the monies into their card.
Winners will be informed via their registered EZ-Reload email at the end of the campaign on the notification of the rebates. Winner shall collect their prize within 3 months, or the uncollected prize shall be forfeited.
Decision of the organizers shall be final and binding on all participants and winners.
EZ-Link reserves the right at any time in its absolute discretion to


| | |
| --- | --- |
| (a) | Cancel or modify the campaign; and |
| (b) | Substitute, withdraw or cancel any prize without prior notice and without having to disclose any reason therefore and without any payment or compensation whatsoever. |

By participating in this lucky drawer, winners consent to the public disclosure and use of their names and (truncated) identification/passport number for notification and publicity purposes.
These terms and conditions shall be interpreted in accordance with the laws of Singapore.
Winners are not allowed to change their prizes.
For more info, visit: http://www.visa.com.sg/personal/offers/sg15_ezlink.shtml