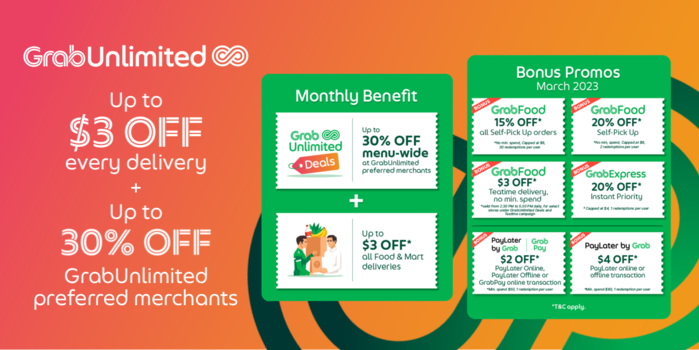 Haven't tried GrabUnlimited yet? Is it a case of being unsure about whether the savings would outweigh the fees, or not knowing what GrabUnlimited is about? Well, good news for fence-sitters: Grab has recently revamped their GrabUnlimited subscription plan with a slew of savings and benefits that are fit for all lifestyles!
New users can now try it free of charge for the first month for a limited time too! Read on to see why this subscription plan is a must-have to save on your food costs — and how you can enjoy stackable savings right from your first Grab order.
What Is GrabUnlimited?
First thing first, what is GrabUnlimited? It is a subscription service where users can enjoy up to $3 off every Food and Mart delivery, along with GrabUnlimited-exclusive promos for selected merchants and savings for other Grab services. There is no lock-in period as subscribers can cancel anytime without penalty.
Incredible benefits for GrabUnlimited subscriber
For only $5.99 per month, these are the incredible benefits that you will unlock:
99 x $3 OFF GrabFood delivery vouchers (min. spend $15)
Unlimited deals of up to 30% OFF menu-wide at GrabUnlimited preferred merchants
99 x $3 OFF GrabMart delivery vouchers (min. spend $30) for preferred stores
99 x $2 OFF GrabMart delivery vouchers (min. spend $30) for all other stores
1 x 10% OFF GrabExpress delivery vouchers (capped at $4)
Other bonus vouchers that refresh monthly, such as these for the month of March:

30 x 15% off GrabFood self-pick up vouchers (capped at $8)
2 x 20% off GrabFood self-pick up vouchers (capped at $8)
$3 Off GrabFood delivery fee, with no min. spend, valid for stores offering GrabUnlimited Deals or Teatime discounts
1 x $4 off PayLater by Grab voucher (min. spend $80)
How to stack savings upon savings
With so many quantities and varieties of vouchers from GrabUnlimited, the opportunities to utilise them are plentiful. It's become an everyday staple for me — here's how I saved $21 last Friday alone with my GrabUnlimited plan.
Breakfast to fuel your mornings
Woke up late, and rushing off to the office? Don't skip your meals — start your day right by ordering your breakfast from merchants that offer GrabUnlimited deals, and get it delivered straight to your office! With GrabUnlimited, you will automatically enjoy up to 30% off PLUS $3 off your delivery fee.
For breakfast, I ordered from the Gloria Jean's Coffees outlet near my workplace and managed to shave $7 off my order with the stackable promos — which is more than the subscription cost itself. This came in very handy, as I was late for an early morning meeting. What a happy start to the day!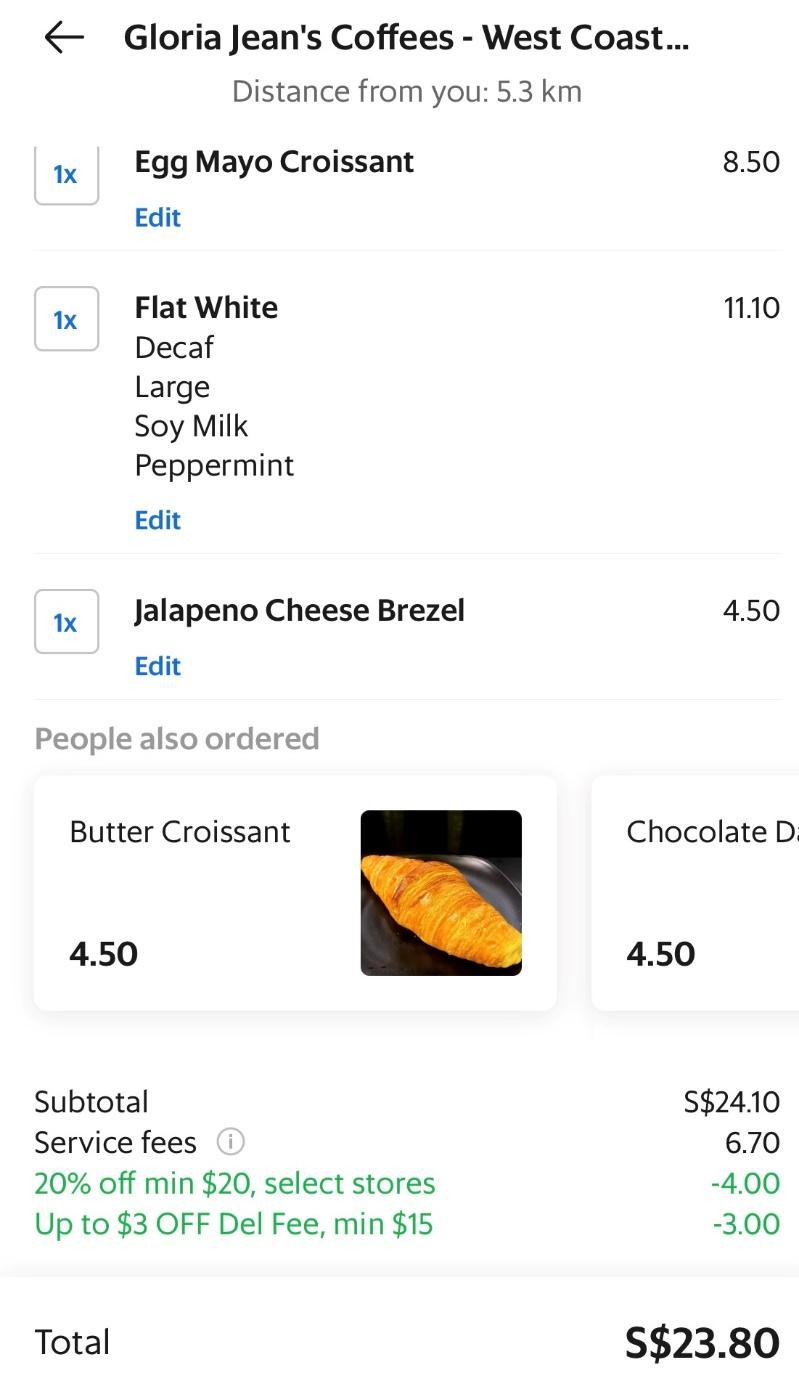 Alternatively, if you have some time to spare and want to clock in those extra steps, you can also utilise your bonus GrabUnlimited vouchers to further offset your cost. For example, in the month of March, GrabUnlimited offers vouchers for up to 20% off your GrabFood self-pickup orders.
If I wasn't feeling lazy that day, my total would've come up to $16.66 instead ($7.84 off)!
TGIF — inviting your friends over for a chill night out
Having some friends over for a Friday night hang, but realised you're all out of drinks and snacks? GrabUnlimited to the rescue! You can order all your needs from GrabMart — wines, alcohol, snacks and more, all delivered right to your door. This convenience saves you time and energy, and you can stay home to spruce up the place before your guests come over.
Last Friday, I was more than relieved to have survived the end of a hectic week. As per my weekly routine, I invited some friends over last Friday, and decided to get all my party necessities with GrabMart. First on the list: wines! The Wine Connection offers a wide selection of wines to suit all tastes. I carted out a Riesling and Merlot for some variety.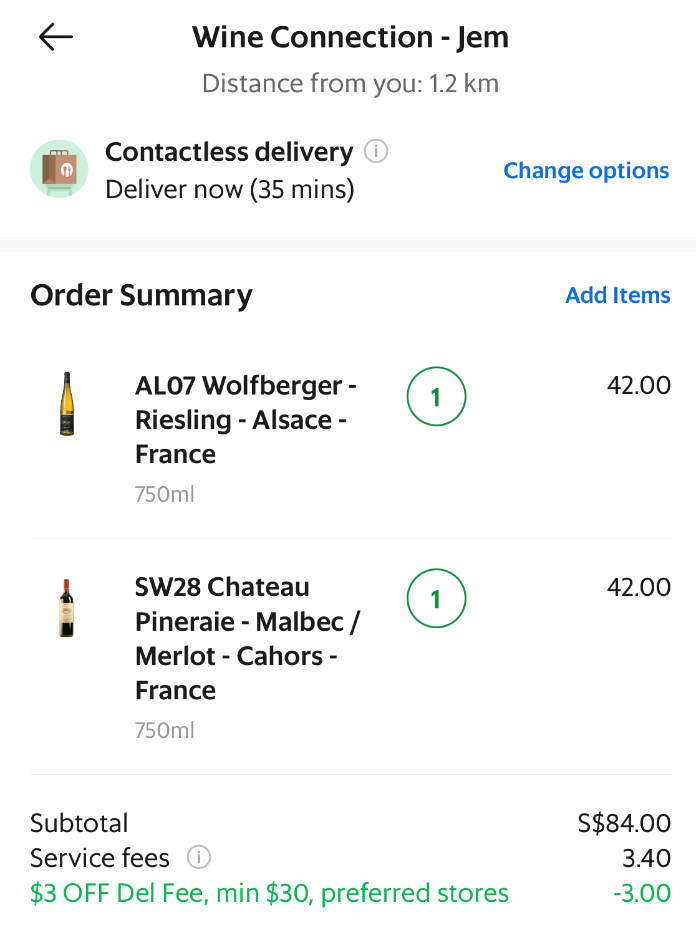 What's a chill night out without some snacks? Chocolates and chips are a guilty pleasure of mine, and I got some from Don Don Donki.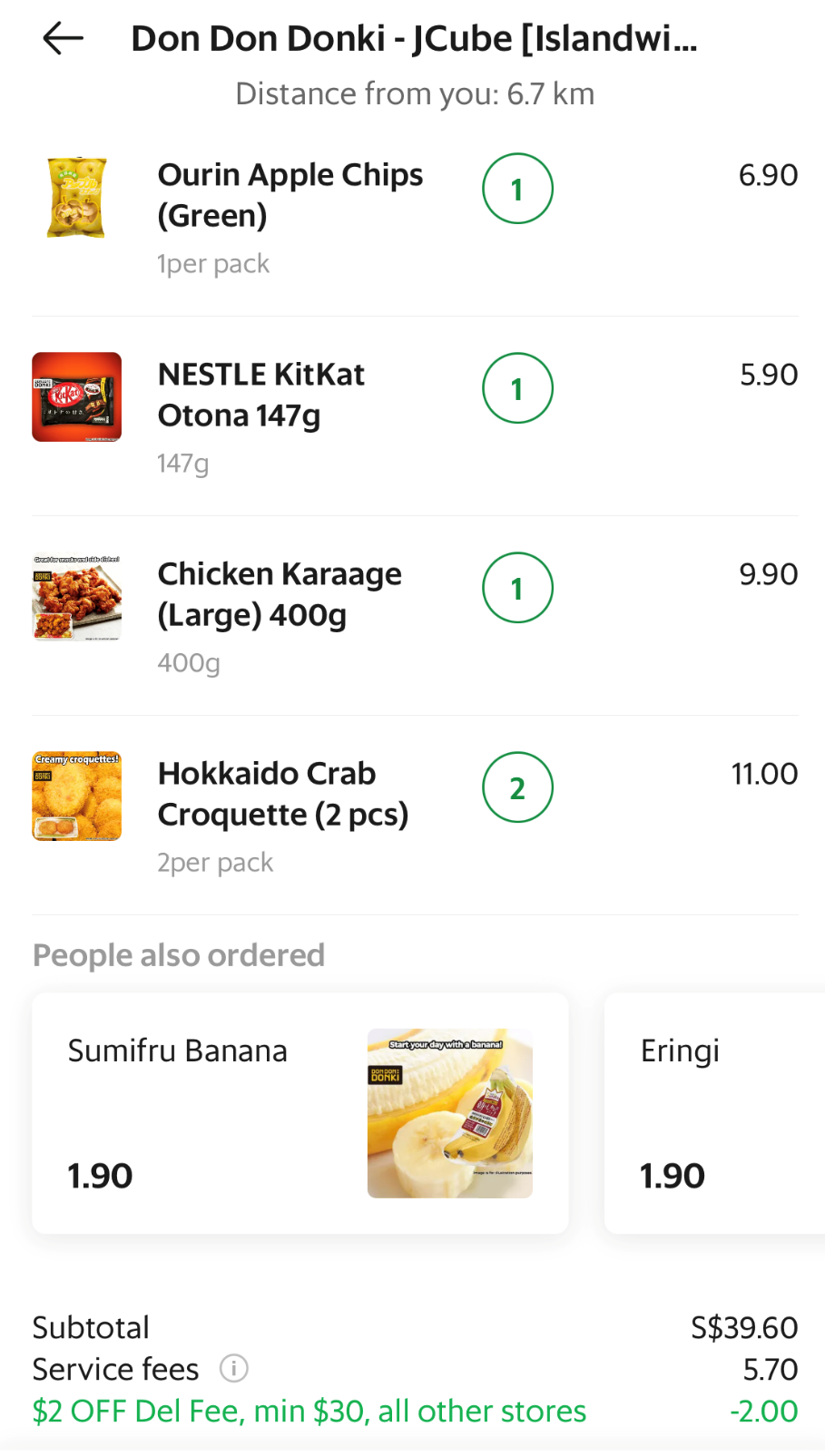 Ever the sweet tooth, I ordered several pints of ice cream from The Ice Cream Store to top off the night too while we binge on Netflix.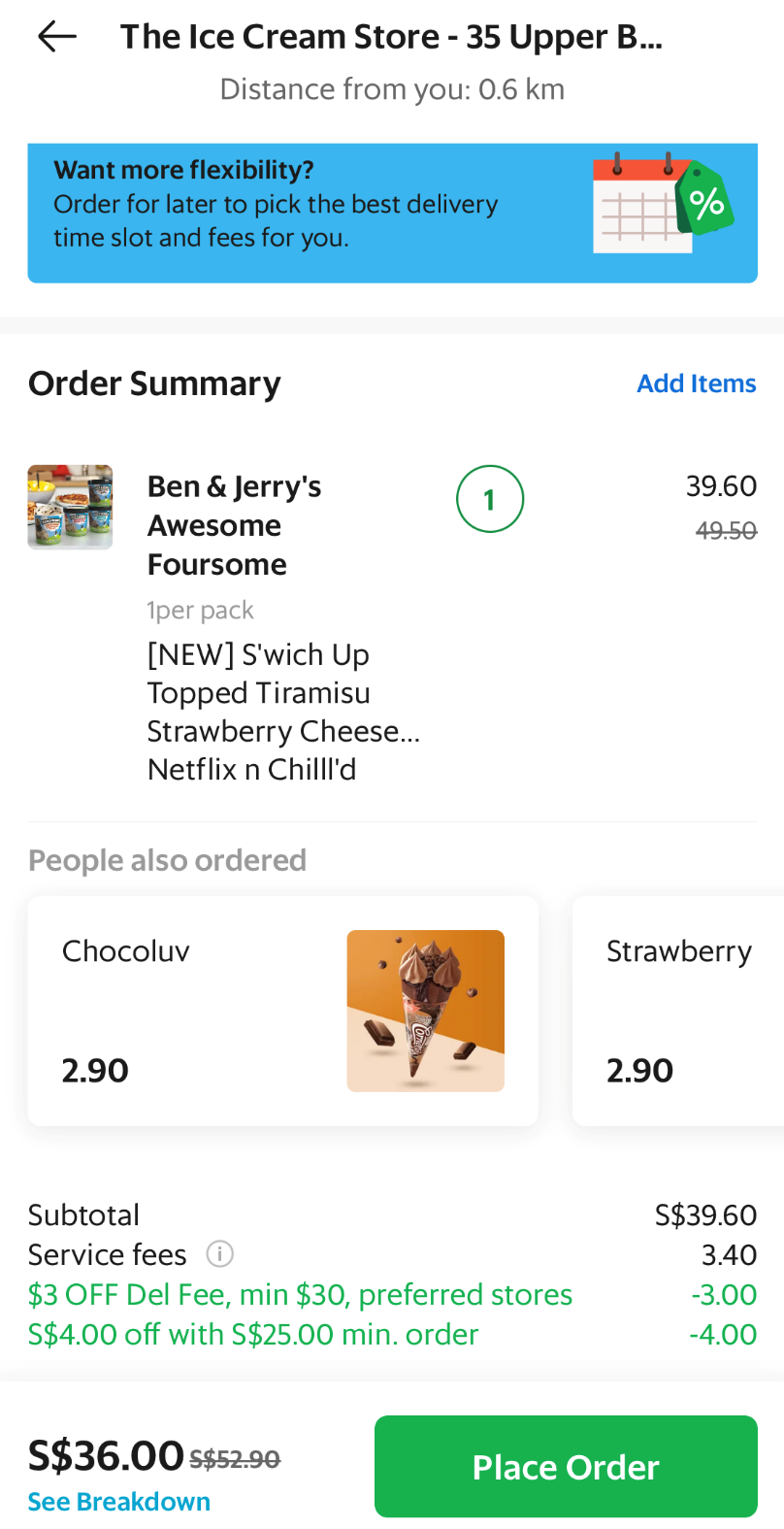 Before my guests arrived, I wanted to jazz up my space and ordered fresh flowers at the last minute from Xpressflower. This centerpiece definitely lifted everyone's moods!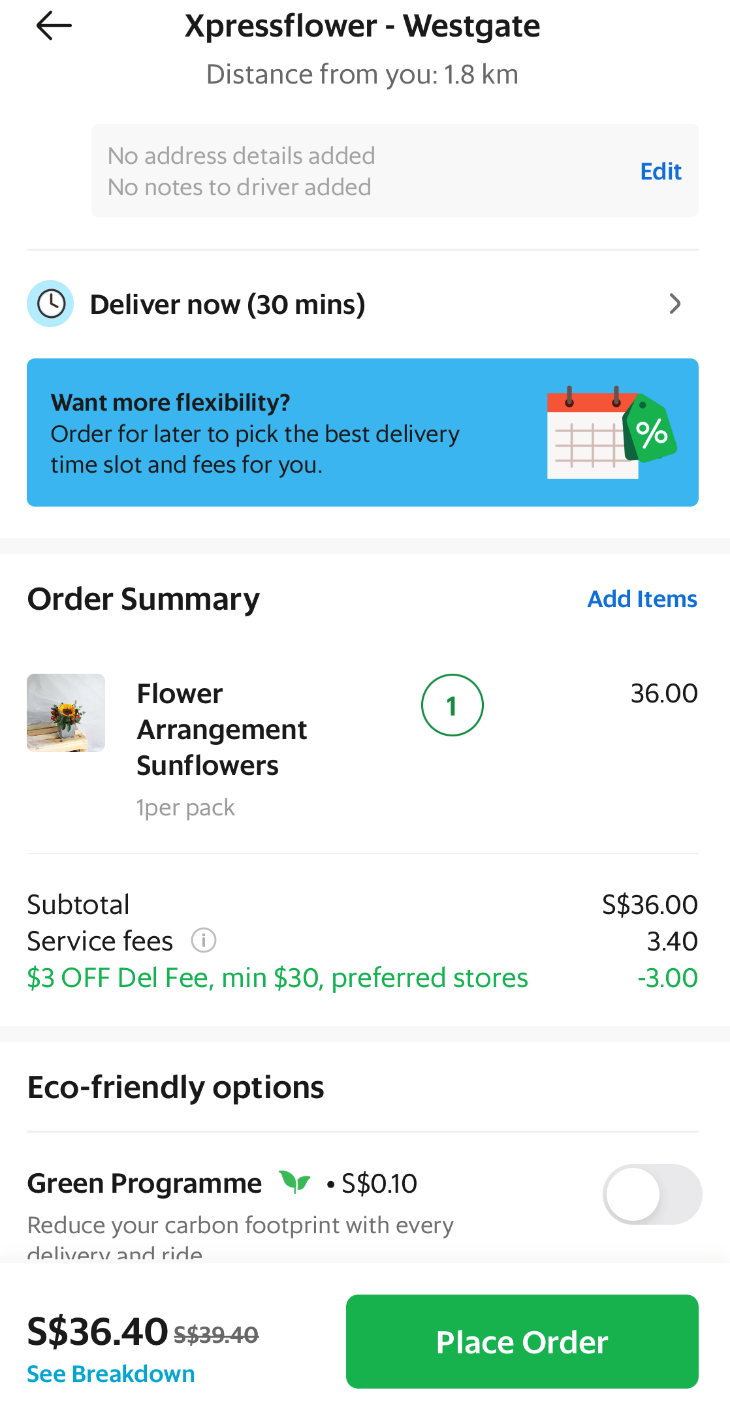 This rounds up my Friday night savings with GrabMart. With GrabUnlimited, I saved a total of $15:
$3 from The Wine Connection
$2 from Don Don Donki
$7 from The Ice Cream Store
$3 from Xpressflower
Because of the number of vouchers I received from GrabUnlimited, I didn't have to worry about delivery fees despite ordering from multiple merchants, and everything was delivered conveniently to my doorstep!
Sign up for GrabUnlimited — free for the first month!
It is easy to see why the revamped GrabUnlimited is now a "must have" to maximise savings on your daily expenses — and not just for food too! With so many stackable deals and vouchers, this is definitely a game-changer for all Grab users.
If you're new to the plan and have not tried it yet, GrabUnlimited will be free for your first month; you can enjoy all the benefits of this subscription and cancel anytime. Click here to find out more details, and subscribe to GrabUnlimited now!