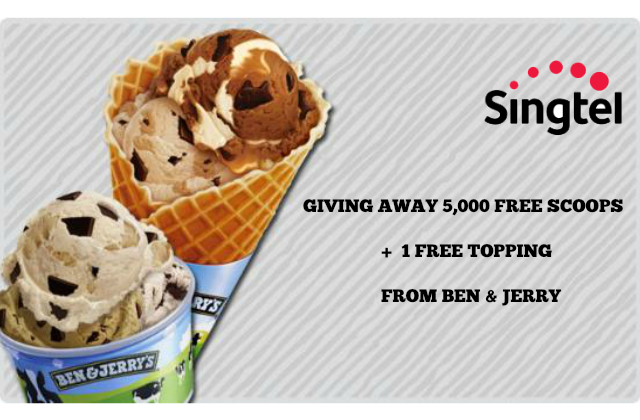 Singtel users, good news.
Singtel is giving away free scoops of Ben & Jerry Ice Cream and 1 free topping if you are a Singtel user.
Simply login to your Singtel account online using OnePass (or Sign up if you do not have one) and redeem it!
There are only 5,000 to be given away, so first come first served. While stock last.

Click on the image above to go to the page or simply visit: http://bit.ly/1ePZgBv
Like this deal or know someone who is a Singtel user? Share this deal and your friends will love you and the free scoop to bits.
Don't forget to like our Facebook's page or you would probably miss the next awesome deal!
(The website is facing huge traffic at the moment, and it might take longer to load the page. Be patient and you will be rewarded. Act fast though as it will soon be snapped up.)