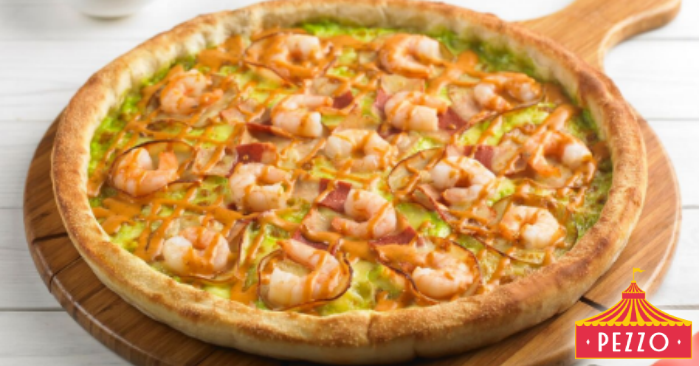 Calling all seafood lovers! Pezzo has whipped up an exciting wasabi prawn pizza that marries the best of Japanese and Italian cuisines! The pizza is called Wasabi Prawn, aptly capturing the feeling of surprise that it will evoke in gourmands.
The pizza base is spread with creamy wasabi mayonnaise, which teases the palate with its light and spicy note without overwhelming the senses; those who cannot take spicy food can still enjoy it. Fresh succulent prawns, turkey ham and turkey bacon are then arrayed on the pizza dough with drizzles of tangy Marie Rose sauce – a delicious flavour combination.
Freshly made on a daily basis, Pezzo's pizza dough is prepared using exclusively blended flour from Europe. As for the requisite ingredient in every pizza – cheese – Pezzo uses American mozzarella cheese from Leprino Foods. The company is the world's leading mozzarella cheese producer. The cheese contains milk from cows that are grain fed, hence it boasts a robust and satisfying taste.
Pezzo will also offer the following dishes and combos on the menu:
Marie Rose Wings (8 pcs, $6.90) – Don't forget to also order the newly introduced crisp-baked mid-joint wings drizzled with slightly spicy Marie Rose sauce. A classic condiment made from a blend of tomatoes, mayonnaise, Worcestershire sauce, lemon juice and pepper, this tasty pinkish sauce will have you changing the way you see chicken wings.
Wasabi Combo (suitable for 1 pax, $10.40): 1 slice of Wasabi Prawn pizza, 4 pcs of Marie Rose wings and a drink of choice.
Wasabi Fiesta (suitable for 2-3 pax, $29.90): A full pan of Wasabi Prawn pizza, 4 pcs of Marie Rose wings and 2 drinks of choice.
Wasabi Party (suitable for 4-5 pax, $49.90): A full pan of Wasabi Prawn pizza, a full pan of Hola Hawaiian pizza, 8 pcs of Marie Rose wings and 4 drinks of choice.
These new offerings will be available in all Pezzo's outlets except the Sentosa branch for a limited time only, from 17 March to 30 April 2017. It will also be available for delivery via foodpanda, Deliveroo or UberEATS platforms. It goes at S$5.20 per slice and S$26.70 per pan.
Thinking out of the box, the brand's innovative pizza creations have become a must-have during the gatherings with family and friends. Pezzo is also the first in Singapore to offer customers the option to mix and match six different pizza flavours in a pan when ordering delivery and at the stalls. Between family members and friends, there is no need to choose or compromise everyone gets his or her own favourite flavour!
For more information about Pezzo Pizza, please visit www.pezzo.com.sg