After the recent announcement by the government about the new regulations, let us do our part in #stayhome and keeping safe. Dining at home this month need not be boring as a wide array of food & beverage outlets are still available for takeaway and delivery. Simply sit back, order through your phones and wait for the meals to be delivered to your doorstep in no time!
Enjoy a variety of different cuisines from the comfort of your own home from Japanese, Chinese, Fast Casual F&B, Asian to Western. Can't decide what to eat? Do opt for the set menus that showcases the very best of each restaurant.
Read on for a list of over 70 delivery and takeaway deals! We will also continuously update the list with the newest takeaway & delivery promotions.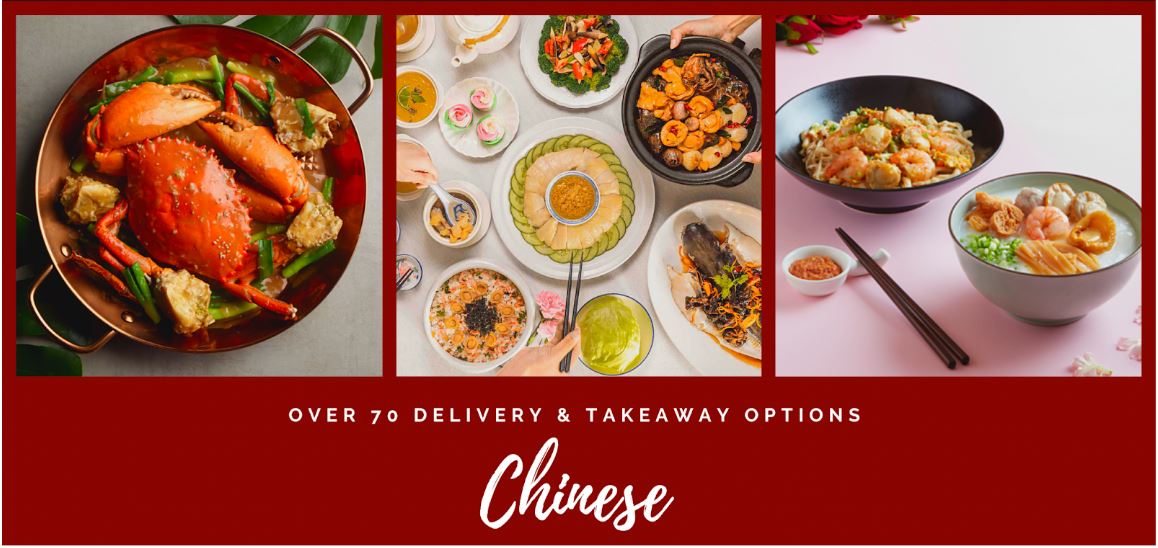 Restaurant
Promotions
Delivery / Takeaway
Paradise Dynasty
25% off self pick-up orders. Note: Outlets at Changi Airport Terminal 3 and Suntec City will be closed.

Delivery promotions on Oddle:

•Islandwide delivery at $8 with min. spend of $50. Free delivery with min. $100 spent.
•FREE Prawn & Pork Dumpling in Hot Chilli Vinaigrette with a min. $70 spent.

20% off daily for delivery via Foodpanda, Deliveroo & GrabFood .

https://paradisedynasty.oddle.me/en_SG Also available on Deliveroo, Foodpanda and GrabFood
Canton Paradise
25% off self pick up orders.

Note: Canton Congee & Noodle House outlet at Changi Airport Terminal 3 will be closed.

Delivery promotions on Oddle:

•Islandwide delivery at $8 with min. spend of $50. Free delivery with min. $100 spent.

•FREE 'Ting Zai' Style Congee with min. $70 spent.

20% off daily for delivery via Foodpanda, Deliveroo & GrabFood

https://cantonparadise.oddle.me/en_SG Also available on Deliveroo, Foodpanda and GrabFood
Beauty in The Pot
25% off self pick up orders. Note: Outlet at Jewel Changi Airport will be closed.

Delivery promotion on Oddle:
•Islandwide delivery at $8 with min. spend of $70. Free delivery with min. $120 spent.

20% off daily for delivery via Foodpanda, Deliveroo & GrabFood

https://beautyinthepot.oddle.me/en_SG Also available on Deliveroo, Foodpanda and GrabFood
Paradise Classic
25% off self pick up orders. Note: Outlets at Jewel Changi Airport and Resort World Sentosa will be closed.

Delivery promotions on Oddle:

•Islandwide delivery at $8 with min. spend of $50. Free delivery with min. $100 spent.

•FREE 手工虾枣 Crisp-fried Homemade Teochew Style Prawn Roll with a min. $70 spent.

20% off daily for delivery via Foodpanda, Deliveroo & GrabFood

https://paradiseclassic.oddle.me/en_SG Also available on Deliveroo, Foodpanda and GrabFood
LeNu
25% off self pick up orders. Note: Outlet at Jewel Changi Airport will be closed.

Delivery promotions on Oddle:

•Islandwide delivery at $8 with min. spend of $35. Free delivery with min. $100 spent.

•FREE Braised Beancurd in Beef Broth with a min $50 spent.

20% off daily for delivery via Foodpanda, Deliveroo & GrabFood

https://lenu.oddle.me/en_SG Also available on Deliveroo, Foodpanda and GrabFood
Le Shrimp Ramen
25% off self pick up orders. Note: Outlet at Changi Airport Terminal 3 will be closed.

Delivery promotions on Oddle:

•Islandwide delivery at $8 with min. spend of $35. Free delivery with min. $100 spent.

•FREE Braised Beancurd in Tonkotsu Broth with a min $50 spent.

20% off daily for delivery via Foodpanda, Deliveroo & GrabFood

https://leshrimpramen.oddle.me/en_SG Also available on Deliveroo, Foodpanda and GrabFood
Taste Paradise
25% off self pick up orders.

Delivery promotion on Oddle:

•Islandwide delivery at $8 with min. $70 spent. Free delivery with a min. $120 spent.

20% off daily for delivery via Foodpanda, Deliveroo & GrabFood

https://tasteparadise.oddle.me/en_SG Also available on Deliveroo, Foodpanda and GrabFood
Paradise Teochew
25% off self pick up orders.

Delivery promotion on Oddle:

•Islandwide delivery at $8 with min. $70 spent. Free delivery with a min. $120 spent.

20% off daily for delivery via Foodpanda, Deliveroo & GrabFood

https://paradiseteochew.oddle.me/en_SG Also available on Deliveroo, Foodpanda and GrabFood
Seafood Paradise
25% off self pick up orders.

Delivery promotion on Oddle:

•Islandwide delivery at $8 with min. $70 spent. Free delivery with a min. $120 spent.

20% off daily for delivery via Foodpanda, Deliveroo & GrabFood

https://seafoodparadise.oddle.me/en_SG Also available on Deliveroo, Foodpanda and GrabFood
Paradise Hotpot
25% off self pick up orders.

Delivery promotions on Oddle:

•Islandwide delivery at $8 with min. spend of $50. Free delivery with min. $100 spent.

•FREE Pork and Chives Dumpling (half portion) with min. $70 spent.

20% off daily for delivery via Foodpanda, Deliveroo & GrabFood

https://paradisehotpot.oddle.me/en_SG Also available on Deliveroo, Foodpanda and GrabFood
No Signboard Seafood
Celebrating 40 Years of No Signboard Seafood with 40% OFF on ALL crabs (Takeaway : 16 May until 13 June 2021)

Serving diners iconic local favourites since 1981, No Signboard Seafood brings diners a clawsome deal not to be missed!

Contact 6376 9959 (Vivo City), 6336 9959 (Esplanade Mall) Terms and conditions:

· Valid for takeaway only · Maximum 2 crabs per order

· While stocks last

· Payment must be made in a single receipt

· Discount is given before GST

· Price is subject to GST

· Promotion is not valid in conjunction with other ongoing promotions, discount, vouchers or offers.

· The management reserves the right to amend the terms and conditions without prior notice

Address: Esplanade Mall (#01-14/16), Vivo City (#03-02)

https://nosignboardseafood.oddle.me/en_SG/ Also available on Deliveroo, FoodPanda and GrabFood
Soup Restaurant
Free delivery with min. spend of $120

Appreciation Combo (serves up to 3pax, $78)

1. Samsui Ginger Chicken

2. Mui Choy Braised Pork Belly with Butterfly Buns 3. Samsui Ginger Rice with Baby Abalone & Pine Nuts

4. Handmade Mini Longevity Buns

Family Combo (serves up to 5pax, $198)

1. Samsui Ginger Chicken

2. Abalone Seafood Pot

3. Asparagus with Sweet Pea in White Truffle Oil

4. Samsui Ginger Rice with Baby Abalone & Pine Nuts

5. Handmade Rose Buns

https://order.souprestaurant.com.sg/en_SG/ or call hotline 66459330 (Monday to Friday (9am to 6pm). Also available on Deliveroo, Foodpanda and GrabFood
Honguo
Islandwide delivery available with free delivery for orders above $80. (amount may differ for further areas)

[PROMOTION]

Citibank cards exclusive, Free Iced Barley (worth $3.20) with min spend of $25 with promo code "GETZCITIO"

Terms and conditions apply.

https://order.honguo.com.sg/
The Curry Story
Free Delivery with min spend of $120
http://order.thecurrystory.sg/ Also available on Deliveroo, Foodpanda and GrabFood
Streats
Free Delivery Above $50

[PROMOTION]

Citibank cards exclusive, Free Iced Barley (worth $3.20) with min spend of $25 with promo code "GETZCITI"

Terms and conditions apply.

Set for 4, $79.80*

*Including GST

Choice of 3 x Appetisers

Molten Salted Egg Custard Bun

Sichuan Dumplings w Chilli Sauce

Pan-fried Chicken Dumpling

Steamed Siew Mai

Chopped Cucumber with Garlic and Vinegar

Choice of 4 x Mains

Macau Chicken Chop Fried Rice

XO Fried Rice XO

Fried Kway Teow Beef w Sambal Chilli

Hong Kong Fried XO Seafood Noodle XO

Hong Kong Shrimp & Chicken Dumpling Noodle - Soup

Spicy Nissin Korean Noodle w Fried Chicken - Dry

Choice of 4 x Drinks

Iced Lemongrass/ Iced Barley/ Iced Lemon Tea/ Iced Peach Tea/ Iced Jasmine Green Tea

http://order.streats.com.sg/
Ah Mah Homemade Cake
10% Off with promo code 'AHMAH10' with a minimum purchase of 2 cakes (self-collection or delivery)
https://www.ah-mah.com.sg/
Tim Ho Wan
10% off ala carte takeaways at all Tim Ho Wan restaurants except Marina Bay Sands from 16 May 2021 onwards
Delivery

Oddle: https://timhowan.oddle.me/en_SG/

Also available on Deliveroo, Foodpanda and GrabFood

Takeaway

Aperia Mall | Citylink Mall | Great World City | Jewel Changi Airport | Plaza Singapura | Suntec City | Waterway Point | Westgate | 18 Tai Seng

Shihlin Taiwan Street Snacks
Save 16% when you purchase the Father's Day bundle (Handmade Oyster Mee Sua x1, Happy! Ricebox x1, XXL Crispy Chicken x1, Sweet Plum Potato Fries M x1, Imperial Osmanthus Tea x2) at $23.90 instores! Offer starts 1 June 2021.
https://sg.shihlindelivery.com.tw/ Also available on Deliveroo, Foodpanda and GrabFood
YUN NANS
15% off with promo code 'YN15' for Oddle exclusive sets as follows:

Seafood Set Menu for 4 pax at $108.80 (UP: $128):

Grilled Seabass with Lemongrass 傣味香茅草烤鲈鱼

Stir Fried Prawn with Salted Egg and Jasmine Petals 茉莉花咸蛋黄虾球

Braised Beancurd with Fish Maw and Cordyceps Flower 鱼鳔虫草花焖豆腐

Stir Fried Dragon Chives with Yunnan Beancurd Skin 云南豆皮炒青龙菜

Stir Fried Minced Pork with Yunnan Preserved Vegetables 黑三剁

Century Egg with Grilled Capsicum 火烤烧椒皮蛋

White Rice 白饭 x 4

300ml Raspberry Juice with Tamarind 野生酸角树莓汁 x 4

Signature Set Menu for 4 pax at $162.35 (UP $138):

Braised Wild Porcini Mushroom 包烧野生牛肝菌

Poached Pork Collar with Pickled Chillies 腌菜松板肉

Sauteed Asparagus with Golden Fungus and Mushroom 金耳花菇炒芦笋

Crispy Duck with Dried Chillies 香酥鸭

Century Egg with Grilled Capsicum 火烤烧椒皮蛋

Poached Chicken with Sichuan Pepper 老昆明团结乡花椒鸡

Poached Seafood Rice in Prawn Broth 海鲜虾汤泡饭

Crispy Horfun with Truffle Prawn Broth 虾汤黑松露双式河粉

300ml Raspberry Juice with Tamarind 野生酸角树莓汁 x 4

DELUXE Set for 6 pax at $172 (UP $202.20)

Grilled Seabass with Lemongrass 傣味香茅草烤鲈鱼

Century Egg with Grilled Capsicum 火烤烧椒皮蛋

Deep Fried Pork Filet with Homemade Spicy Dip 香炸小酥肉

Stir Fried Prawn with Salted Egg and Jasmine Petals 茉莉花咸蛋黄虾球

Poached Pork Collar with Pickled Chillies 腌菜松板肉

Stir Fried Dragon Chives with Yunnan Beancurd Skin 云南豆皮炒青龙菜

Signature Cross-bridge Rice Noodles 云南过桥米线

Poached Seafood Rice in Prawn Broth 海鲜虾汤泡饭

Steam Pot Chicken Soup 云海肴汽锅鸡

300ml Raspberry Juice with Tamarind 野生酸角树莓汁 x 6

DELUXE Set for 8-10 pax at $241.40 (UP $284)

Grilled Seabass with Lemongrass 傣味香茅草烤鲈鱼

Steam Pot Chicken Soup 云海肴汽锅鸡 x 2

Poached Seabass in Spicy Pickled Vegetable Broth 老坛酸菜鱼

Stir Fried Pork Collar with Scallion 三葱猪颈肉 x 2

Stir Fried Dragon Chives with Yunnan Beancurd Skin 云南豆皮炒青龙菜

Sauteed Asparagus with Golden Fungus and Mushroom 金耳花菇炒芦笋

Stir Fried Prawn with Salted Egg and Jasmine Petals 茉莉花咸蛋黄虾球

Crispy Duck with Dried Chillies 香酥鸭 x 2

Braised Beancurd with Fish Maw and Cordyceps Flower 鱼鳔虫草花焖豆腐

Steamed Rice 白饭x 8

Island-wide delivery

Also available on Deliveroo, Foodpanda and GrabFood

Takeaway

23 Serangoon Central, #B1-15, Singapore 556083

3 Gateway Dr, #03-07, Singapore 608532

Le Fusion
20% off self-collection orders. Simply call 6363 9966 to pre-order and arrange for self-pick up at The Pier at Robertson Drive Thru

Delivery Promotions on Oddle:

20% OFF Family Set Menus on Oddle, Enjoy $12 off Family Set A (u.p.$57) now at $45 and enjoy $18 off Family Set B (u.p.$88) now at $70.

50% OFF Signature Items: Braised Abalone Seafood Rice at $22 (up $38) and Whole Lobster Golden Salted Egg Yolk Rice at $27 (up $46).

FREE islandwide delivery for orders above $100

Enjoy $30 off total bill for takeaway/ self collection at The Pier at Robertson Drive thru with Chope (not stackable with ChopeDeals takeaway vouchers)

https://lefusion.oddle.me/en_SG/ Also available on GrabFood and Foodpanda
Tang Lung
20% off self-collection orders. Simply call 6262 9966 to pre-order and arrange for self-pick up at The Pier at Robertson Drive Thru
https://tanglungrestaurant.oddle.me/en_SG/
JUMBO Seafood
UOB Cardholders enjoy S$20 off with min. spend of S$80 for takeaway orders
https://order.jumboseafood.com.sg/en_SG/ Also available on GrabFood
Zui Teochew Cuisine: Zui Yu Xuan Teochew Cuisine, Chui Huay Lim Teochew Cuisine and Chao Ting
UOB Cardholders enjoy S$20 off with min. spend of S$80 for takeaway orders
https://order.zui-teochewcuisine.com/en_SG/ Also available on GrabFood
Tsui Wah
UOB Cardholders enjoy S$20 off with min. spend of S$100 for takeaway orders
https://shop.tsuiwah.com/en_SG/
Ng Ah Sio Bak Kut Teh
Grabfood Exclusive:

Signature Set for 1 ($15.90 nett)

Set Menu includes Superior Spare Ribs Soup, Home-Made Drink and Steamed Rice with choice of Sides (Preserved Vegetables and Big Intestine / Braised Tau Pok and Peanuts / Blanched Lettuce in Garlic Oil)

Valid only on GrabFood at Ng Ah Sio Bak Kut Teh at Rangoon Road Outlet

Signature Set for 1 ($18.90 nett)

Set Menu includes Premium Loin Ribs Soup, Home-Made Drink and Steamed Rice with choice of Sides (Preserved Vegetables and Big Intestine / Braised Tau Pok and Peanuts / Blanched Lettuce in Garlic Oil)

Valid only on GrabFood at Ng Ah Sio Bak Kut Teh at Chui Huay Lim Club

Refer here for more information

UOB Cardholders enjoy S$10 off with min. spend of S$50 for takeaway orders

https://order.ngahsio.com/en_SG/ Also available on GrabFood
HACK IT
UOB Cardholders enjoy free delivery with min. spend of $80 (worth up to $8*)

*depending on delivery distance

https://order.hackitseafood.com.sg/en_SG/
White Restaurant
Delivery promotions on Oddle: FREE Islandwide delivery from 17 May to 13 June 2021 with min spend of $50

Up to 25% off White Restaurant set meals from now to 13 June 2021.

https://order.whiterestaurant.com.sg/en_SG/
Yang Guo Fu Mala Tang
Delivery promotions on Oddle:

Up to 30% off Yang Guo Fu set meals from now till 13 June 2021.

https://yangguofumalatang.oddle.me/en_SG/ Also available on Deliveroo, Foodpanda and GrabFood
Joy Luck Teahouse
FAVE eCard: Pay $18 for $20 worth of value

Shopee: Up to 37% off selected products, with exclusive to 3 exclusive to Shopee bundles

Qoo10: Up to 14% off bundles, with 3 exclusive to Qoo10 bundles

Islandwide delivery available on YQueue and GrabFood

Also available on FAVE, Shopee and Qoo10

HolyCrab
Available for takeaway, please call 8444 2722 to order.

Website: https://holycrab.sg/

Facebook: https://www.facebook.com/holycrab.sg

Instagram:

https://www.instagram.com/holycrab.sg/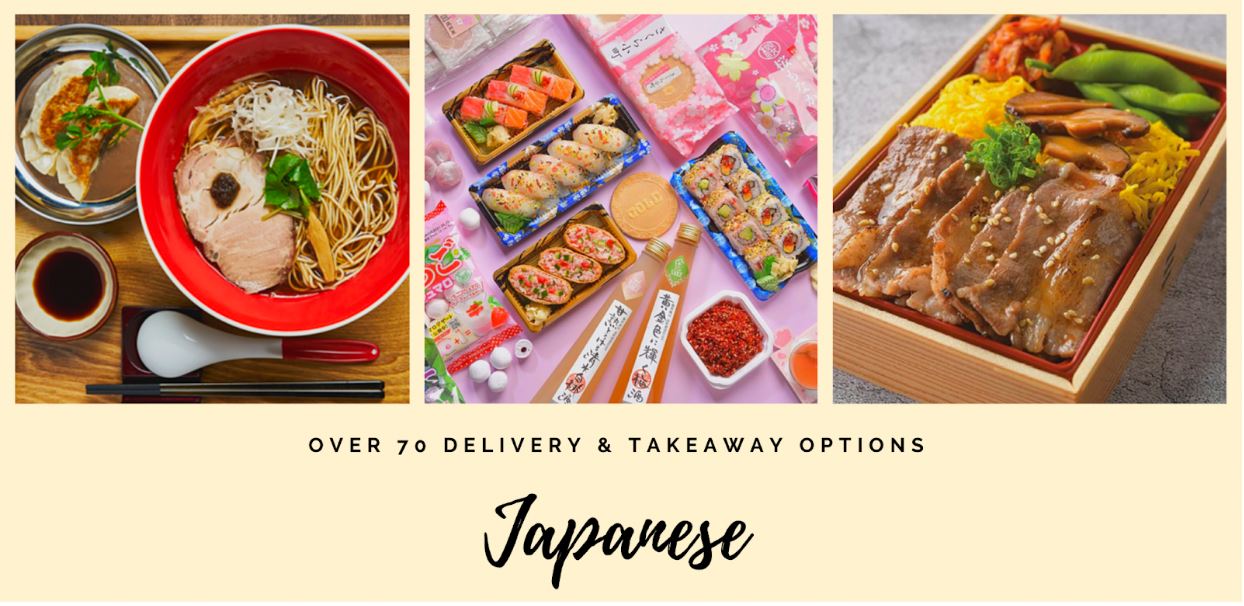 Restaurant
Promotions
Takeaway & Delivery
IPPUDO
-
https://ippudo.oddle.me/en_SG/ Also available on Deliveroo, Foodpanda and GrabFood
SUN with MOON
-
Islandwide Delivery Available on https://sunwithmoon.oddle.me/ and Grabfood

Delivery also available on Deliveroo and FoodPanda

Takeaway from Wheelock Place #03 -15

Menya Kokoro
$1 Off Premium Emma Drinks (includes Hojicha Latte with Pearls, Kokuto Latte with Pearls, Kokuto Matcha Latte with Pearls, Lemon Calpis Sencha, Honey Lemon Sencha) with each order of Menya Kokoro main item.
https://www.menya-kokoro.com/delivery-order Also available on GrabFood
Menya Kanae
10% OFF all items for takeaway only.
https://www.menyakanae.com/deliveryorder
Tsuta
1-1 Michelin-starred Ramen from $18

1-1 Michelin-starred Ramen for 2 from $38

10% off deliveries with min $40 spent from now till 31st May with promo code "TSUTAMAY"

20% off takeaways, no min spend from now till 13 June with promo code "TAKEAWAYTSUTA"

Islandwide Delivery Available on https://order.tsuta.com

Takeaway from: #01-17 [email protected] #B2-29 Vivocity

Sens Sushi & Grill
Min order of $50 with a flat delivery fee of $5
Island-wide delivery

https://senssushiandgrill.oddle.me Also available on GrabFood, Foodpanda and Deliveroo

Takeaway

118 Holland Ave, Basement 1 of Raffles Holland V Mall, Singapore 278997

Tomo Izakaya
Islandwide delivery available with free delivery for orders above $50. (amount may differ for further areas)
https://order.tomoizakaya.com.sg/
Kuriya Japanese Market
Min order $45. Free delivery above $120

[PROMOTION] 10% off store pickup.

https://kjmonline.oddle.me Available on Grab/Deliveroo/Foodpanda
&Joy Dining Hall
Min order $40. Free delivery above $120.

No min order for store pick-up.

Pick up/Takeaway available.

https://order.njoydininghall.com.sg Available on Grab/Deliveroo/Foodpanda
Sushi Tei
-
Available on Deliveroo (all outlets), Foodpanda (all outlets), Grabfood (selected outlets)
Matsukiya
-
Available on Deliveroo
Hokkaido-Ya
-
Available on Deliveroo & Foodpanda
Ichiban Sushi
Min order $39. Free delivery above $120 Pick up/Takeaway available.
https://order.ichibansushi.com.sg/
Ichiban Boshi
Min order $39. Free delivery above $120 Pick up/Takeaway available.
https://ichibanboshi.oddle.me/
Ichiban Bento
Min order $40. Free delivery above $120 No min order for store pick-up. Pick up/Takeaway available.
https://ichibanbento.oddle.me/
Yakiniku-GO
Min order $40. Free delivery above $120 No min order for store pick-up. Pick up/Takeaway available.
https://yakinikugo.oddle.me/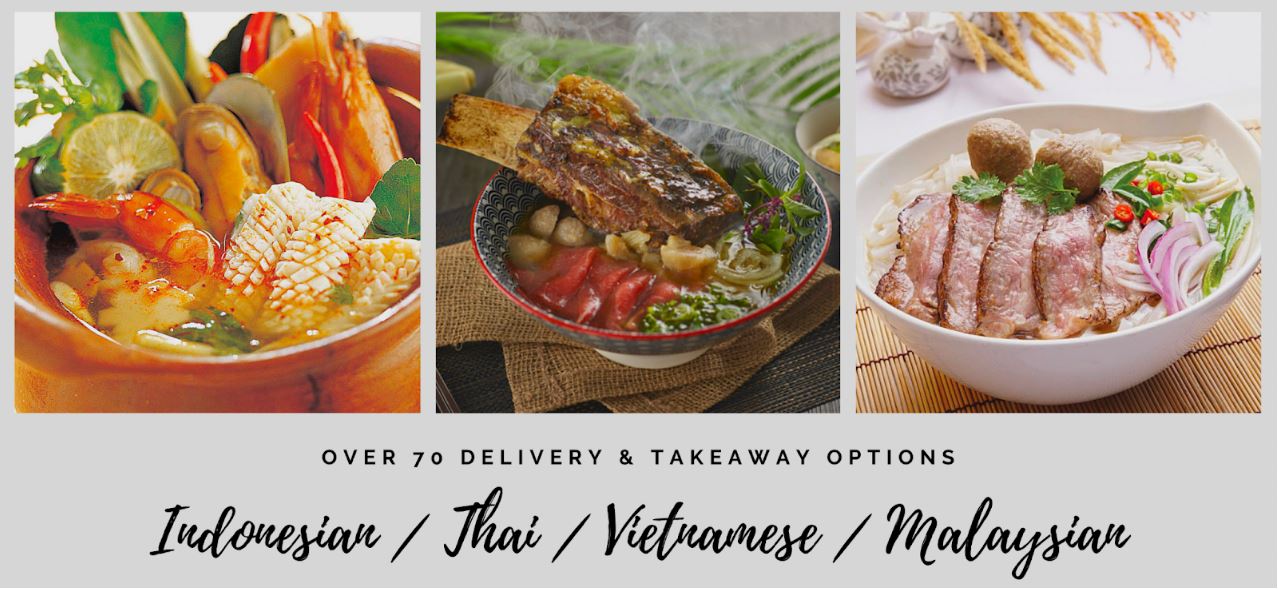 Restaurant
Promotions
Delivery / Takeaway
Bali Thai
Family Meal for 4, S$82.24* (U.P S$125) *Excluding GST

Mango Salad

Tom Yum Seafood Soup

Crispy Whole Fish with Thai Chilli

Choice of Stir Fried Chicken w Cashewnut / Fried Chicken w Honey n Garlic Sauce

Kai Lan w Oyster Sauce

Phad Thai Noodle

Pineapple Rice

https://order.balithai.com.sg/ Also available on Deliveroo, Foodpanda and GrabFood
Mrs Pho
Free islandwide delivery for orders above $60, no code required.

[PROMOTION]

10% off deliveries with min $40 spent from now till 31st May with promo code "MRSPHOMAY"

20% off takeaways, no min spend from now till 13 June with promo code "TAKEAWAYMRSPHO"

Classic and Sharing Sets available for Delivery & Pick-up from Rangoon

Sharing Sets

Set for 2, $48 nett

Mamma's Pork Belly

Char Grilled Chicken Chop

Love You Long Time Lala

Winged Beans

2x Steamed Jasmine Rice

Avocado Smoothie

Choice of 1 drink for each person (total 2):

Saigon Salty Lemonade

Homemade Iced Lemongrass Tea

Set for 4, $68 nett + Free Delivery

Black Pepper Pork

Char Grilled Chicken Chop

Love You Long Time Lala

Crab Meat Noodle Stir Fry King Kong 4x Steamed Jasmine Rice

Choice of 1 drink for each person (total 4):

Saigon Salty Lemonade

Homemade Iced Lemongrass Tea

Ice Viet Lotus Tea

Set for 6, $98 nett + Free Delivery

Black Pepper Pork

Mamma's Pork Belly

Char Grilled Chicken Chop

Love You Long Time Lala

House Omelette

Crab Meat Noodle Stir Fry

King Kong Winged Beans

6x Steamed Jasmine Rice

Choice of 1 drink for each person (total 6):

Saigon Salty Lemonade

Homemade Iced Lemongrass Tea

Ice Viet Lotus Tea

Classic Sets

Set for 2, $38 nett

Fried Spring Rolls

Mamma's Lucky Meatballs

Avocado Smoothie

Choice of 1 main for each person (total 2):

Slice Beef Pho

Mrs Pho Dry Noodles

Chicken Chop Rice

Choice of 1 drink for each person (total 2):

Saigon Salty Lemonade

Homemade Iced Lemongrass Tea

Set for 4, $88 nett + Free Delivery

Each person will get a set of the following:

Fried Spring Rolls

Fresh Summer Rolls

Mamma's Lucky Meatballs

Prawn + Pork Papaya Salad

Prawn Crackers of Soc Trang

Ice Viet Lotus Tea

Choice of 1 main for each person (total 4):

Slice Beef Pho

Mrs Pho Dry Noodles

Chicken Chop Rice

Set for 6, $128 nett + Free Delivery

Each person will get a set of the following:

Fried Spring Rolls

Fresh Summer Rolls

Mamma's Lucky Meatballs

Grilled Lemongrass Beef Sticks

Fresh Star Fruit Salad

Prawn Crackers of Soc Trang

Choice of 1 main for each person (total 6):

Slice Beef Pho

Mrs Pho Dry Noodles

Chicken Chop Rice

Crab + Prawn Noodle Soup

Drinks

2x Saigon Salty Lemonade

2x Homemade Iced Lemongrass Tea

2x Avocado Smoothie

Anna Set

Set for 4-6, $128 nett + Free Delivery

2x Mamma's Lucky Meatballs

2x Grilled Lemongrass Beef Sticks

Hanoi Crab + Fish Spring Rolls

Mrs Pho Cockles

Fresh Star Fruit Salad

2x Slice Beef Pho

Crab + Prawn Noodle Soup

Mamma's Pork Belly

Crab Meat Noodle Stir Fry

Winged Beans

2x Saigon Salty Lemonade

2x Homemade Iced Lemongrass Tea

2x Avocado Smoothie

Islandwide Delivery Available on https://order.mrspho.com

Delivery also available on GrabFood, Deliveroo and Foodpanda

Takeaway from:

B2-29A, VivoCity 221 Rangoon Road

Kota88
-
Delivery

Oddle: https://kota88.oddle.me/en_SG/

Also available on GrabFood, Foodpanda and Deliveroo

Takeaway

907 East Coast Road #01-02, Singapore 459107

Penang Culture
20% off 10th Anniversary Dishes on Oddle

50% off 10th Anniversary Dishes for Takeaway from any Penang Culture outlets

Anniversary Dishes include:

Malacca King Prawn Seafood Cheese Beehoon

Penang Kam Heong Clams

KL Crispy Breaded Chicken Cutlet with Curry Mayo

Promotions until 13 June 2021

https://penangculture.oddle.me/en_SG/ Also available on GrabFood, Deliveroo and Foodpanda
So Pho
Bundle for 4 S$73.64*

*Excluding GST

Choice of 1 x Appetisers:

Summer Rolls w Prawns, Grilled Chicken & Chicken

Ham OR Summer Roll w Beef Mango & Papaya Salad w Crispy Anchovies

Lemongrass Chicken

Summer Roll w Tofu (Vegetarian)

Choice of 4 x Main Course:

Pho Noodle Soup w Sliced Beef & Beef Ball ( Spicy/ Non Spicy)

Pho Chicken Noodle Soup w Prawn Cakes & Chicken Fillet

Bun Noodle w Grilled Lemongrass Chicken/ Grilled Beef/ Vegetarian (Tofu)

Vietnamese Fried Rice w (Seafood/ Beef/ Chicken/ Vegetables)

Basil Leaves Fried Rice w (Vegetables/ Salted fish/ Beef/ Chicken)

Choice of 4 Drinks:

Iced Lemongrass Tea/ Soda Chanh/ Iced Tea/ Iced Milk Tea

https://order.sopho.com.sg/ Also available on Deliveroo, Foodpanda and GrabFood
Tok Tok Indonesian Soup House
-
Delivery

Oddle: https://toktok.oddle.me/en_SG/ Also available on GrabFood, Foodpanda

Takeaway

313 Somerset B3-10: 11am to 9pm Paya Lebar Square #01-71: 11am to 9pm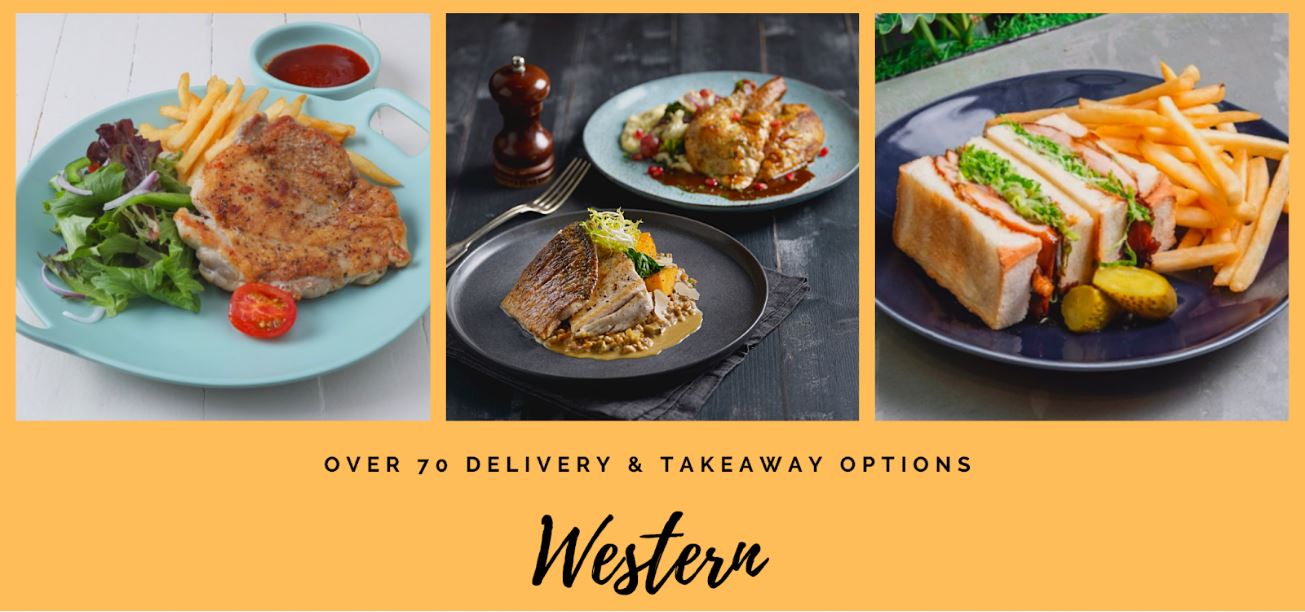 Restaurant
Promotions
Delivery / Takeaway
ClickAFood
Alternatively, WhatsApp +65 8764 7544 for orders. FREE delivery with a minimum spend of $88 within 8km of the cafe.
https://clickafood.oddle.me/en_SG/ Also available on iMakan, Deliveroo, FoodPanda and GrabFood
The Connoisseur Concerto
Enjoy free delivery with min. order of $100 with coupon code: "FREEDEL" from now till 13 June 2021.

(Excluding Sentosa, Jurong Island, Tuas, Changi Airport and Airline Road)

Pre-order for delivery/takeaway 2 hours ahead. Last order at 6.30pm for collection at 8.30pm - 9pm.

https://theconnoisseurconcerto.com/shop/
The Connoisseur Concerto - Great World
Enjoy free delivery with min. order of $100 with coupon code: "FREEDEL" from now till 13 June 2021. (Excluding Sentosa, Jurong Island, Tuas, Changi Airport and Airline Road)

Pre-order for delivery/takeaway 2 hours ahead. Last order at 6.30pm for collection at 8.30pm - 9pm.

https://theconnoisseurconcerto.com/shop/
The House of Robert Timms
Enjoy free delivery with min. order of $100 with coupon code: "FREEDEL" from now till 13 June 2021. (Excluding Sentosa, Jurong Island, Tuas, Changi Airport and Airline Road)

Pre-order for delivery/takeaway 2 hours ahead. Last order at 6.30pm for collection at 8.30pm - 9pm.

https://roberttimms.com.sg/order/
Black Marble
Flat island-wide delivery fee of $5 with min order of $80

Free delivery for orders $150 and above

Self pick-up, 20% off with promo code 'BMTKAWAY'

Island-wide delivery https://blackmarble.oddle.me Also available on Deliveroo

Takeaway 118 Holland Ave, #02-01 Raffles Holland V Mall, Singapore 278997

Operating hours: 10.30am to 8.30pm

VUE
20% off for self-collection at VUE, available from Wednesday to Sunday from 11.30am till 7.30pm
Islandwide Delivery available on https://vue.oddle.me

Takeaway from: OUE Bayfront, Level 19

Orders can be placed via [email protected] or Whatsapp at 88790923

Baristart Coffee
10% off self pick up on Oddle
Delivery

https://baristart.oddle.me/en_SG/

Also available on GrabFood and Foodpanda

Takeaway

65 Tras St: 9am-9pm

40 Siloso Beach: Mon-Fri, 10am-5pm Sat-Sun,PH, 9am-7pm

Rumours Beach Club
20% off for in-store pick up (takeaways only)
Call 85764154 to order

Islandewide Delivery (Outside Sentosa) Min. order is $80 Deliver is $12 (0 - 15km) and $18 (15 - 25km)

Sentosa Island Delivery No minimum order with a flat delivery fee of $8 or free delivery for orders above $80 (Delivery around Sentosa Island only)

Takeaway 40 Siloso Beach Walk, Sentosa 098886 11am - 8pm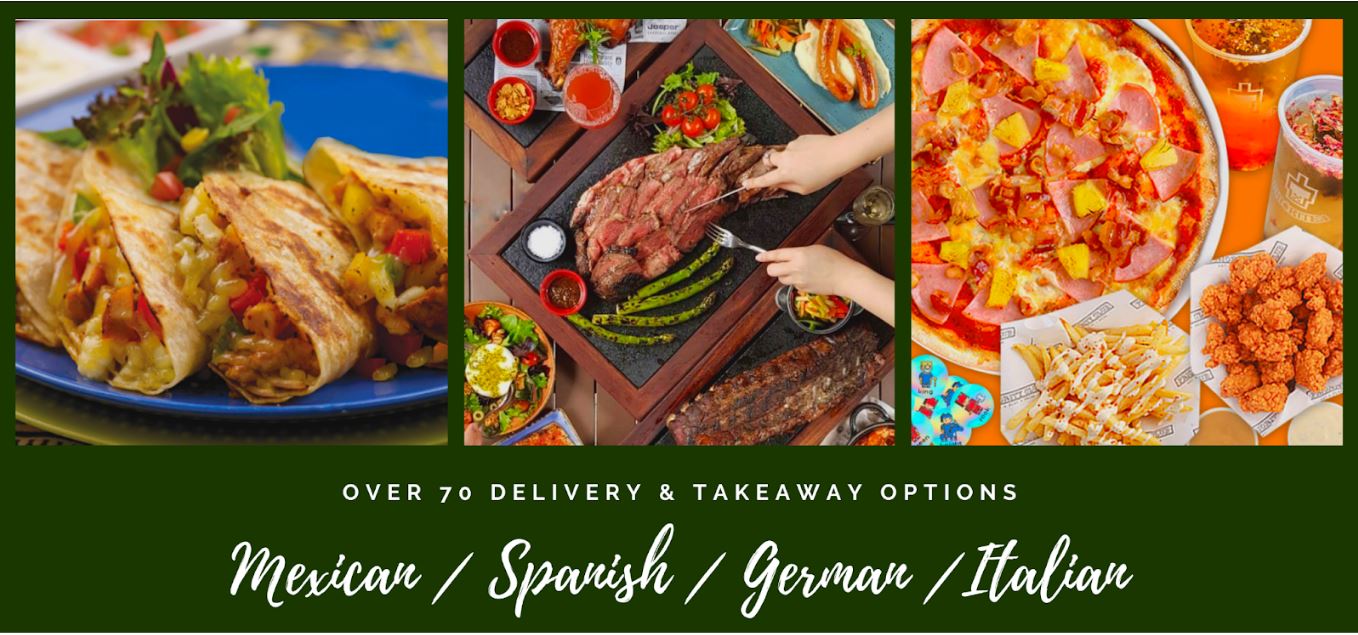 Restaurant
Promotions
Delivery / Takeaway
Muchos
Islandwide delivery available with free delivery for orders above $50. (amount may differ for further areas)

[PROMOTION]

Citibank cards exclusive, 20% off orders with min

spend of $50 for takeaway orders only. Promo code "GETZCITIM"

UOB cards exclusive, 20% off pickup & delivery orders.

Promo code "MUCHOSUOB20"

Terms and conditions apply.

https://order.muchos.com.sg/
Pura Brasa
-
https://purabrasa.oddle.me/en_SG/
The Capitol Kempinski Hotel Singapore
15% privilege and Free Islandwide Delivery for orders above $60 when you order from https://shop-capitolkempinski.com/
Islandwide Delivery available on https://shop-capitolkempinski.com

Takeaway from: Capitol Kempinski Singapore, 15 Stamford Rd

The Priority Club
Priority Pizza: 2 for $33 12" Pizzas islandwide delivery when you order from www.thepriorityclub.com

Priority Pasta: 2 for $28 Pasta islandwide delivery when you order from www.thepriorityclub.com

Islandwide Delivery available on www.thepriorityclub.com

Delivery also available on Grab Food, Deliveroo & Foodpanda for Priority Pizza and Priority Pasta

800° Woodfired Kitchen
$10 off first islandwide order when you order from https://order.800degreessg.com/

Flash your rewards account (https://rewards.deelishbrands.com/) in store and receive 15% off takeaways

10% off pick-up orders with promo code PICKUP10 when you order from https://order.800degreessg.com/

Valid from 16 May - 13 June

$10 off first islandwide order when you order from https://order.800degreessg.com/

Flash your rewards account

(https://rewards.deelishbrands.com/) in store and receive 15% off takeaways

10% off pick-up orders with promo code PICKUP10 when you order from https://order.800degreessg.com/

Valid from 16 May - 13 June

PizzaExpress
15% off total bill for takeaway/self pick up orders from Monday to 13 June at PizzaExpress DUO Galleria, Scotts Square and Hollnad Village.

Call to pre-order and arrange for self-collection PizzaExpress Duo Galleria – 6983 7350 PizzaExpress Scotts Square – 6983 7349 PizzaExpress Holland Village – 6677 3955

15% off for self pick up orders with promo code "15OFFSPU" from now to 13 June on Oddle. No min order required.

Delivery Promotions on Oddle:

Enjoy a FREE Classic 11" American Hamburger Pizza [NEW] on us with every $60 spent on delivery (excluding Bundles)

Bundles: Bundle Deal for 2pax ($29) includes Choice of 1 x 14" XL Romana Pizza (La Reine, Margherita, American, Pollo Forza, Giardiniera) 1 x Doughballs Pizza Express 2 x Cans of Soft Drinks (Coke, Coke Lite or Sprite) Family Feast for 4-5pax ($58) includes Choice of any 2 of 14" XL Romana Pizza (La Reine, Margherita, American, Pollo Forza, Giardiniera) 1 x Garlic Bread with Mozzarella 1 x Doughballs Pizza Express 4 x Cans of Soft Drinks (Coke, Coke Lite or Sprite)

Min order of $50 Islandwide delivery at $6

https://pizzaexpresssg.oddle.me/en_SG/ Also available on GrabFood, Deliveroo & Foodpanda
Fatburger
$10 off first islandwide order when you order from https://order.fatburgersg.com/

Flash your rewards account (https://rewards.deelishbrands.com/) in store and receive 15% off takeaways

Islandwide Delivery available on https://order.fatburgersg.com/

Delivery also available on Grab Food, Deliveroo & Foodpanda

Takeaway from:

Cineleisure Orchard, #01-07 NEWest Mall, #01-89 Kinex Mall, #01-70/71/72 Velocity @ Novena Square, #01-08/09 The Star Vista, #01-33

Blimpie
$10 off first islandwide order when you order from https://order.blimpiesg.com/

Flash your rewards account (https://rewards.deelishbrands.com/) in store and receive 15% off takeaways

10% off pick-up orders with promo code PICKUP10 when you order from https://order.blimpiesg.com/

Valid from 16 May - 13 June

Islandwide Delivery available on https://order.blimpiesg.com/

Delivery also available on Grab Food, Deliveroo & Foodpanda

Takeaway from: #01-52/53 KINEX Mall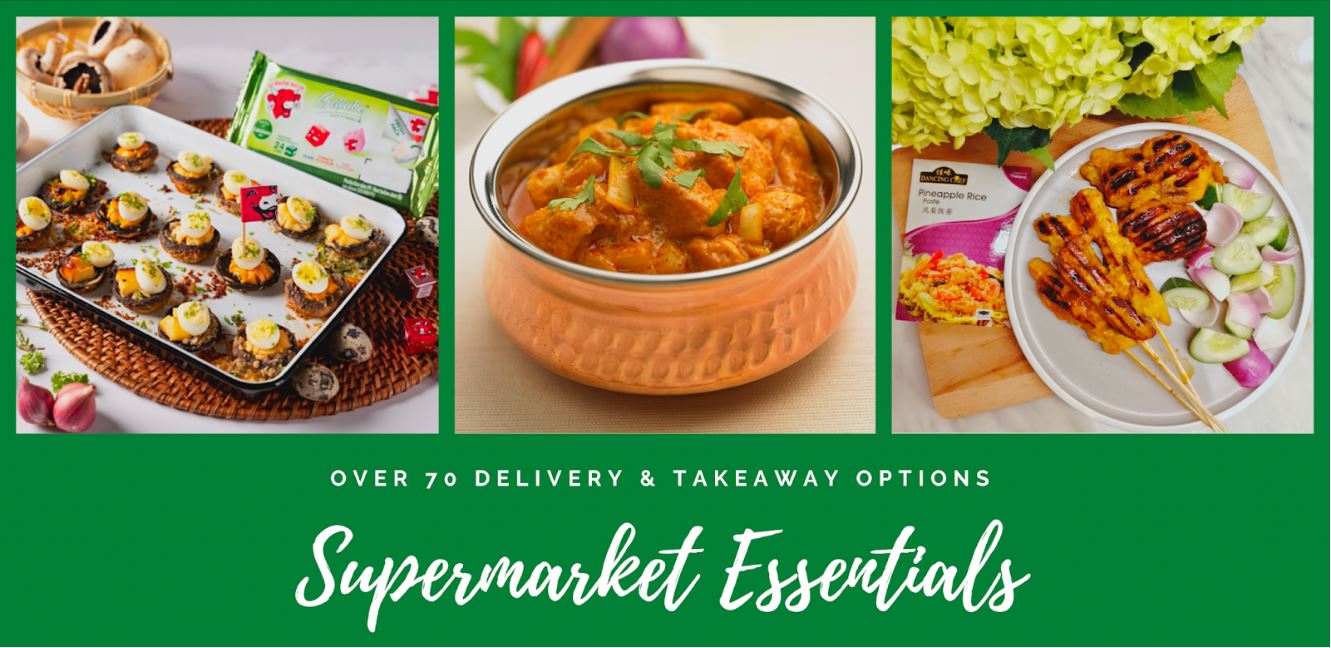 Restaurant / Brand
Promotions
Takeaway / Delivery
Dancing Chef™ Pastes
From 29 April 2021 to 31 May 2021, get 3 packs of Dancing ChefTM's pastes for S$7.85 (Usual Price: S$2.85 per pack). Available at all major supermarkets and RedMart.
Available for online order and delivery on Cold Storage, GIANT, NTUC, Red Mart and Sheng Shiong
The Laughing Cow Cheese
Redmart: Weekend promo (15th & 16th May 202) $3 off with min $10 spent on Redmart From now till 25th May, buy 2 The Laughing Cow products - get 20% off and FOC 6pc Kiri Cheese

NTUC FairPrice Roadshow Promo Spend $15 worth TLC products and redeem a Limited Edition 3-in-1 Container Available at the following outlets: FairPrice Hyper Jem                              13 – 26 May FairPrice Hyper NEX                              13 – 19 May FairPrice Finest Waterway Point         20 - 26 May

Available for online order and delivery on Cold Storage, GIANT, NTUC, Red Mart and Sheng Shiong
Singapore Home Cooks
Held nightly at 8pm, their live shows retail restaurant-quality ingredients and meals at optimum prices with cooking tips from professional chefs - allows individuals to enjoy great meals while staying safe at home.
Available on Facebook Live (www.facebook.com/SingaporeHomeCooks), 8PM
CP Foods
https://cpshopz.sg/ storewide 15% off and free delivery when you spend $89
Available at all major supermarkets, Redmart and https://cpshopz.sg/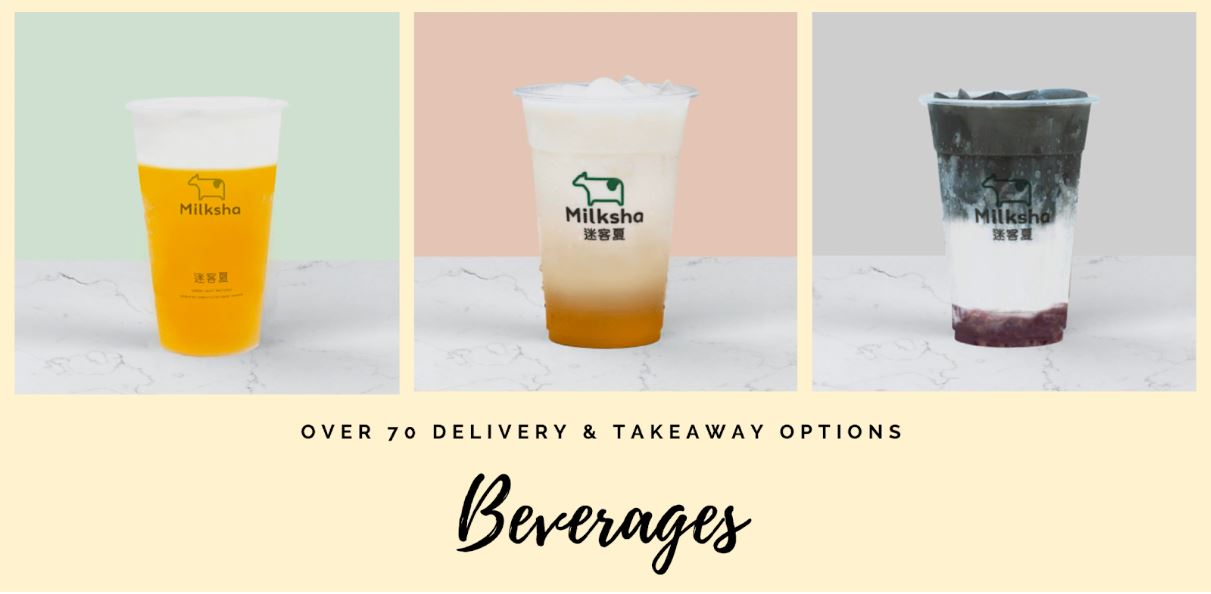 Restaurant
Promotions
Delivery / Takeaway
Milksha
Islandwide delivery and pickup available

[PROMOTION]

Get $5 Milksha credit when you download the Milksha App and enjoy bundle deals:

Fresh Milk Series Drink Voucher(s) $16.20

Includes 3 Fresh Milk Series w Toppings (U.P $20.40) & 1 Free Vacuum Flask (U.P $19.90)

Tea Latte/Milk Foam/Special Concoction Drink

Voucher(s) $16.00 Includes 4 Tea Latte/Milk Foam/Special Concoctions

Series w Toppings (U.P $20.80) & 1 Free Vacuum Flask (U.P $19.90)

Premium Tea Series Drink Voucher(s) x 5 $13.00 Includes 5 Premium Tea Series w Toppings (U.P $19.00) & 1 Free Vacuum Flask (U.P $19.90)

Download the Milksha Application

Also available on https://milksha.oddle.me/