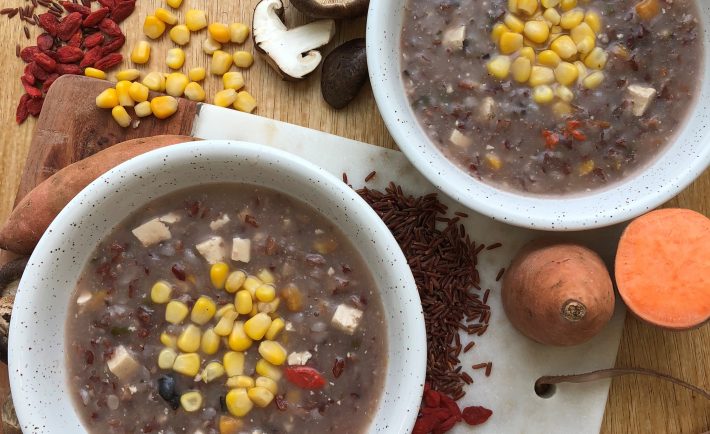 Image credits: McDonald's Singapore
SINGAPORE, 4 April 2018 – McDonald's is expanding its range of wholegrain offerings with the launch of Red Rice Porridge, the latest breakfast item created by local chef Anna Lim, also known by her moniker Souperchef Anna. Comprising 100% red rice, a type of wholegrain known for its unique colour and nutty flavour, the Red Rice Porridge is a low-fat, low-calorie option – and a nutritious way for Singaporeans to kick-start their mornings.
As Singaporeans become increasingly health-conscious1 and consume more wholegrain foods 2, McDonald's is championing red rice as a wholegrain alternative in the new offering, giving customers more choices to achieve balanced and wholesome eating at McDonald's.
"Our customers are constantly looking out for variety, quality tastes and balanced choices to meet their lifestyle needs. With that in mind, we felt that a game-changing move like Red Rice Porridge would make for an interesting wholegrain option on our breakfast menu – making it even easier for our customers to enjoy a hot, tasty and nutritious breakfast to achieve the balanced lifestyle that they seek," said Nita Chan, Director of Supply Chain, Menu Management and Quality Assurance, McDonald's Singapore.
The Singapore Health Promotion Board (HPB) recommends choosing wholegrains whenever possible. Ms Audrey Tong, Director of Corporate and Industry Partnerships Division, HPB said, "It is encouraging to see food and beverage establishments, such as McDonald's, provide more options on their menus for consumers to choose wholegrain varieties. With more of these alternatives available, consumers are able to make choices which can improve the quality of their diet as they work towards a healthier lifestyle."
A modern creation loaded with hearty ingredients including sweet potato, shiitake mushrooms, bean curd, corn and goji berries, every mouthful of Red Rice Porridge is packed with natural flavours and goodness, with no added MSG. With 100% red rice and less than 150 Calories in each serving, the Red Rice Porridge carries HPB's 'Higher in Wholegrain and Lower in Calories' Healthier Choice Symbol. The porridge is also suitable for both vegans and vegetarians alike.
"When I tasted red rice during a visit to Bhutan and learnt about the much-loved staple in the people's diet, I was inspired to create a fusion recipe using this nutritious wholegrain and my love for porridge, a familiar hawker fare that many Singaporeans enjoy for breakfast. This was how the Red Rice Porridge was born – a simple yet perfect combination of nutrition, flavour and comfort," said Souperchef Anna.
"While all wholegrains are good for you, red rice does have at least 20% more zinc and iron compared to brown rice – both of which are essential for boosting the body's immune system and are important components of many enzymes," said Jaclyn Reutens, Dietitian, Aptima Nutrition & Sports Consultants. She added, "With less than 1.6g of fat per serving, the Red Rice Porridge makes a great low-fat option for a healthy breakfast. Having it together with a Corn Cup (3oz) adds 4.5g of dietary fibre to your diet, equivalent to a quarter of the daily required intake."
From 5 April 2018, the Red Rice Porridge will be available as a permanent offering during breakfast hours in all restaurants as well as via McDelivery® from $3.40 for a-la carte orders. Customers can also savour the wholesome porridge with Premium Roast Coffee or Tea from $4.30, or in a Breakfast
Extra Value Meal™ that includes a Hashbrown or Corn Cup (3oz) on top of Premium Roast Coffee or Tea from $5.80.