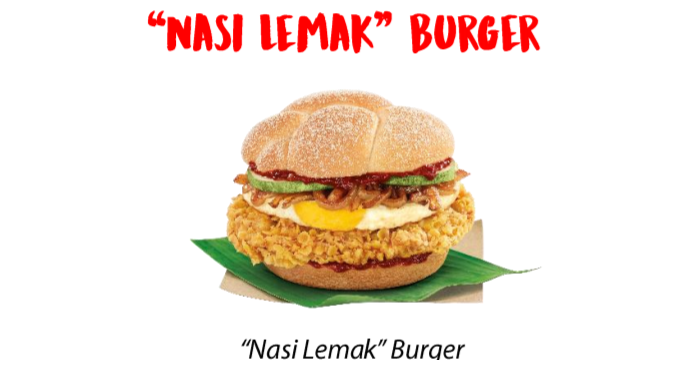 As we count down to National Day, McDonald's Singapore is launching a delicious menu selection that puts a modern spin on traditional local favourites.
Adding to its variety of iconic burgers and desserts that Singaporeans love, McDonald's is celebrating the diverse local food heritage with a creative touch to whet local appetites. Familiar local fare that Singaporeans grew up eating such as Nasi Lemak, Bandung and Chendol form the inspiration behind the new limited-time menu, launched in conjunction with the Singapore Food Festival (SFF) 2017.
Inspired by the iconic Malay dish, the "Nasi Lemak" Burger combines key elements of the dish in a mouth-watering recipe that will capture your senses from miles away. The juicy chicken thigh patty, a star ingredient of the burger, is rich in aromatic coconut flavours and coated with cornflakes crunch for an extra crispy finish. Served between lightly toasted semolina buns, the chicken thigh patty is layered with a golden fried egg, a bed of caramelised onions, crunchy cucumber slices, and topped off with a dash of sweet and spicy sambal sauce for that extra zing.
The "Nasi Lemak" Burger is available from $5.96 a la carte, or from $7.80 in an Extra Value Meal.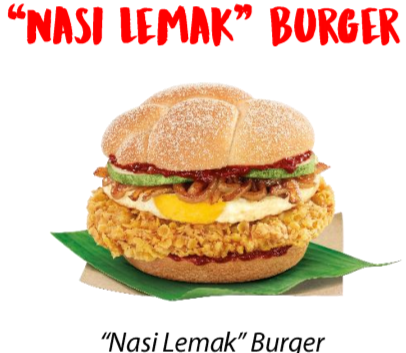 McDonald's will also launch items that include local favourites such as Bandung McFizz, Criss Cut Fries, Chendol McFlurry & Coconut Pie, Chendol Melaka Cone, Pandan Coco Frappe and Kueh Salat Cake.