Looking for somewhere to go after 9pm?
Head over to IKEA every Friday & Saturday as their Alexandra and Tampines stores will have extended shopping hours until 11pm and 11.30pm respectively.
Shop for your Chinese New Year goods with IKEA's LYCKSALIG range products or fill your belly with a late night supper $1 Tim Sum deals.
Enjoy piping hot chicken wings at $1 per piece, 2 pieces of siew mai at $1, 2 mini char siew pau at $1 and many more.
Dates of extended opening hours: 15-16 Jan, 22-23 Jan, 29-30 Jan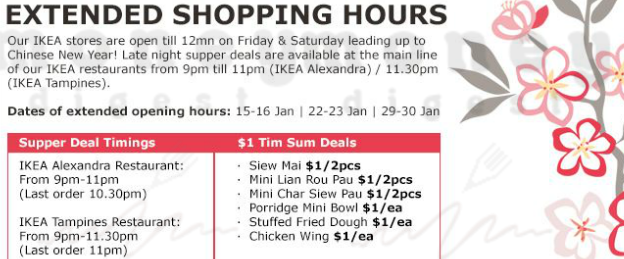 Share this news with your friends and head over to IKEA every Friday and Saturday, for the month of January!