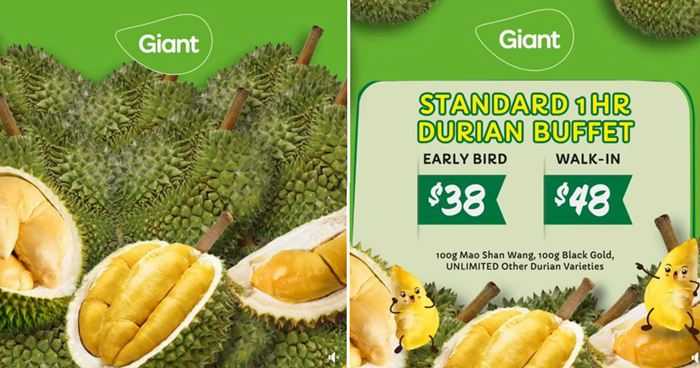 Calling all durian lovers! Prepare your taste buds for an extraordinary experience as Giant Singapore bring you the first-ever Durian Buffet, happening from 2nd to 4th June at the Giant Tampines Hypermarket. Get ready to feast like a king on an array of your favorite durian varieties, including the coveted Musang King and Black Gold, all in unlimited quantities!
To make the deal even sweeter, they are offering exclusive Early Bird Specials for those who secure their desired buffet packages before 1st June. This is your chance to grab a fantastic deal and secure your spot at the Durian Buffet. The Early Bird Special prices are as follows:
$38 for the Standard 1 Hour Buffet; and
$68 for the Premium 1 Hour Buffet
Click here to RSVP now and take advantage of these amazing offers before they expire!
The Standard 1 Hour Buffet includes a serving of 100g Musang King and 100g Black Gold, complemented by unlimited servings of other delectable durian varieties. For those seeking the ultimate durian experience, our Premium 1 Hour Buffet offers unlimited servings of Musang King, Black Gold, and a wide range of other durian varieties. With each bite, you'll be transported to durian paradise, savoring the richness and creaminess that make durians truly irresistible.
But wait, there's more! In addition to the buffet, they are also offering à la carte durians at unbeatable prices, starting from just $2 per piece! This means that even if you can't make it to the buffet, you can still enjoy the divine taste of durian by selecting your favorite pieces from our à la carte selection. It's a deal-icious opportunity to satisfy your durian cravings without breaking the bank!
Remember, the Durian Buffet is happening from 2nd to 4th June at the Giant Tampines Hypermarket. Mark your calendars, set your alarms, and prepare to embark on a durian-filled journey like no other. Book your slot now and get ready to immerse yourself in the irresistible world of durian! You won't regret it. 😝