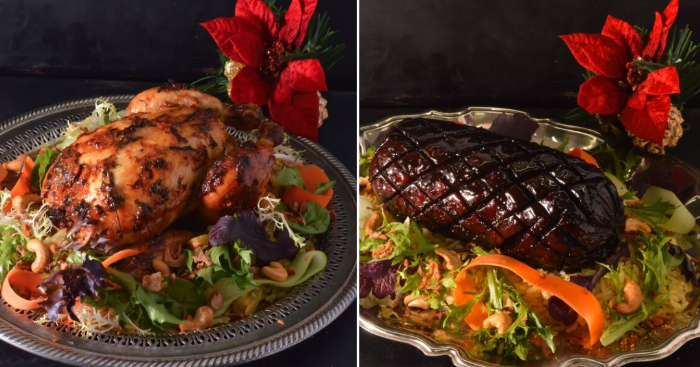 Get your festive bundle of delicious savoury and whimsical christmas cake conveniently at Antoinette
Delight your guests this festive holiday with the latest creation by award-winning Chef Pang of Antoinette – Singapore¹s first-ever Laksa Roast Chicken ($55), marinated with a special blend of spices, and roasted to perfection, as well as the Coffee Glazed Ham ($65), created from fresh pork shoulder and brined for three days before roast and glazed with Antoinette's special coffee syrup. Both dishes are served with pineapple pilaf rice and Achar salad on the side. Enjoy this festive bundle deal at $110 ONLY and save $10!

End your festive meal on a sweet note with the selection of whimsical Christmas cake collection created by Chef Pang! Enjoy $20 OFF when you purchase any grande size OR two petit size* festive cakes with the Laksa Roast Chicken and Coffee Glazed Ham! Choose from ³Winter Is Here² (petit – $50 / grande – $100) ­ a beautiful white chocolate Christmas logcake with sugar snowflakes and sparkles of blue snow, the appealing ³Snow Globe² cake (10cm – $15/ 15cm – $65) or the enchanting ³A Walk In The Forest² cake (petit – $55/ grande – $110) made with grand cru dark chocolate mousse layered with cocoa sponge laced with Grand Marnier.
Complimentary Ginger Bread Orange Almond Cookies for any order by 15th Dec 2017. Orders are to be made four days in advance before collection. Pre-orders and collection at Antoinette restaurants located at 30 Penhas Road or Mandarin Gallery. Kindly contact +65 6293 3121 / +65 6836 9527 or email [email protected] for orders.
Terms & Conditions:
*Not applicable for Snow Globe