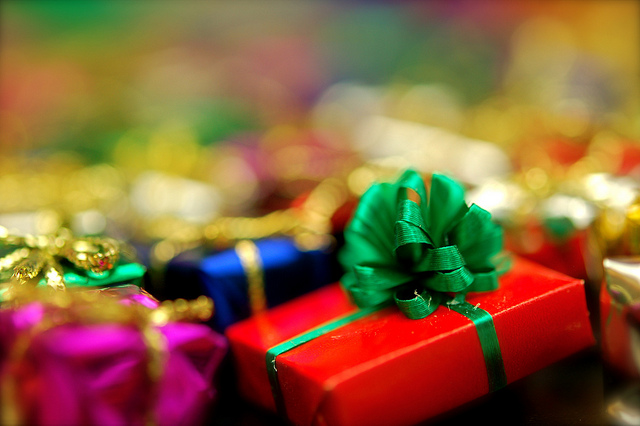 Image credit: JD Hancock via Flickr
Christmas is just around the corner. While searching for the perfect gift, keep in mind that you must also be financially-savvy. You may be tempted to go over your budget since this holiday only come once a year. But, your gifts need not to be expensive to make your loved ones smile! Here are 7 Awesome Christmas Gift Ideas under $50.
FOR THE WANNABE FIT FRIEND
US$29.95 or S$39.53. Buy it here.
The Wake up Workout Alarm Clock is the perfect gift for that person who wants to lose weight, but is too lazy to get up the bed. This alarm clock only shuts off after you have done 30 reps of consecutive bicep curls. The dumbbell-shaped alarm clock has a countdown timer on one side, which counts the number of reps you have done. Even the motion sensors inside can detect how many bicep curls you have done only if you swing it right. So, it will be really hard for you to cheat!
FOR YOUR FASHIONISTA SISTER
S$12.90. Buy it here.
Since the Coachella Music Festival, the trend has been leaning towards the gypsy or bohemian style. This Jeweled Hair Decor by H&M will surely make your sister stand out from the crowd. Don't worry about its fitting because its silver chains have an adjustable length up to 63 cm.
FOR THE ON-THE-GO MOM
S$29.90. Buy it here.
Busy moms who are always stressed with tight deadlines need pampering too! With this Wild Argan Oil Beauty Bag by The Body Shop, your mom will feel beautiful from head to toe. It is consist of an Argan Oil shower gel, body butter, body scrub—all imported from Morocco. Best of all? The cost of youthful skin won't hurt your wallet.
FOR YOUR PHILOSOPHER DAD
S$21.86, Outliers Book. S$21.83, Tipping Point Book. Buy it here.
Indulge your deep thinking dad with the best-selling books by Malcolm Gladwell. Personally, I recommend the "Outliers: Story of Success", and the "Tipping Point: How Little Things Can Make a Big Difference". Not only will he thank you for this interesting read but it will change his view of the world too.
FOR YOUR SPECIAL SOMEONE
S$42. Buy it here.
Nothing beats a custom-made gift such as a Personalized Name or Word Necklace from MyLittleBow shop. You may use his or her nickname, your secret code or your term of endearment. It will make your girlfriend, boyfriend or best friend feel that you have really thought of them. Orders take about 3 weeks to be ready, so be sure to place your order early!
FOR YOUR COFFEE/TEA LOVING BOSS
US$14.95 or S$19.73. Buy it here.
This heat sensitive battery mug glows green once you pour hot beverage on it. Then, the battery turns black once your coffee or tea is cool enough to sip. The battery will also appear empty once you've finished all of its contents, and it's time to refill. Your boss will surely appreciate this thoughtful reminder.
FOR THE PROUD SINGAPOREAN
S$20, Badges. S$22, Canvas Totes. Buy it here.
The Little Dröm Store sells Badges and Canvas Totes for several types of Singaporean. From the Precise (Zhun zhun guni hoon), to the Champion (Kiasu), and the Composed Singaporean (Steady Pom Pipi), this store has it all for you! The badges are available in 16 different designs, which you may check out here.
While, their totes (fits A4 folders) are available in 8 designs namely: Stylo Milo, Siao On, Jiak Gan Tang, Steady Pom Pipi, Chop Chop Curry Pok, Kan Cheong Spider, Kiasu, and Huat ah. These adorably designed and hilariously clever badges and totes will make you feel closer to home.