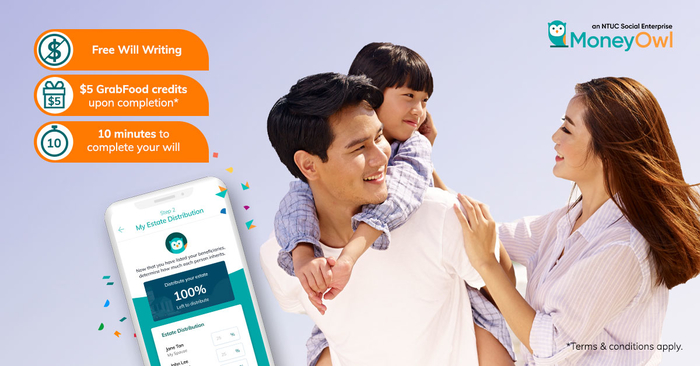 Writing a will in the past used to be a cumbersome and costly affair. It had to be done in the presence of legal counsel where fees could easily run into the hundreds or even thousands of dollars. Thankfully, MoneyOwl has made the will writing process extremely fast, convenient and affordable (FREE!). As an NTUC Social Enterprise, MoneyOwl has inherited a legacy of doing social good and caring for the community. Will writing is just one of the products and services offered at MoneyOwl to help ordinary Singaporeans manage their money well so that they can reach their life goals.
Importance Of A Will
The importance of a will cannot be underestimated, yet it is often one of the most neglected actions. In the absence of a will, intestacy laws will determine how the deceased's estate is distributed to the beneficiaries. For instance, if you have a spouse and child, your parents will not get a piece of your estate in the event of your death. On the other hand, having a will allows you to dictate how your estate will be distributed and ensure that your intended beneficiaries will be taken care of.
Furthermore, you get to appoint your own executor and trustee to manage your assets and execute your will. This not only gives you peace of mind but is also a financially responsible act to your loved ones. Having a will helps you prevent unnecessary disputes amongst your loved ones.
Write Your Will For Free
Writing your will with MoneyOwl is fuss-free and easy. As no lawyer is required to be present, will writing can be done online anytime, any day. All these in less than 10 minutes and from the comfort of your home! All you need to prepare beforehand are the names and NRIC of your beneficiaries, executor, and two witnesses. Find out more on MoneyOwl's website.
Receive $5 GrabFood Credit
If offering its valuable will writing service for FREE is not a good enough reason for you to take action, how about an additional $5 GrabFood credit? That's right, MoneyOwl is giving out $5 GrabFood credit to new MoneyOwl clients who successfully complete their will writing service before 20 Nov 2020*.
Hurry and take advantage of this limited-time promotion to get your will drafted for FREE today with MoneyOwl!
*Only applicable to the first 1,500 clients NEW to MoneyOwl and who successfully complete their will within the campaign period (21 Sep – 20 Nov 2020).
Learn More About Will Writing
If you would like to learn more about will writing and why you need one, watch MoneyOwl's Webinar on Will Writing that they have recently held.