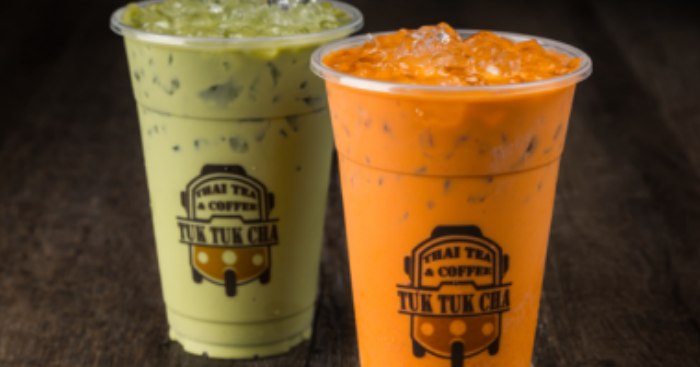 Enjoy 1-for-1 Thai Milk Tea and more
If you are a fan of Thai Milk Tea, don't miss out Tuk Tuk Cha's upcoming promotion.
On 30 May 2018, visit any of the Tuk Tuk Cha outlets in Singapore and enjoy 1-for-1 promotion on all  drinks including Thai Milk Tea, Homemade Lemongrass, and more.
Check out the announcement below: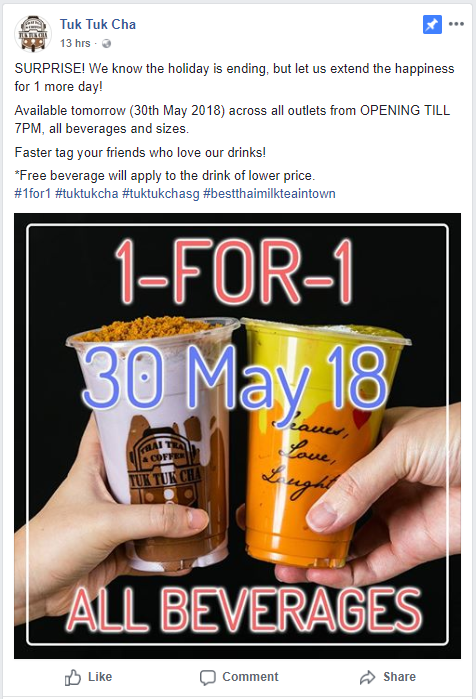 Share this news with your friends and loved ones!
---
Outlets
1. SUN PLAZA #01-15
(At the main entrance)
Monday – Thursday : 10am – 10pm
Friday – Sunday. : 10am – 10:30pm
Last Noodle Order : 60 mins before closing
Last Toast Order : 30 mins before closing
Last Drink Order : until closing
2. RAFFLES CITY #B2-16
(Near to escalator to B2 to Esplanade MRT)
Monday – Friday : 8am – 9pm
Sat – Sun : 9am – 9pm
Last Food Order : 60 mins before closing
Last Drink Order : 30 mins before closing
3. TAMPINES 1 #B1-K2
(Beside Ya Kun Toast)
Monday – Sunday : 10am – 9:30pm
Last Food Order : 15 mins before closing
Last Drink Order : until closing
4. JUNCTION 8 #02-20A/21
(Opposite Regina)
Monday – Sunday : 10am – 10pm
Last Food Order : 60 mins before closing
Last Drink Order : 30 mins before closing
5. JURONG POINT #K9/K10
(Between JP1 and JP2)
Monday – Sunday : 10am – 10pm
Last Food Order : 45 mins before closing
Last Drink Order : 30 mins before closing
6. [email protected] #B3-54
Monday – Sunday : 10am – 10pm
Last Food Order : 15 mins before closing
Last Drink Order : until closing
7. WATERWAY POINT #B1-K8
(B1, open space)
Monday – Sunday : 10am – 10:30pm
Last Food Order : 45 mins before closing
Last Drink Order : 30 mins before closing
8. NEX #02-12
Sunday – Thursday : 10am – 10pm
Friday – Saturday : 10am – 10:30pm
Last Food Order : 45 mins before closing
Last Drink Order : 30 mins before closing
9. HILLION MALL #01-03/04
(Beside Level 1 Entrance / Taxi Stand)
Monday – Thursday : 10:30am – 10pm
Friday – Sunday & P.H. : 10:30am – 10:30pm
Last Food Order : 45 mins before closing
Last Drink Order : 30 mins before closing
10. BUGIS JUNCTION #M01-K1
(Open space, facing Victoria Street)
Monday – Sunday : 10am – 10pm
Last Food Order : 60 mins before closing
Last Drink Order : 30 mins before closing
11. HARBOURFRONT CENTRE #02-01/02
(Beside DBS)
Monday – Friday : 8am – 10pm
Saturday, Sunday, P.H. : 9am – 10pm
Last Noodle Order : 90 mins before closing
Last Food Order : 45 mins before closing
Last Drink Order : 30 mins before closing