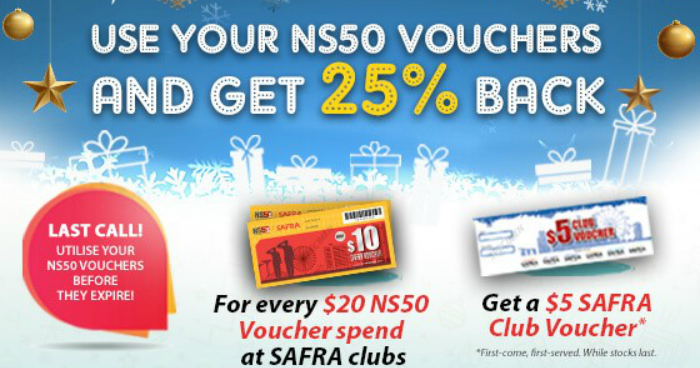 If you have been storing your NS50 vouchers in your wallets, it may now be the time to use them as they would be expiring at the end of this year. With only a month and a half before the year ends, it may be nerve-wrecking to find out what and where they can be used for. To ease the burden of you, SAFRA is running a promotion where you can spend your NS50 vouchers on, and even get 25% back in return!
To enjoy a 25% rebate of your NS50 vouchers, you would be required to spend them at SAFRA clubs around Singapore. Rebates would be in the form of vouchers, and for every $20 NS50 voucher spent, you would be entitled to a $5 SAFRA Club voucher! Do take note that this promotion is only applicable for SAFRA members and while stocks last.
You may be wondering what you can do with the NS50 vouchers at SAFRA clubs –  But just head down to a SAFRA Club Customer Service Counter and you will be able to use your vouchers to book facilities, register for SAFRA Club events, and even sign up or renew your SAFRA membership! SAFRA club facilities includes booking of chalets and villas, function rooms and more! You can also use your NS50 vouchers to make sales transactions at SAFRA vendors, however, this exclude The Winner's Circle!
Upon reaching the minimum spending in a single receipt, redeem your $5 SAFRA Club voucher with your SAFRA membership card at the Customer Service Counter and you are good to go! Now that you have gotten your $5 SAFRA Club voucher, you may wish to check out the Festive Bazaar which SAFRA has organized, where you can also spend the SAFRA Club vouchers you have just redeemed!
Here, we have a list of brands that will be stationed at SAFRA clubs where you can use your SAFRA Club vouchers: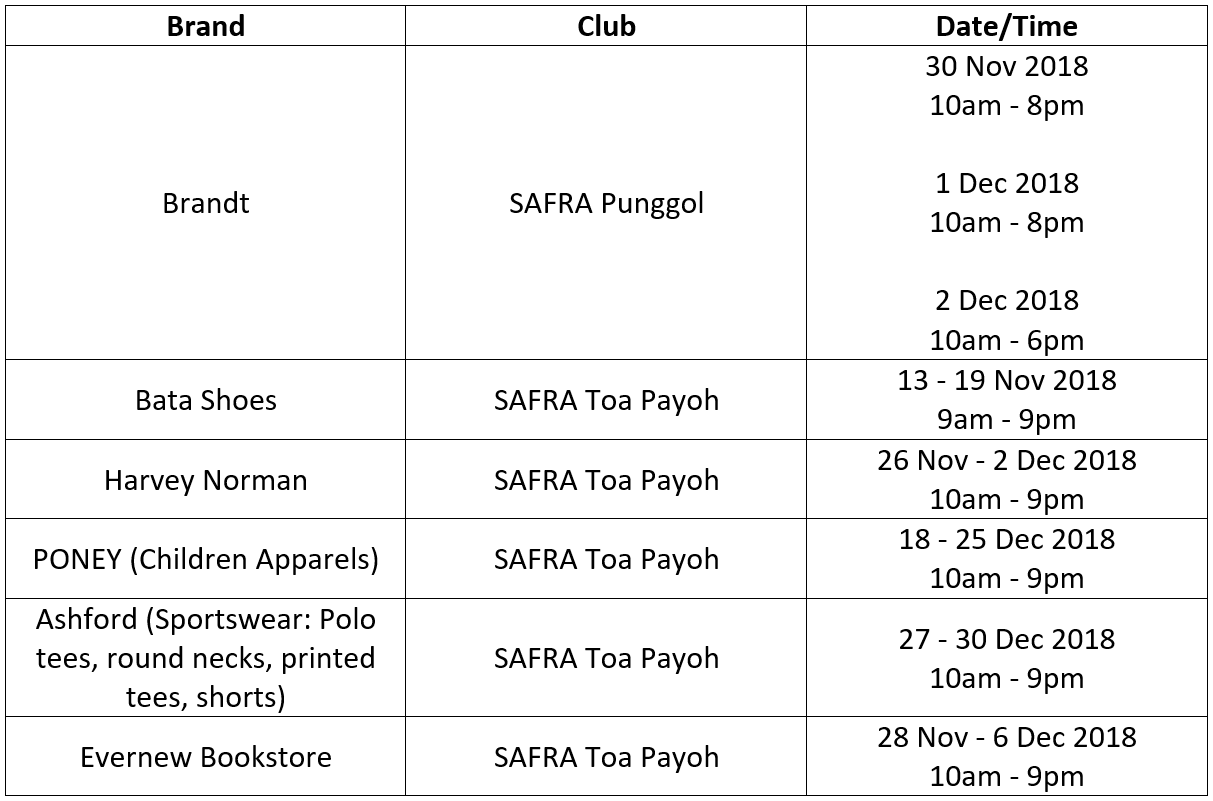 These brands below would also be part of SAFRA's Festive Bazaar, however, you would not be able to use the SAFRA Club vouchers, but you can still enjoy promotional prices from these merchants:

Celebrate This Festive Season With Great Deals!
With promotions from SAFRA and its merchants, spend your Christmas celebration with great discounts! If you have not planned where to go or what to do this Christmas, you may consider using SAFRA facilities like its chalets or villas, or even spending your time at its leisure and entertainment activities like bowling, darts, karaoke and more! There is something for you and your entire family to do at SAFRA Clubs, so be sure to check them out and utilise your NS50 vouchers before the year ends!
To find out more about SAFRA's festive promotions, NS50 vouchers T&Cs and anything SAFRA, click here.