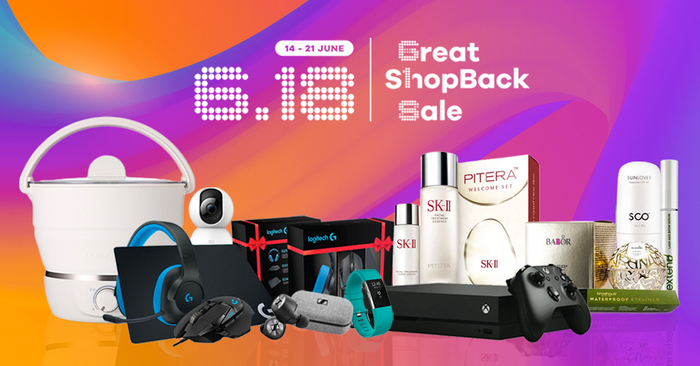 You know what to do: get your wishlist ready, bookmark your favourite items and mark your calendar for all flash deals timings. This is going to be epic.
What you need to know to make the most of this 6.18 Great ShopBack Sale sale between 14 to 22 June:
100x MEGA Cashback Draw

– Yes, we will multiply the cashback amount x 100 times for one lucky winner!

10x Epic Cashback

for one lucky winner each day from 14 to 21 June.

50% Cashback Flash Deals

– You get your favourite item 50% off. And we are talking about the big ticket, favourite products of 2019!

And,

over 100 coupons and upsized cashback deals

across all shopping categories like electronics, travel, fashion and more.

Head over to ShopBack's

6.18 GSS page

for more details.
Planning and preparation is the secret of these 6.18 sales mastery. So get ready. We tell you all you need to know!
Cashback like never before
Think about your last purchase though ShopBack. Do you remember how much cashback you got? Maybe you earned $5, maybe it was $30… Now, imagine that amount multiplied by 10. That's a great cashback amount. Now, imagine if you earn 100 times the cashback amount from one of your purchases. Wow! That would be a huge prize.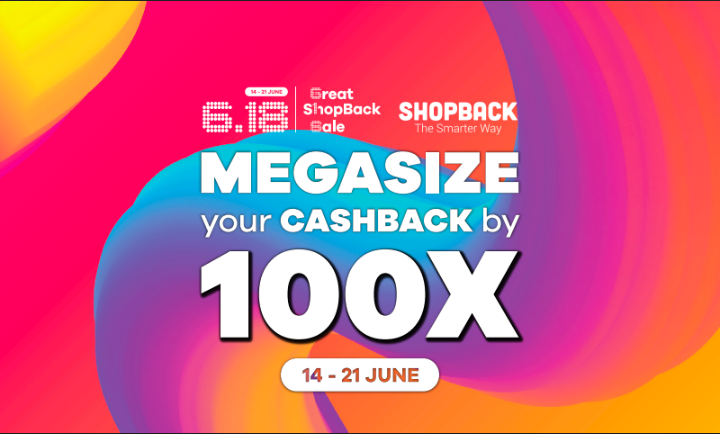 Good news! That is exactly what you stand to earn during this 6.18 sale. One lucky shopper will be awarded 100x the cashback amount from a purchase made during 18 June. And you can also stand to be the lucky winner to see your cashback multiplied by 10 for purchases made each day from 14 to 21 June.
Epic Cashback Cheatsheet on 18 June
Now, most importantly, to earn up to 100x or 10x cashback, you will actually need to shop. And during this period, shopping online comes with as many upsizes as you will need.
What do you need? Perhaps booking a hotel stay for your next trip. Are you looking to buy some sportswear or a new pair of shoes? What about a new dress? There are upsizes for your home essentials, for any electronics you might need and even insurance.
6.18 is the time to do all your mid-year purchases. You can save hundreds of dollars if you buy your stuff now. So get your shopping wishlist ready.
Top 10 key highlights as follows:
Shopee 6.18 Global Brands Sale + Up to 12% Upsized Cashback (was <10%)

Taobao 6.18 Flash Deals + 3X Cashback on exclusive items via ShopBack

Qoo10 4% Upsized Cashback capped at $3 (was <2%)

ChopeDeals 12% Epic Cashback (was 5%) 18/6/19 – 18/6/19

iHerb 18% Epic Cashback (was 5%)

Foodpanda 15% Epic Cashback (was <10%)

Agoda 12% Double Cashback (was 6%)

Enfagrow 18% Epic Cashback (was 4%)

Fareastflora.com 10% Epic Cashback (was <3.5%)

HP Up to 18% Epic Cashback (was <6%)
50% Cashback Flash Sales on 18 June
You can buy your favourite products for half the price. ShopBack is running their own Flash deals where you can get popular products at 50% CASHBACK! Nintendo Switch, Dyson Hair Dryer, Xiaomi Roborock Vacuum – you want it, we got it!
Catch all these items below half-price on 18 June, 12 midnight. There are limited quantities so get ready to be one of the first to buy. Note the different timings and make yourself available to nab one or all of these on Tuesday.
The beauty of this sale is that it comes with a chance of winning your favourite items without actually having to buy them. Join the party at their Facebook Live Game Show on 17 June for a chance of earning $2500 worth of products!
There will be a total of 10 trivia questions about ShopBack or brands available on ShopBack in multiple choice format. All you have to do is to answer them correctly! ShopBack will randomly draw ONE lucky winner for each question.
Here's a complete list of what you can win during the Live:
XBOX set worth

$619

Sennheiser Momentum Buds worth

$469

Fitbit Charge 2 worth

$298

Logitech Bundle worth

$159

Browhaus & Strip Voucher worth

$200

Beauty Emporium Beauty Set worth

$170

SK-II Pitera Welcome Set worth

$115

2x Mi Home Security Camera worth

$110

Nathome Multifunctional Electric Caldron + Cup Cooler/ Warmer worth

$120

Cathay Platinum Movie Suites worth

$76
Eyeing any of these items? Catch us LIVE on Facebook on 17 June, 9PM. RSVP and read all the rules here.
There you have all the info you need to ace the 6.18 Great ShopBack Sale. Don't say bojio!