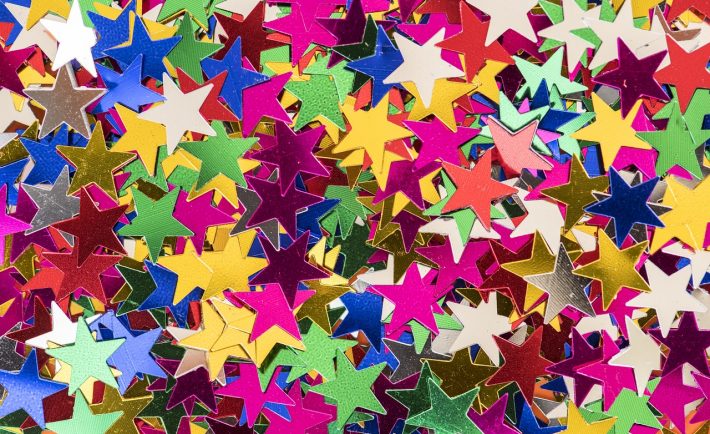 Image Credits: pixabay.com
Rainbow is one of the most timeless, cheerful, and popular themes for parties. Rainbow parties can be used to celebrate birthdays, promotions, graduations, or reunions. It adds a layer of positivity that can give any bunch an excuse to have fun!
Combining all the beautiful colors of the rainbow can be intimidating for some. After all, you have to pack a variety of colors in one party. Do not fret! There are a few rainbow party ideas that can make your theme shine.
INVITATIONS
They say that first impressions last. What better way to make an impact than by making sending out some vibrant invitations. There are two ways to create a low-cost invitation. Firstly, you may get some paint sample swatches at your nearby hardware store. Cut these swatches into strips and glue them on the paper. Have your child write the details to add a playful touch. Afterwards, photocopy or scan this invitation and distribute.
Lastly, you may create a rainbow in an envelope. Surprise your friends by following this simple printable. You will only need two sheets of paper, including an envelope. This printable is free for download!
DECORATIONS
When it comes to rainbow-themed decorations, you can either buy or make your own. Start with the hanging decors – the streamers or buntings. You can make a DIY Zigzag Accordion Streamer cutting papers vertically in an alternate manner. Do this with assorted colors of paper. Nonetheless, you may purchase rainbow buntings for less than S$10 at Lazada Singapore.
Let us focus on the centerpieces of your table. Welcome your guests with attractive blooms dipped in colored water. Dye the water inside the vase, before putting the flowers. Be as creative as you can! Lastly, you may create Rainbow Salt Jars with your beloved kids. Simply pour salt on a piece or paper to cover about 1/4 of your chosen recycled jar. Then, let your children rub their chosen colored chalk back and forth across the salt. Pour your colored salt inside the recycled jar until your reach your desired look. This is a tactile activity that will delight your kids and amp up your party!
People who are not blessed with time can simply purchase online. You may check out Lazada Singapore for cheap decorations such as rainbow pinwheels, rainbow latex balloons, and rainbow inflatable foil balloons.
ENTERTAINMENT
Your games can either take the classic route or the contemporary twist. Firstly, you can facilitate a "Pin the Cloud on the Rainbow" or a "Pin a Horn on the Unicorn" while the player is blindfolded.
Secondly, you may use colored cereals to make your own rainbow. Watch your children create patterns using the different colors of Fruit Loops! Prior to this, you may conduct a "sorting" activity to let out a few snacking and giggling.
Lastly, you can purchase the six-dollar Inflatable Rabbit Ear Ring Toss. This product is made of high-quality PVC, non-toxic, and wear- resistant material. Begin the game by grouping the players into pairs. One player shall wear the rabbit ear hat. While, the other shall toss the rings into it. The team with most rings will win!
FOOD
My favorite part of any party is the food! When it comes to rainbow food, you may let your wild thoughts flow!
A. Rainbow Fruit Skewers are both delicious and healthy. Both adults and children can enjoy snacking on these sticks!
B. Rainbow Marshmallows are as tasty as it sounds! Simply put a marshmallow into a stick. Dip this in chocolate syrup and coat it with sprinkles.
C. Unicorn Ice Cream is as elusive as you may think! Recently, Cornetto introduced its latest flavor called the Unicornetto. It is easy to spot this flavor with its holographic wrapper! Inside its eye-catching wrapper is a cotton candy and marshmallow ice cream appearing in a pastel mix of blue and purple colors. In the middle of the pink cone is strawberry jam. What's more? The toppings are pastel white and pink chocolate crisps. The mere act of typing these made my sugar rush! The Unicornetto costs about S$2.80 at selected 7-Eleven outlets islandwide.
May your rainbow-themed party lead you to a pot of golden memories in the end!