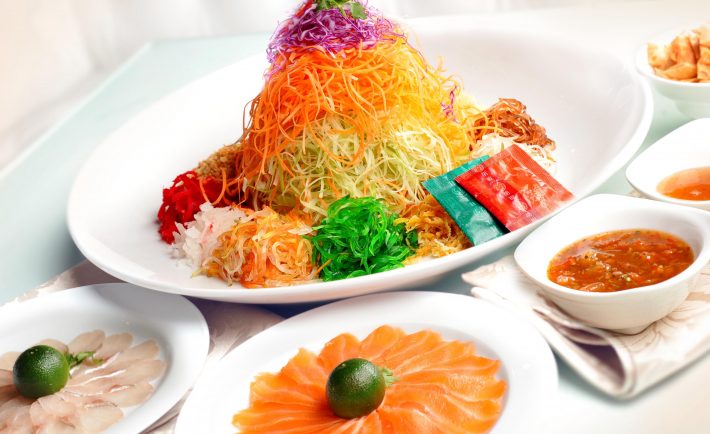 Image Credits: Pinterest
Yu sheng (鱼生) is also commonly known as yu sang in Cantonese. Most of us who have a basic understanding of Chinese know that yu sheng literally translates to "raw fish". But it also refers to a Chinese New Year dish with various vegetables, thin slices of raw fish, and seasonings.
Do you know that yu sheng has over 2,000 years of history in China? This well-known dish to many Singaporeans almost disappeared in China during the Qing dynasty. Thankfully, this tradition is still well-kept on our sunny island. Will you have it on the seventh day of the Lunar New Year? If yes, 18 February is the date to note.
Here are some pocket-friendly basic yu sheng platters from S$9.90 you can buy for the upcoming Chinese New Year.
Under S$10
#1: Sing Long Loh Hey Yee Sang 350g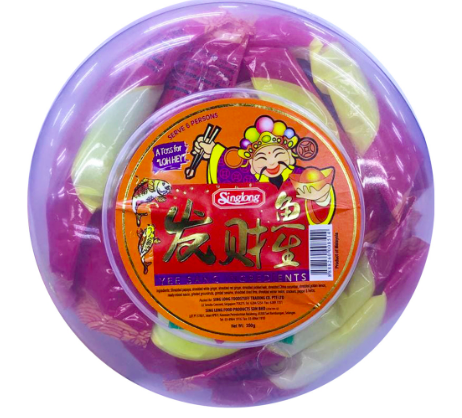 Price: S$9.90
Where to buy: Sheng Siong
We will start our list with the cheapest option. Sing Long's Loh Hey Yee Sang is the only one that's priced under S$10. It contains several shredded ingredients including papaya, golden lemon, and winter melon.
Under S$15
#2: Happy Family Fa Cai Yu Sheng 500g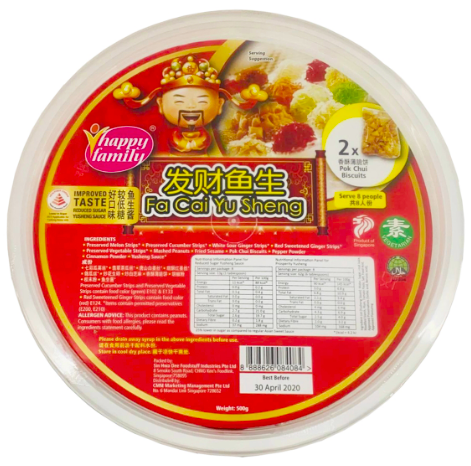 Sale Price: S$11.80
Usual Price: S$12.80
Where to buy: Sheng Siong
For our under S$15 category, the most affordable product is Happy Family's Fa Cai Yu Sheng. There is an ongoing sale at the point of writing so if you want to take advantage of the dollar savings, then get yours soon! This box serves up to eight people.
#3: Fortune Prosperity Yu Sheng 500g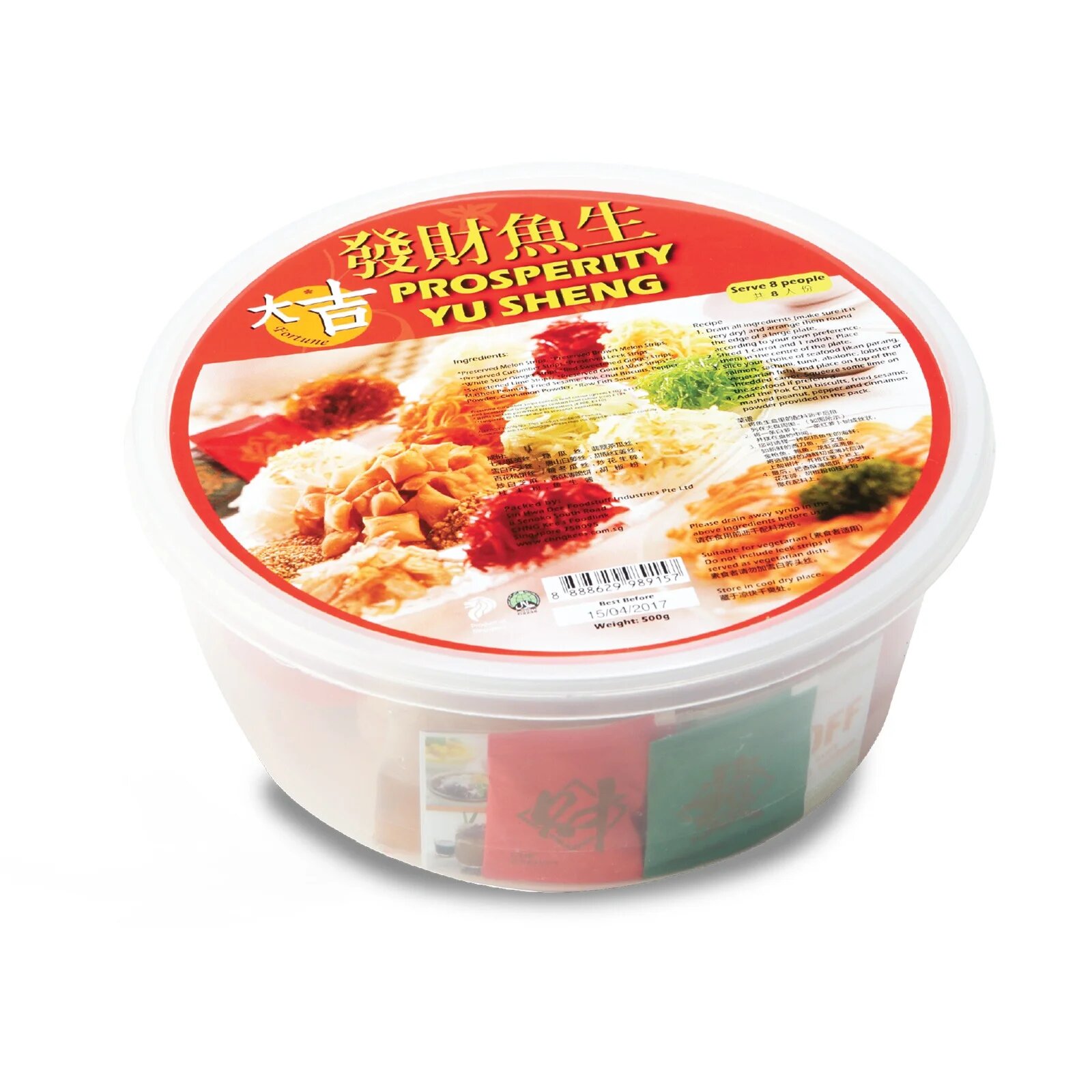 Price: S$11.90
Where to buy: Cold Storage
Similar to the previous listing, this is another 500g option you can consider. As you toss to prosperity and good luck during lo hei this year, how about wowing your loved ones with phrases such as 一本万利 (yi ben wan li) and 青春常驻 (qing chun chang zhu)?
#4: Tungsan Prosperous Yu-Sheng 520g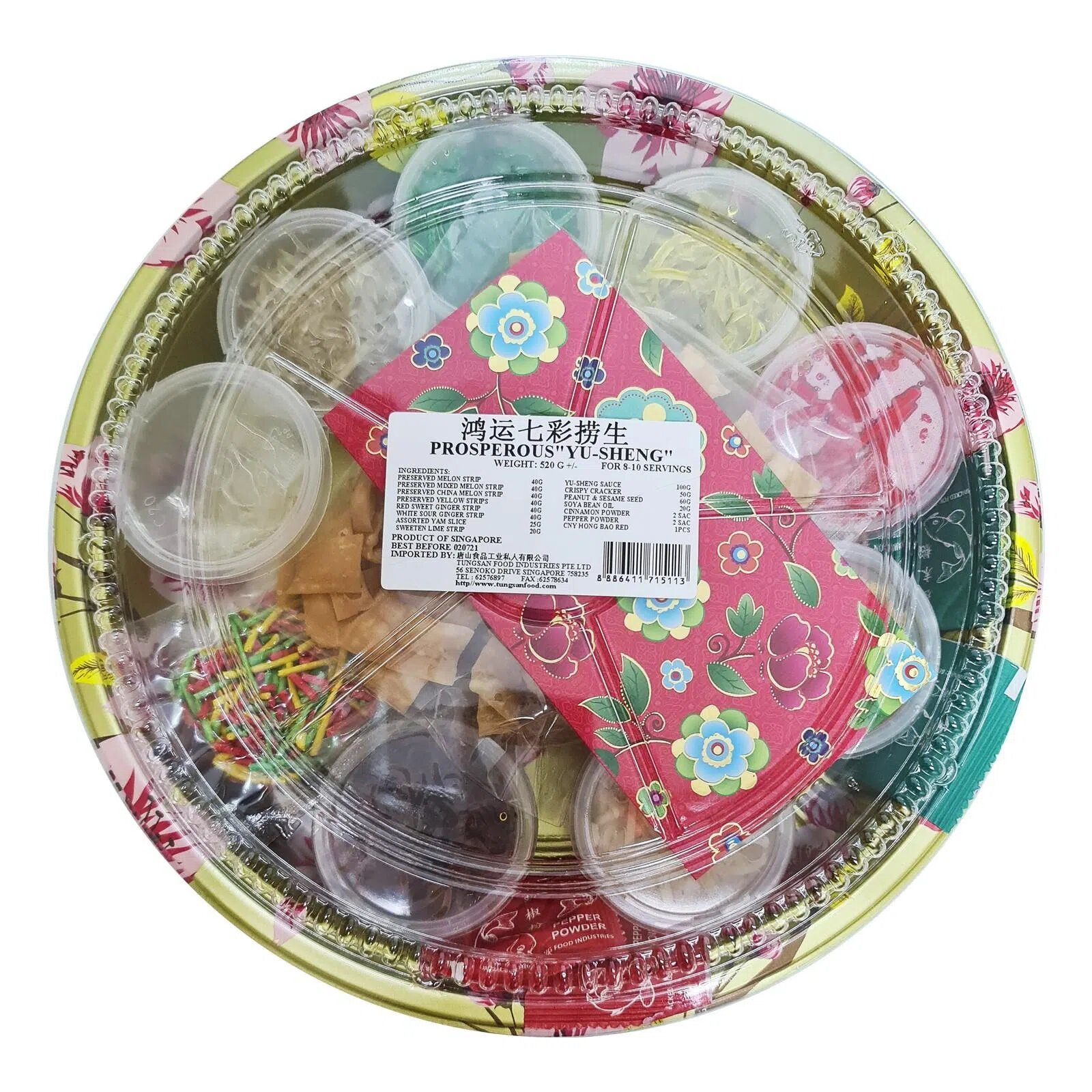 Price: S$12
Where to buy: FairPrice
Tungsan Prosperous Yu-Sheng is a product of Singapore. According to the item's listing on FairPrice, it's suitable for vegetarians. It's also halal-certified and trans-fat free! Although not a common sight, it contains assorted yam slices and one free red packet. Huat ah!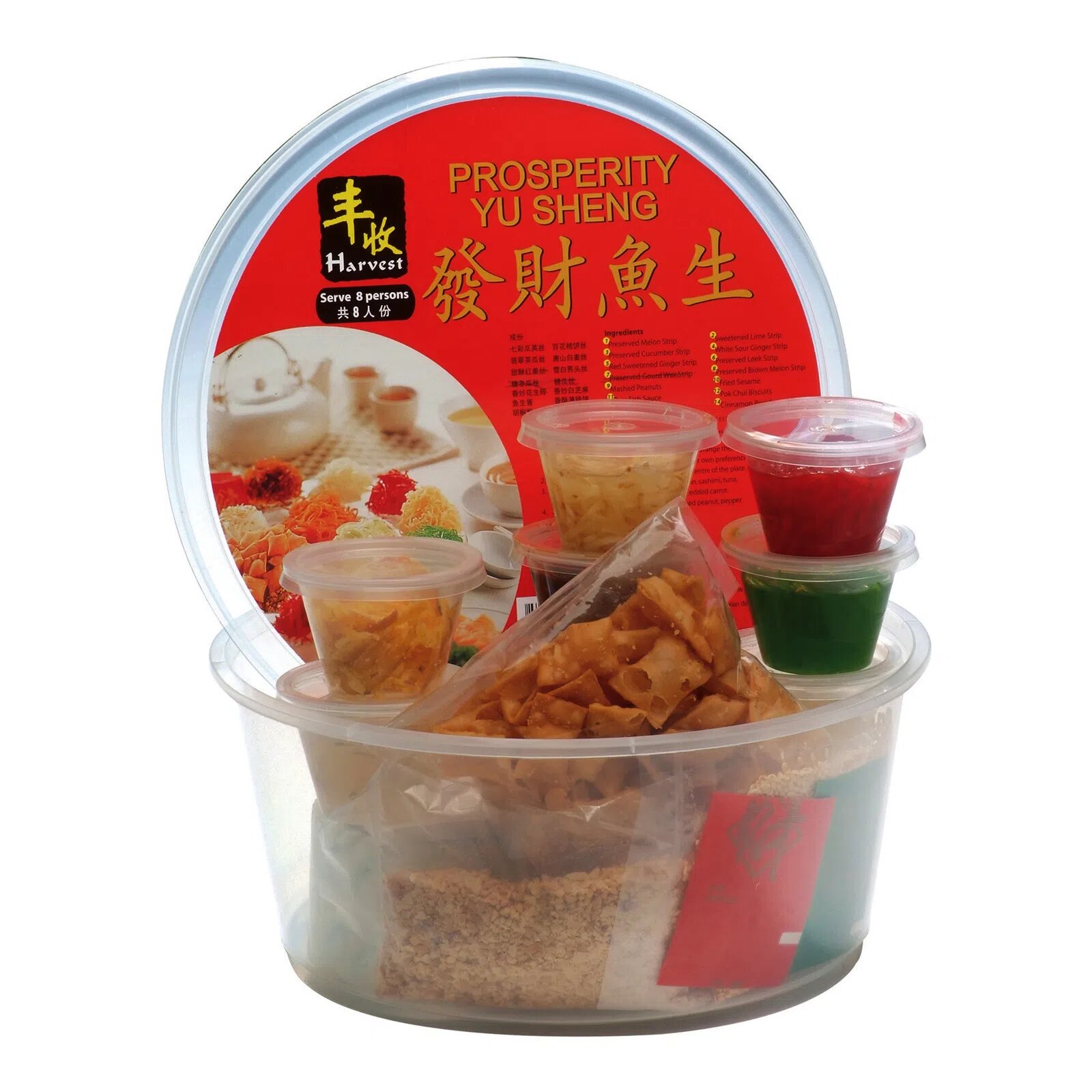 Price: S$12.50
Where to buy: FairPrice
Harvest Prosperity Yu Sheng is just right for a group of eight persons. Why not let the seniors take a break from saying auspicious phrases this year? Allow yourself to take on the challenge! Need a guide? Click through the link to find out what you need to say when adding the different yu sheng ingredients.
#6: Sing Long Yee Sang 600g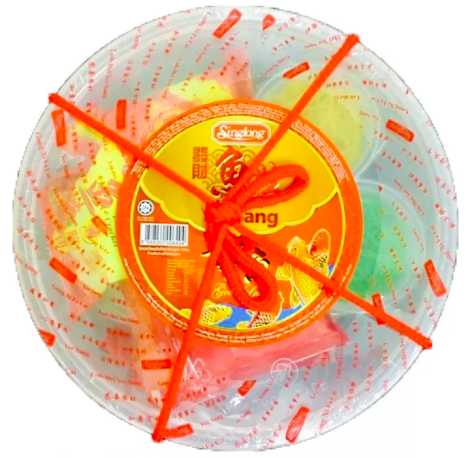 Price: S$13.80
Where to buy: Cold Storage
We started this article with Sing Long's Loh Hey Yee Sang at S$9.90. But if you have more mouths to feed, then this 600g option would be perfect. Instead of raw fish slices, you can also add some abalone to the platter. New Moon's New Zealand Abalone 425g is currently on a 19% discount! Get yours at S$36.80 before the promotion ends.
#7: Chef Chen Green Tea Yusheng 650g
Price: S$13.80
Where to buy: FairPrice
Oh wow, wasn't expecting a green tea flavoured yu sheng to make our list. This pack from Chef Chen offers up to 10 abundant servings! It comes with the healthier choice label, so health-conscious peeps can enjoy it guilt-free.
Under S$20
#8: MCM Yee Sang – CNY Red Box Yu Sheng (Small) 350g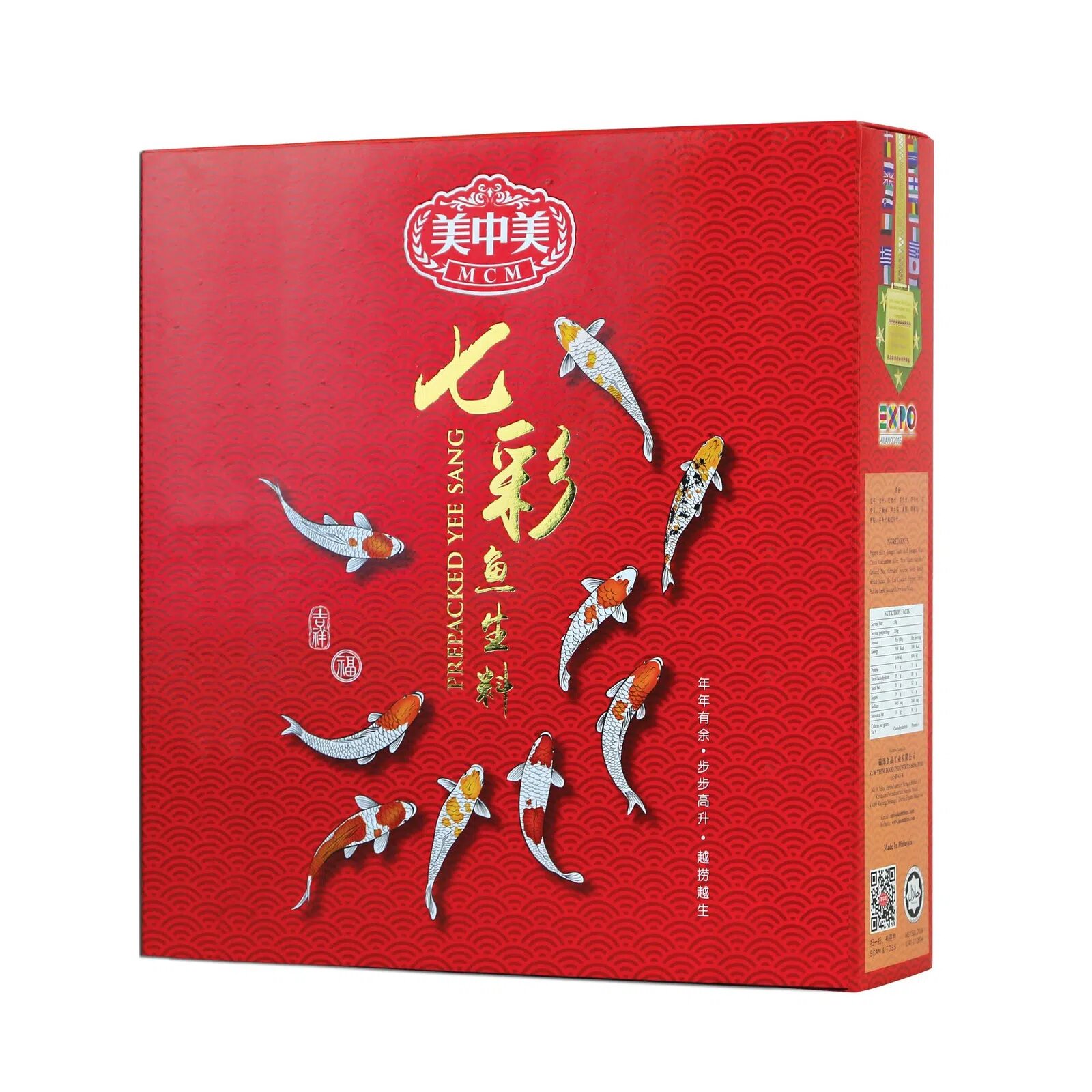 Sale Price: S$16.80 (till 1 February)
Usual Price: S$19.90
Where to buy: FairPrice
This item is a recent addition to FairPrice. It's a product of Malaysia and can serve up to six persons. If you have a little more budget to spare and would like to present a bag of yu sheng as a gift to someone, consider the MCM Yee Sang – CNY Gold Box Hong Yun Yu Sheng (Big). The well-packaged 600g box is priced at S$22.80 (promotion till 1 February only).
#9: RedMart Prosperity Yusheng 850g
Sale Price: S$17.30
Usual Price: S$18.30
Where to buy: RedMart
RedMart's platter is made up of freshly shredded vegetables, unlike the ones we've introduced thus far. Those who are concerned with excessive preservatives, this yu sheng kit might put you at ease. Please store in the refrigerator if you're not serving it immediately upon delivery.
#10: Sin Hwa Dee Fa Cai Yu Sheng 635g
Price: S$17.80
Where to buy: FairPrice
We like the unique packaging on this one. A box has up to 15 servings for everyone to eat their fill! Add some Fukuyama Frozen Hokkaido Scallops or fresh shrimps if you prefer variety over the usual raw fish slices.
Under S$30
#11: Din Tai Fung Prosperity Yu Sheng (Vegetarian)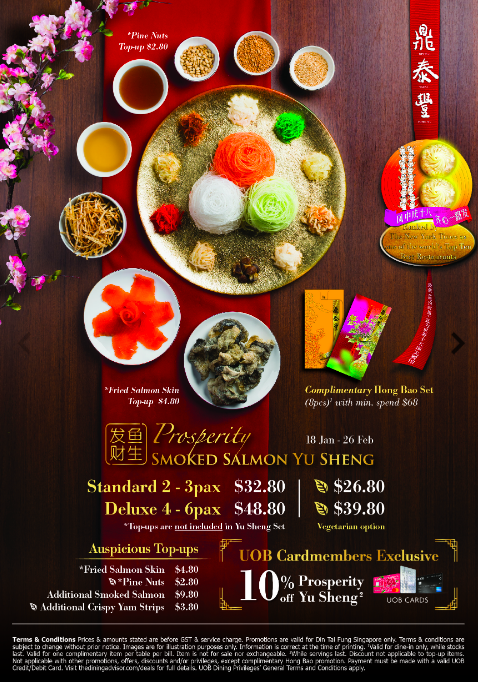 Price: S$26.80
Where to buy: Din Tai Fung
A standard plate of vegetarian prosperity yu sheng from Din Tai Fung will cost you only S$26.80, and that's why we've parked it at the "under S$30" category. But families who don't mind spending a little more can consider the non-vegetarian options shown in the graphic above. UOB cardmembers get 10% off.
Cheers to a bountiful and flourishing 2021, everyone!