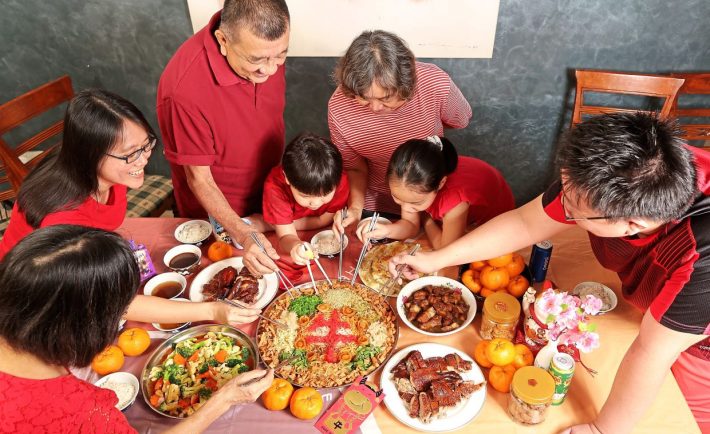 Image Credits: The Star
Hey folks, we're finally one more day to Chinese New Year! Tomorrow (11 February) will be Chinese New Year's Eve and usually a day where many of us will gather with our families for reunion dinner.
With the ongoing pandemic, Singapore is still treading very carefully in its safe reopening of the economy. Before we kick off the festivities with bak kwa, mini steamboat sessions, and pineapple tarts, here are six rules to note from the authorities.
#1: No festive events at work
We're not referring to work-related events but Chinese New Year festive events. Businesses should avoid gathering for meals or "lohei". Those who've been called back for such events can enlighten your management with this piece of news.
#2: Multiple table bookings not possible
A physical reunion with your extended family members at restaurants won't be possible this year because multiple table bookings are not possible.
But there is an exception. Those from the same household can be allowed to gather, but there should be no inter-mingling across tables. Now's also not the time to expand your social circle and meet up with multiple groups.
#3: A maximum of eight visitors per day
For those who haven't been able to catch up with the news, the eight-visitor cap was announced on 22 January and has been in effect since 26 January.
Recalling last year's clusters and a spike in cases after the Chinese New Year Period, this move will prevent history from repeating itself.
The Ministry of Health (MOH) has also urged residents to visit a maximum of two other households a day. The public should instead use digital means to connect with their loved ones instead of physical visits.
#4: Use TraceTogether & keep face masks on
You don't want to drain your mobile battery by running the TraceTogether app? We got you. How about bringing along your TraceTogether token before heading out? Oh right, regardless of whether you're visiting others or welcoming guests at home, the rule applies.
Lest you think you're only required to wear face masks when outdoors, please note that you have to do so even when you're in someone else's home. MOH has also requested the public to refrain from eating and/or drinking while walking around in public places.
#5: No shouting during "lohei"
Will you be tossing yusheng on the seventh day of the Lunar New Year? Wear your mask, and no raising of voices please.
Aligned with the current rules on wearing a mask when diners are not eating or drinking, the authorities have advised doing a quiet "lohei" without the usual verbalisation of auspicious phrases.
But you can still use this app to play pre-recorded audio clips of your ox-spicious phrases. Problem solved!
#6: Send e-hongbaos
The Monetary Authority of Singapore (MAS) shared last month that those marking the upcoming Chinese New Year are advised to offer e-hongbaos. This would help minimise queues for new bills and for individuals to do their part for the environment.
Remote gifting will also serve its purpose in virtual Chinese New Year gatherings. We guess it will sit very well with the younger peeps too! Here's an "Ultimate Guide To e-Angbaos" if you need help getting started.
Final thoughts
Before celebrating Chinese New Year, please keep the abovementioned rules in mind. The news reported that there would be more enforcement checks at F&B establishments, shopping malls, and crowded public spaces during this period.
Break not the law, and you will be just fine. 新年快乐, 财源滚滚!