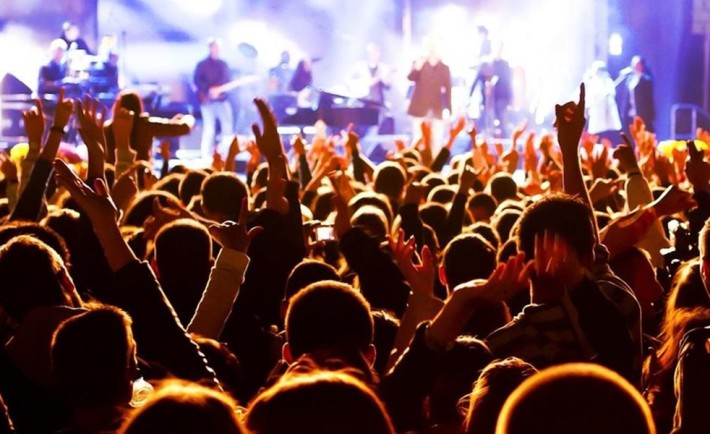 It's a fresh year, and you know what this means – an entirely new season of concert line ups!
With the latest acts such as Ed Sheeran and Charli XCX hitting Singapore's shores in the upcoming few months, the concert buzz is certainly spreading fast on our Facebook and Twitter feeds. Naturally, there is good reason for such palpable excitement. In cosy little Singapore, it's not everyday that you see big-name international artistes gracing our lands (in fact, it's still a common misconception that Singapore is a part of China – read: we are most certainly not!!)
Perhaps it is for this very reason that not many international performers actually do stop by Singapore for a quick vocal display, and coupled with the dire lack of space in our lovely little red dot, that leads us to the tiresome problem of exorbitant concert tickets. In fact, a single Category E ticket can cost as much as $88! While the anticipation may be understandable, a night out at a concert in Singapore can easily set you back a hundred or two if you are not careful with your finances. This certainly does not bode well, especially if you do not have the spare cash to spend, or if you've been strung on a tight budget.
Of course, the most financially savvy method would be to not attend a concert at all.
But hey, if you're a huge fan of that particular artiste or band, the temptation to get down to see their performance live can certainly be a difficult one to resist indeed! If you have sufficient loose change lying around – I say, go for it, or you might regret having missed out on a chance to see your favourite band performing live three years down the road (lord knows how many regrets I have held back in my concert-attending indecisions).
That being said, being willing to set down a hundred bucks or two to attend a concert should definitely not equate to letting your financial senses go for the night. In fact, when the concert adrenaline sets in, it will only be too easy for you to make the wrong financial choices and spend beyond your means!
As such, here's how to save money for the typical concert goer! After all, nobody ever said that you can't have your concert euphoria, and yet save yourself from spending unnecessarily at the same time. Read on for tips to save money at concerts!
1. Buy your tickets early!
Concert shows are usually announced well before the actual show dates themselves. As such, there are usually 3 to 4 months for you to purchase your tickets before the concert actually begins.
For shows that are smaller in scale – in which the organisers expect good attendance at best, but not necessarily a sell-out arena, there are typically early bird promotions in which you can get your concert tickets at $10-$20 off their usual prices!
These early bird promotions usually apply only for the first 2 weeks window, after the ticket sales first open. Or perhaps, the promotion may only be limited to the first 100 seats or so – it really boils down to the organiser's discretion, but it's a good chance for you to save some money if you're an avid fan of that particular performer.
As such, if you happen to get wind of an upcoming performance, note down the date at which the box office opens, and purchase your concert tickets as soon as possible to take advantage of any early bird ticket deals! Plus, buying your tickets early would also mean getting access to better seats. Unless, of course, you're getting tickets for a moshpit – no helping you there, let's just hope that you're really adept at squeezing under people's arms – but on the brighter side, you still get to save an easy 10 bucks!
2. If you can't get your tickets early, then buy them reaaaaally late
If you're a hardcore fan who happened to miss the early bird promotion, but you have a dire wish to attend the concert, then you might wish to ignore this bullet point, and go ahead to purchase your tickets at full price!
On the contrary, if you are in no way desperate to attend the show (perhaps merely keen, but not over eager), then maybe you might want to take a chance, and buy your concert tickets only a day or two before the performance itself. Now, this is certainly not a foolproof method – in fact, it's entirely subject to your luck. But if you're truly lucky, you may be able to manage to secure a good ticket at a significantly lower price!
See, there are many people who often purchase concert tickets on a whim, only to realise much later that the show coincides with another important event; say, the driving test that they have been awaiting for half a year! In such cases, they will probably attempt to sell off their tickets before the show itself to try to salvage some money, and not let the ticket go entirely to waste.
If you know a friend who is trying to sell off a pair of tickets for a performance by a band you like at a lower price, you can most certainly consider buying them! In fact, you are on very close terms with said friends, you may even muster an attempt to shamelessly bargain for further discounts (note: you might incur some short-term wrath, but what are friends for, right?)
Alternatively, you can try your luck on platforms such as Ebay or Carousell where last minute sellers might be desperately trying to peddle off tickets which they will not use. As a word of advice, always request for a meetup to receive the tickets in person. If the tickets are being sent through mail, it would be direly unpleasant if they were to go missing due to mishandling, or if you've just become the fresh victim of an online scam. Uh-oh.
3. Eat a full meal before the show
During performances, it can be easy to succumb to the urge to get a large box of crunchy popcorn, or a refreshing swig of ice cold beer. While this may be entirely appealing in concept, it is only after the spontaneity and concert hype has worn off that you'll realise you've been completely ripped off.
Concert venues often retail snacks and drinks, but at astoundingly high prices that are way beyond their worth. In fact, such snack fronts often sell simple popcorn boxes for as much as $8, or a basic can of soft drinks for an exorbitant $3 or more!
Instead, have a good, filling meal before the concert itself. Being sufficiently sated would help to dispel any urges to further indulge in any finger food or gassy drinks – all of which could add up to unnecessary costs.
4. Bring your own lightsticks
Lightsticks are a hot favourite at concerts.
Personally, I see no reason why – just switch on the torchlight in your phone and wave it about as a faux light stick, and you'll achieve the same effect. Then again, if lightsticks are totally straight up your alley, don't let me stop you!
But here's how you can avoid getting ripped off at concert venues.
You can buy your own lightsticks prior to the start of the concert for a better deal. In fact, for just $2, you can purchase a pack of two large lightsticks that can last up to several hours on end. Why buy lightsticks for $10 each at concert venues, when you can easily get them for one-fifth of the price at Daiso!
If you're a solo concert goer, you can even offer up the spare lightstick in the pack to a random stranger and make a fast friend or two at the concert!
5. Buy your concert merchandise only after the concert
Admittedly, concert merchandise can be part of the hype – there's just something oddly appealing about owning an exclusive concert band tee that lends you some fan credit.
However, concert merchandise sold at concerts held in Singapore can be terrifyingly expensive. In fact, a simple tshirt can cost as much as $60! Not to mention, other apparels such as hoodies, or parkas, may be sold, and these apparels may cost even more to as much as $100. If you're out to save money, perhaps buying concert merchandise wouldn't be your best bet to building up a loaded bank account.
That being said, if you've been hankering to own a piece of band merch for ages, here's how you can get them at a lower price – buy your concert merch only after the concert!
If the merchandise does not sell well, it is likely that stockists will be desperate to clear stock while everyone is well on their way home. As such, you might find that some band merch booths may have slashed the prices down slightly, and you'll be able to get a piece of the merch pie at a good deal.
Else, you can opt for surfing through second hand platforms like Carousell or Ebay to purchase merchandise that some fans may have bought on a whim, but no longer seem to need. In fact, you may even attempt to haggle the price down slightly to secure yourself a fantastic buy!
6. Better yet, don't buy any concert merchandise!
Alternatively, you may search up any local fanclubs a month or two before the concert. If you're in luck, the fanclub may have came up with some self-designed band merch for wear at the concert. While such merchandise may not be authentic, you'll still have something tangible to commemorate your concert experience with.
Plus, such novelty items that have been conjured up by fanclubs usually sell for much less – around the $10-$15 range, as most fanclubs are not out to profit.
In fact, some of the 'merchandise' designed by local fanclubs may be more artistic in design than the actual band tees you'll find at the concert venue itself – truly a great way to pay less, for more!