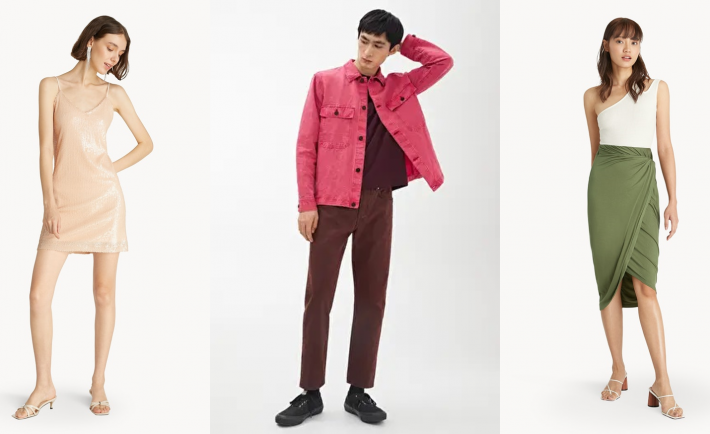 Image Credits: Pomelo / Arket
The Great Singapore Sale (GSS) is a little different this year. For the first time in its 26-year history, GSS is cancelled for 2020. Usually held between June and August, it's taking a break thanks to the pandemic. Let's hope the economy picks up in 2021 in time for GSS to occur.
But fashionistas, not to worry. Online fashion stores are still having their sales! Some of them are offering up to 70% discounts and we will show you the way if you're willing to spend. Ready to use that credit card? Here's a list of online stores with mid-season sales.
#1: POMELO
Pomelo is having their end of season sale with items up to 70% off. They are also putting the cherry on top with sweet deals like extra discounts. Use 'EOSS25SG' for 25% off, available with a minimum spend of 120 SGD. Applicable sitewide.
We like how it's so easy to navigate the sale section. You can sort the sale items based on the percentage of discount! There are also extra filters to find the right categories, brand, size, and more. We went straight to the 70% section and stumbled upon this Plaid Tie Waist Jumpsuit (16.20 SGD) available in beige and blue. The one-piece makes a great outfit for the next back-to-the-office trip you're going to take.
#2: ARKET
The brand which is under the H&M Group is having a 50% sale on its summer collection. There are three fashion categories for you to shop from: women, men, and children.
Ladies who are heading back to the gym or your workout classes, how about a new pair of nylon running tights (30 USD) at 57% off? Complete your look with a pair of Adidas falcon trainers (65 USD). For the gentlemen, we've not forgotten about you. We were eyeing these lightweight cotton trousers (35 USD) made from organic cotton. The breathable material makes it a perfect choice for Singapore's weather.
#3: PANDORA
We're ending our list of online fashion stores with Pandora because accessories are equally important. Pandora is offering up to 50% off its items with an additional 20% off if you purchase at least three sale items or more. Buy yourself a gift or share this with your significant other as a hint!
The sale items are priced from 9 SGD. Whether you're keen to purchase a Rainbow Hearts Charm (39 SGD), Blue Sparkling Crown Ring (79 SGD), or a Sparkling Honeycomb Hexagon Collier Necklace (79 SGD), there's no better time than now to shop.