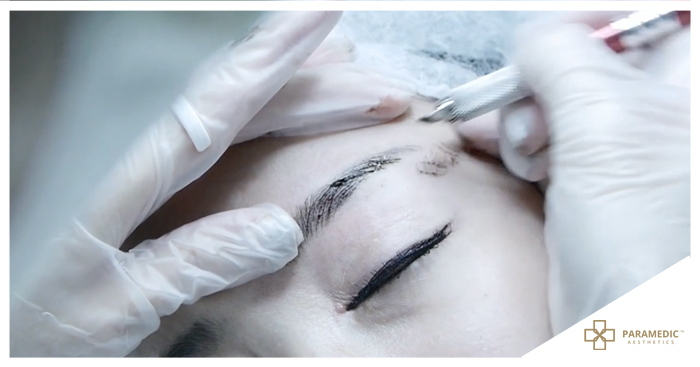 Industry-leading semi-permanent makeup beauty salon, Paramedic Aesthetics, is the place to overhaul your beauty regime this festive season.
With Christmas and New Year around the corner, there is no better time to get your eye brows in good shape. Singapore beauty experts from Paramedic Aesthetics reveal their secrets to looking fabulous effortlessly. Get a full and flawless look with their most advance eyebrow embroidery techniques, from the natural to the most dramatic. Provided by trained experts from Biotouch Inc, the leader in semi permanent makeup established in 1984, you will be on your way to get yourself glowin' from one of their signature services.
1. 6HD Brows
Look natural and polished with multi-dimensional brows. Their signature 6 High Dimensional Brows creates a naturally defined brows that are not only soft but healthy and bounteous. We bet nobody can tell the difference with each stoke mimicking the natural brow hairs.

2. Misty Brows
Want to look like a a Korean Superstar? Try their signature Misty Brows that looks like you draw your eyebrow with an eyebrows shadow. Achieve a powder drawn look and customize the intensities with different Biotouch Inc. colours.

3. Signature Combi
If you are someone who can't decide between strokes or gradient? Fret not. You are well taken care of as they also offer a combination of techniques to let you have a customisable brows. Be spoilt for choices by looking natural, bold or in-between.
A complete makeover is perfect if you are planning to look smoking hot for your Christmas and New Year party. For a limited time only, enjoy these semi permanent makeup services at promotional price.
(MDBrow1) 6HD Brows: Multi-dimensional Strokes $200
(MDBrow2) Misty Brows: Powdered Finish Soft Gradient $250
(MDBrow3) Signature Combi: Combination of Techniques for Customised Finish $300
SMS/WhatsApp <Name><MDBrow#> to 94999966 to book your appointment before the busy festive period.
Tip: As it tends to look slightly darker naturally, you can achieve a more natural look by doing your brows now!
TERMS & CONDITIONS 
Valid for customers aged 21 and above
Offer valid till the 31st December
Paramedic Aesthetics
9 Tan Quee Lan Street, #02-03
Singapore 188098
(Bugis MRT Exit D)