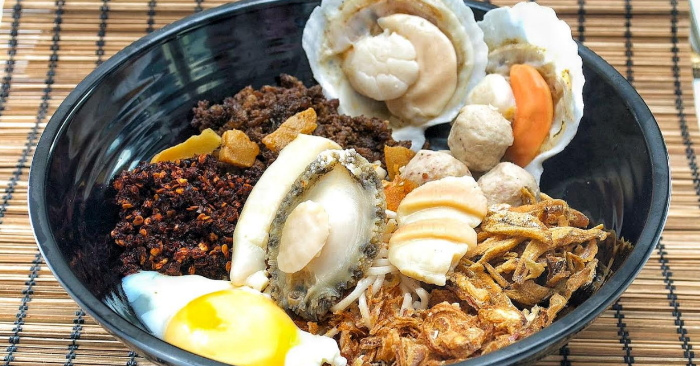 Talk about Chilli Ban Mian and many of us would thought of the famous noodle dish that is commonly found in Kuala Lumpur and many parts of Malaysia.
Served dry and topped with minced pork, ikan billis, fried onion and poached egg —  the traditional noodle is much appreciated by many. Top with dollop of chilli paste and you have a delicious bowl of noodle that you can have for breakfast, lunch or dinner.
KL Traditional Chilli Ban Mee is a new stall that opens at MacPherson Road. They serve authentic KL Chilli Ban Mee in different types from the traditional soup to the fiery dry chilli pan mee. All their ingredients are freshly handmade from traditional recipe that originates from KL.
For those who want to go further can try their Signature Abalone Combo Chilli Ban Mee  —  a hearty bowl of noodles that comes with extra juicy abalone, clams, scallops and sea asparagus — all-in for S$13 which we think is reasonable!
Note: It is situated opposite Stamford Tyres Motor. It is air-conditioned and does not come with GST and service charge.
Promotion: From now till Oct 31, enjoy free Chrysanthemum canned drink (worth $1.50) with purchase of every Ban Mee  Set 1 to 6
Signature Chilli Ban Mee 辨椒板面 $5
Signature Abalone Combo Ban mee 鲍鱼大杂面 $13
Signature Hand-Made Fresh Fishball Mee 手工鱼圆面 $5
Minced Pork Mee 肉脞面 $5
Scallop Chilli Ban Mee 扇贝板面 $8
Abalone Chilli Ban Mee 鲍鱼板面$10
(Choice of Ban mee, mee kia, mee pok for every set)
Terms & Conditions
KL Traditional Chilli Ban Mee (KL 传统辣椒板面)
476 MacPherson Road Singapore 368191 (Opp Stamford Tyres Motor)
11am to 7pm (last order 630pm)
[fancygallery id="5″ album="157″]