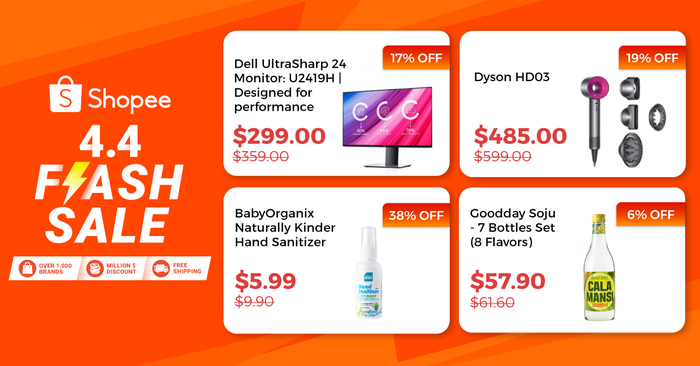 Crazy discounts for everyone throughout the day – Get your alarms ready!
With more of us staying home and observing safe distancing measures, it is the best time to take our shopping online! This 4 April 2020, Shopee ends off their Shopee 3.3 – 4.4 Men's Sale with a bang by bringing you an exclusive one day only, Shopee 4.4 Flash Sale.
Shop till you drop with Shopee's Million $ Discount limited Deals that promises even bigger price drops, and the lowest price guaranteed at 12am, 12pm and 10pm. (confirm plus chop cheapest with their Lowest Price Guaranteed policy) Some of the popular products include AirPods Pro, SK-II Facial Treatment Essence, Kinohimitsu Detox Bundle, Mi Air Purifier, Dyson Hair Dryer and more! Also, there will be a 4.4 Super Men's Sale with plenty of great offers from tech, sports and fitness, automotives and more.
Stay tuned to their time-limited 2-hours Brand Flash Sale happening from 12 – 2am and 10pm – 12am where you can get crazy discounts up to 80% from brands such as Johnson & Johnson, 3M, Blackmores, Ecovacs, Panasonic, Nestle and Lenovo. On top of that, from 12am, grab limited brand boxes starting at $19, from brands such as Kinohimitsu, Walch, Huawei and Tiger Beer.Don't forget to set your reminders for Shopee's Crazy Flash Deals happening at 18 timeslots.
Look out for amazing deals at:
12am – 1 am (Midnight Rush Hour)
12pm – 1 pm (Lunchtime Rush Hour)
1pm – 2pm and 8pm – 9pm ($0.99 Flash Deal Relay)
6pm – 7pm (Stay Healthy Rush Hour)
10pm – 11pm (Last Chance Rush Hour)
Looking to increase savings? Now is the time to be kiasu!  Fastest fingers can grab flash vouchers worth up to $30  that will be released at specific timings on 4 April (12am, 10am, 12pm, 2pm, 6pm, 8pm, 9pm & 10pm)  If you are one of the lucky few, you might be able to find a secret $50 off voucher (no min. spend), simply camp on the Giveaways Zone page for a hint of the lucky code that will appear at 12:04am on 4 April. Plus, claim your chance to win Flash Giveaways worth $2,600 released at 4 time slots (12am,12pm, 8pm & 10pm) at the Giveaway Zone.
Secret Promo Code: Use MS20MD to enjoy $7 off with $15 min. spend (New users)
We can't reveal the full details yet but we'll give you a heads up on what to expect during the sale:
Dell UltraSharp 24 Monitor: U2419H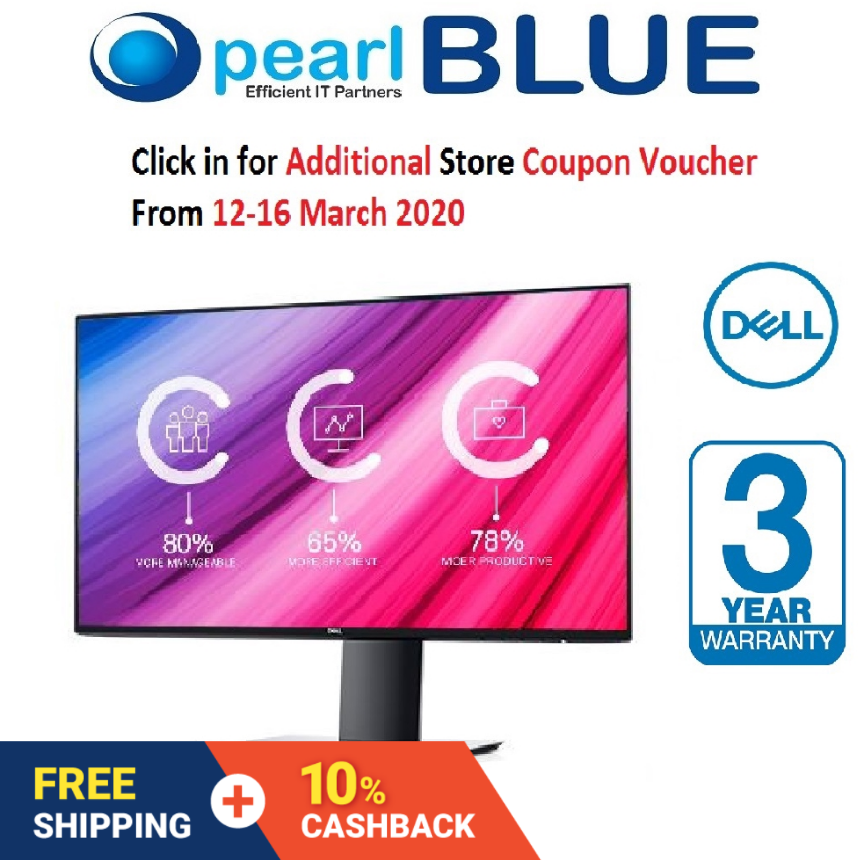 $359.00 $299.00
Upgraded your screen performance with the Dell UltraSharp 24″ Monitor! The virtually borderless design with InfinityEdge allows you to enjoy a nearly seamless view of your content across multiple monitors. With the Easy Arrange feature, simply organize multiple applications using predefined templates or a customized template with the on the Dell Display Manager software.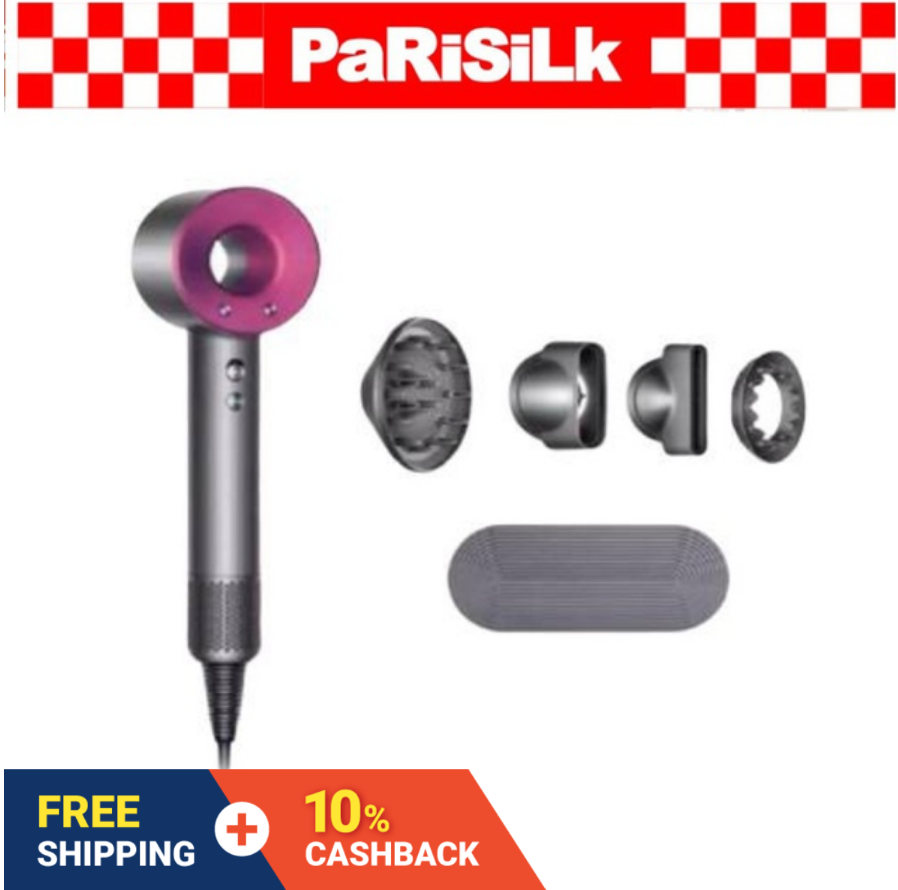 $599.00 $485.00
Dyson Supersonic HD03 Hair Dryer dries your hair smoothly with improved diffusion to help reduce fizz, define curls and waves. With 4 magnetic styling attachments, you will be surprised by the incredible styling experience!  6 times faster than usual hair dryer motors, the Dyson Digital motor V9 combined with Air Multiplier technology, produces a high-pressure, high-velocity jet of controlled air, for fast drying and precision styling.
Sony WF-1000XM3 WIRELESS NOISE-CANCELING HEADPHONES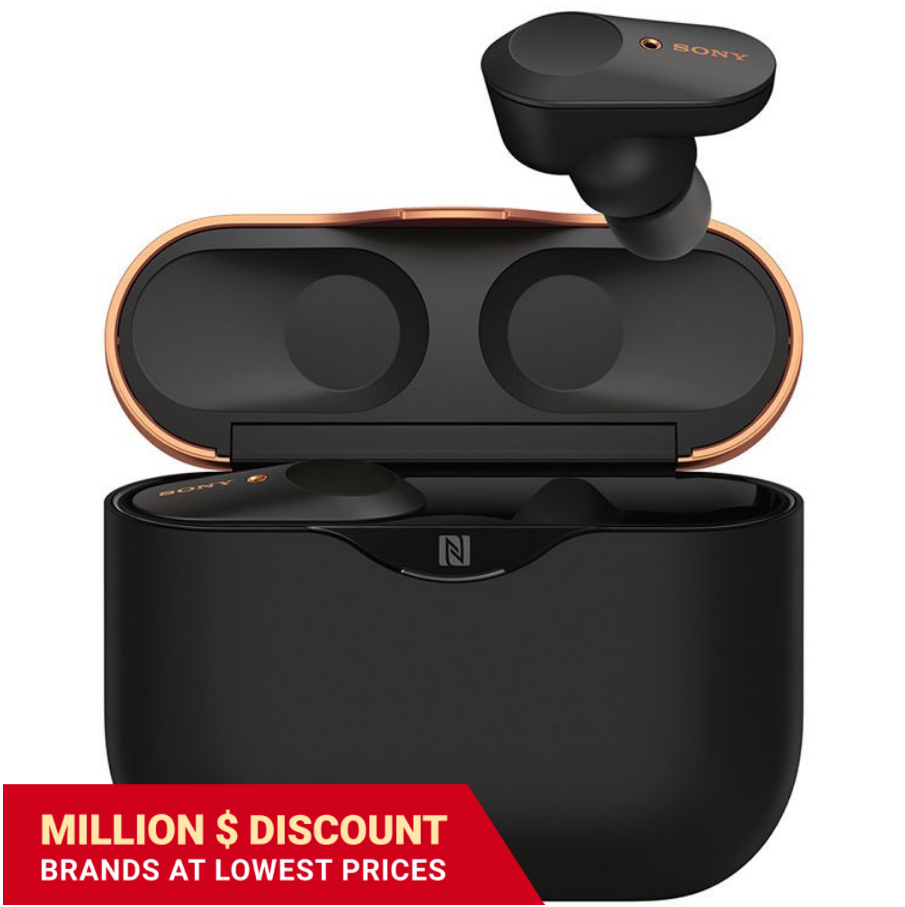 $269.00 $229.00
Only music. Nothing else. Put the outside world on hold – The Sony WF-1000XM3 Headphones guarantee exceptional sound with industry-leading noise cancellation, and hour upon hour of pure listening freedom. The Sony WF-1000XM3 Headphones is definitely one of the leading true wireless headphones you can ever find.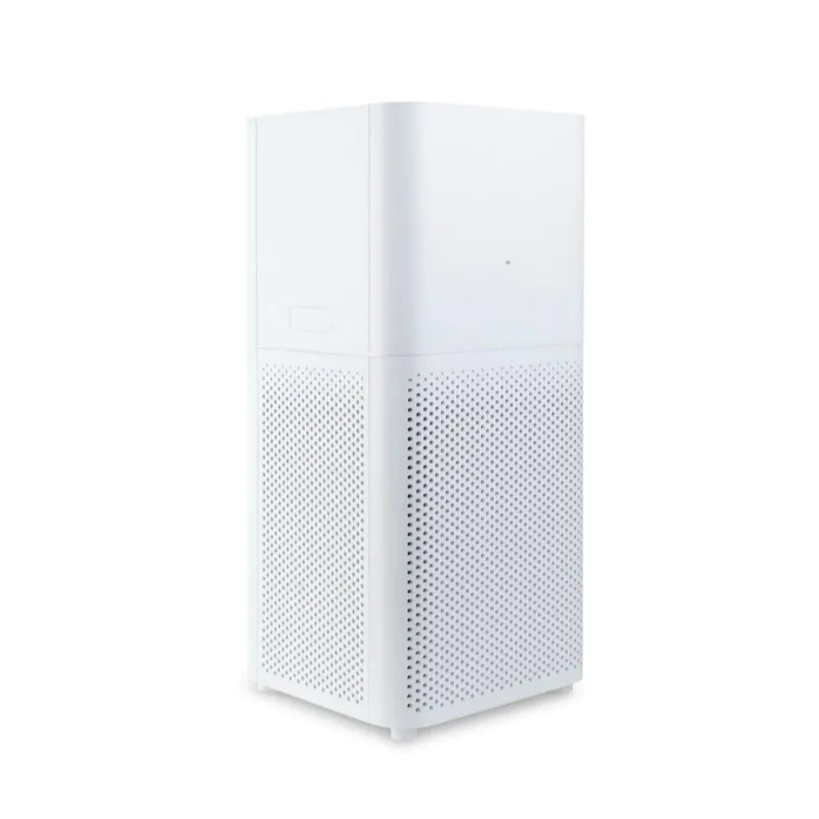 $225.00 $125.00
In just 12 minutes, you can effectively purify your home with the Mi Air Purifier. Redesigned according to aerodynamic principles, the Mi Air Purifier promises incredible performance from a small and compact device. The dual-blower 4-duct circulation system effectively pumps clean air into every corner of your home.
Using  two high performance fans to take in and expel air upwards through 4 independent air ducts, clean air spirals up towards the ceiling, circulating in every direction before being drawn back into the purifier.
Cofoe Non-contact Infrared Forehead Thermometer LCD Thermometer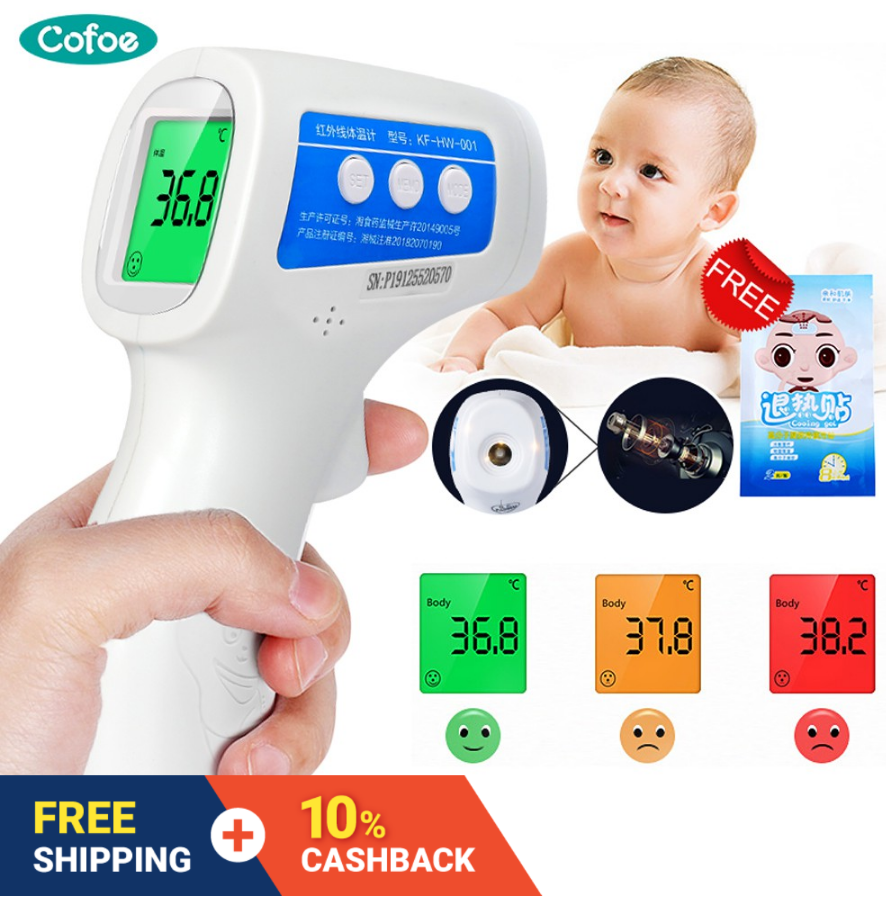 $92.00 $70.00
Regardless of room temperature, the Cofoe Non-contact Body Infrared Thermometer can effectively take the body temperature of a person. Depending on various skin types and thickness, there may be a slight temperature difference. When the indoor temperature is significantly different, the body infrared thermometer should be placed in that room for 15-20 minutes before using.
BabyOrganix Naturally Kinder Hand Sanitizer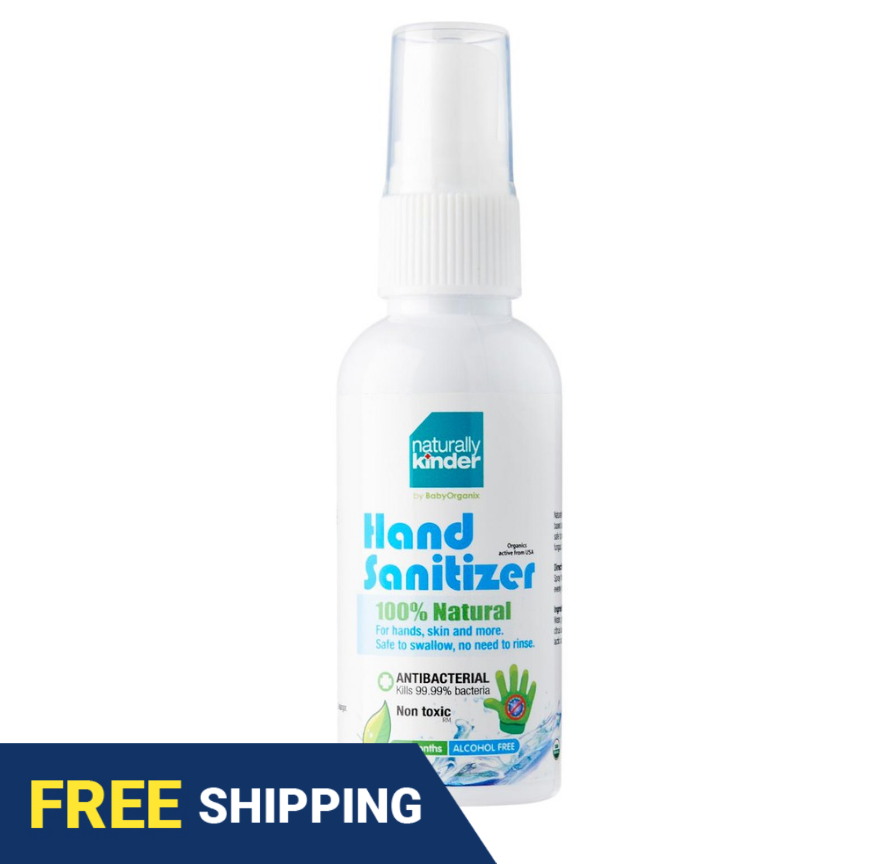 $9.90 $5.99
The 100% plant-based anti-pathogen BabyOrganix Naturally Kinder Hand Sanitizer effectively kills up to 99.9% of germs, fungus, bacteria, and viruses. Gentle on your baby's hands, this sanitiser is safe to swallow and keeps the skin soft at the same time. Made in the USA.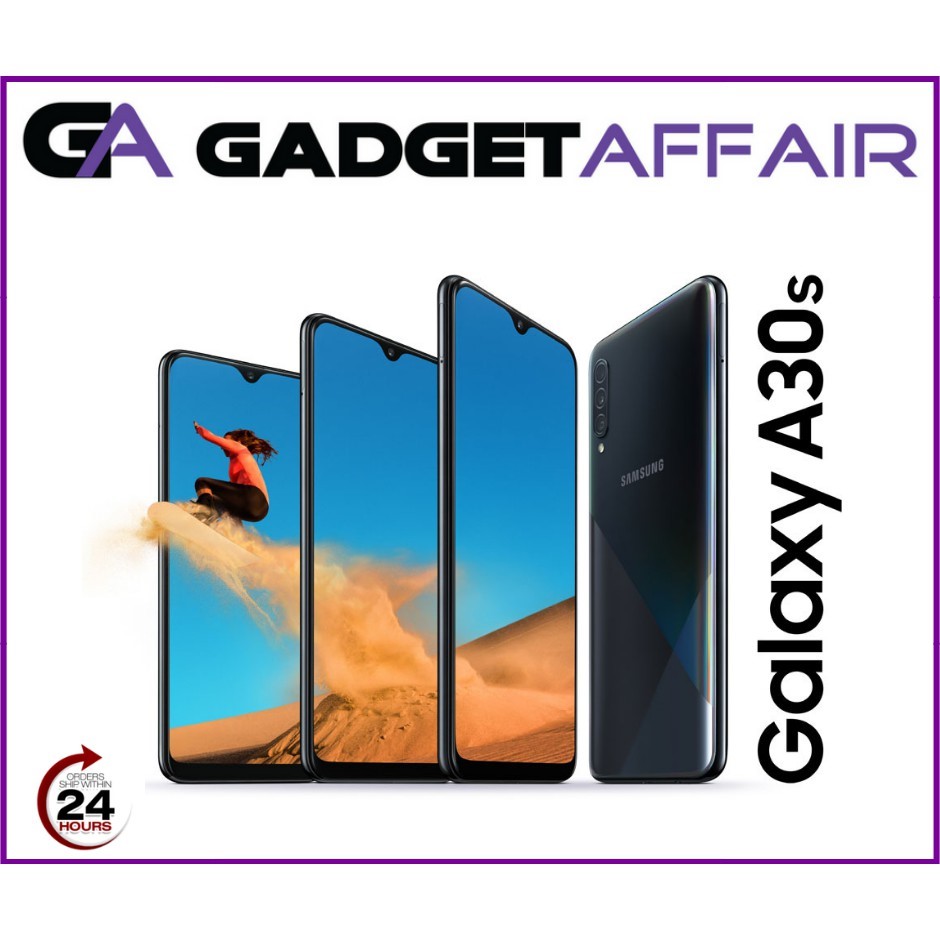 $328.00 $245.00
Time to drown yourself in the 6.4 Inch Infinity-V Display of the new Galaxy A30s! With edge to edge screen, the 19:9 wide aspect ratio will complement your viewing experience as it fills the entirety of your phone screen. You can enjoy all your favourite movies, games and catch up on your dramas on the vivid HD+ Super AMOLED display.
With an extraordinary grip and a sleek exterior design, the Galaxy A30s fits right in your hand for easy screen navigation. Comes in Black and Green, the holographic pattern significantly stands out and re-emphasises the versatility and classic finish of the phone.
Goodday Soju – 7 Bottles Set – 8 Flavors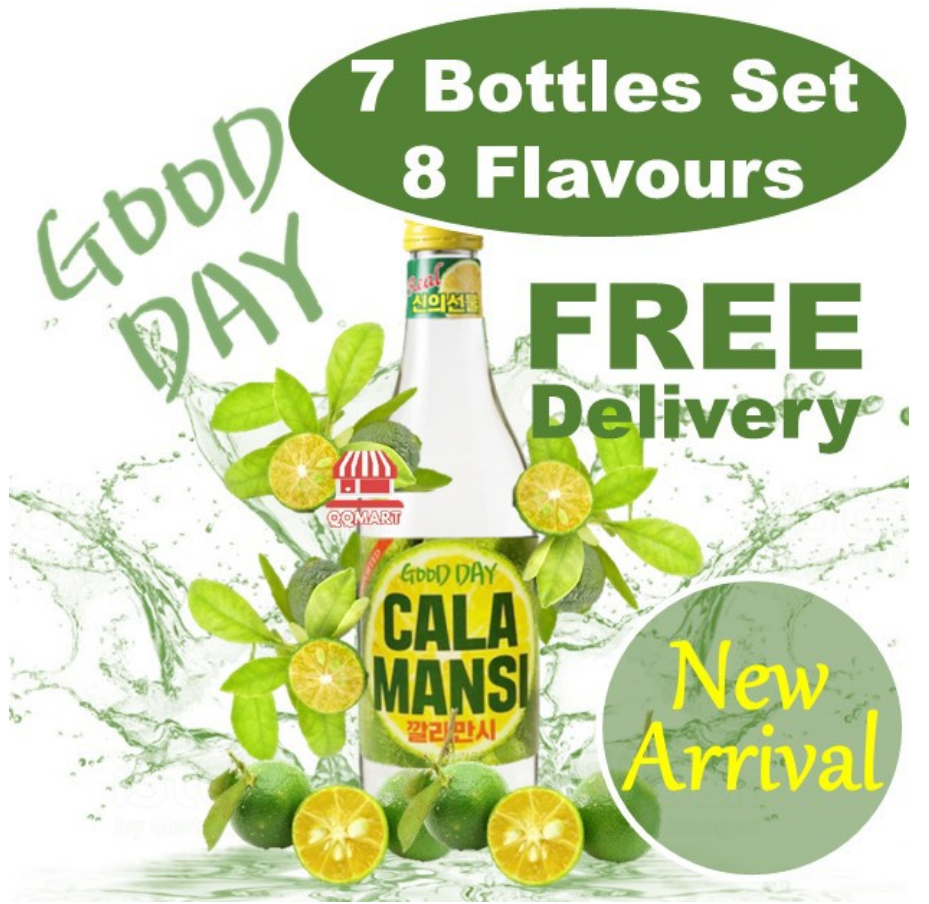 $61.60 $57.90
Enjoy smooth and refreshing alcohol? The Goodday Soju is exactly that! As one of the most renowned alcoholic drinks in Korea, this clear and distilled rice liquor is a must try! Choose any 7 bottles from the 8 Flavors below:
Scarlet
Citron
Pineapple
Peach
Green Grape
Pomegranate
Blueberry
Calamansi (New Arrival !)
SK-II Facial Treatment Essence 230 ml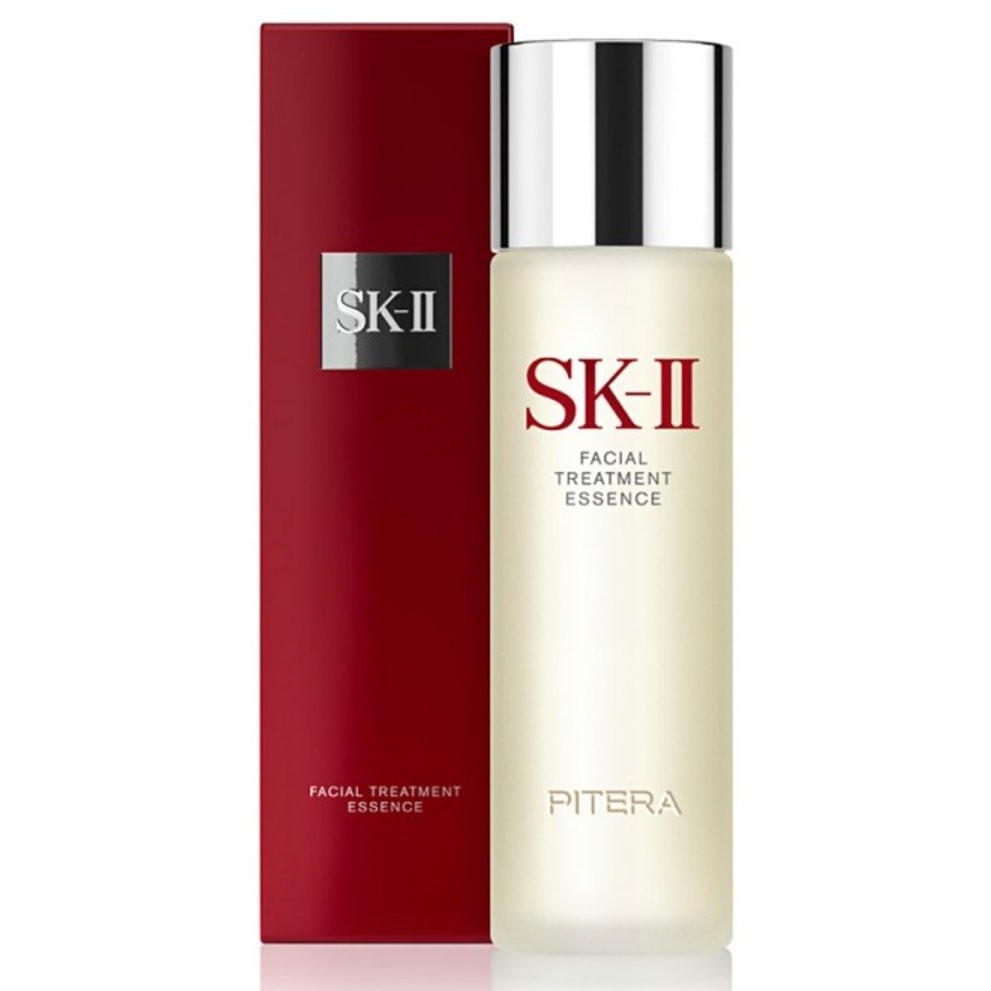 $289.00 $150.00
One of SK-II's most loved products, the Facial Treatment Essence has more than 90% PITERA, the miracle ingredient that makes this essence special. Gently exfoliating and cleansing the face, this signature product ensures a full skin transformation in just 14 days. Look forward to crystal clear skin with the SK-II Facial Treatment Essence!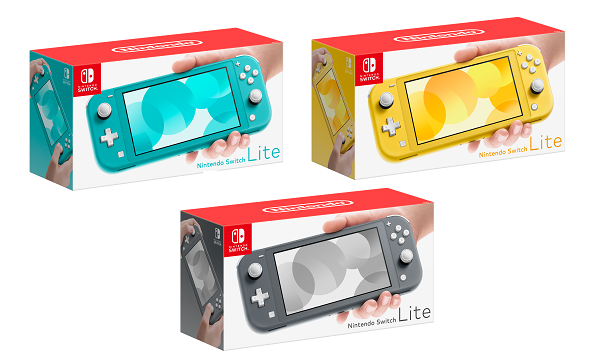 $309.00 $278.00
Looking to kill time and have fun at the same time? The Nintendo Switch Lite is perfect for you and your family with its compact and lightweight design. The handheld mode is excellent for individuals who enjoy moving around and playing games on the go. With built-in controllers, you don't have to worry about manually connecting controls or plugging in unnecessary wires. Play with your friends and family with the multiplayer mode, where up to 8 devices can be linked at one time.
---
Find the best offers and savings with other fantastic deals during the sale. Don't forget to apply the promo code MS20MD so you can enjoy $7 off when you purchase a minimum of $15. The promo code is valid till 30 April 2020, 23:59.