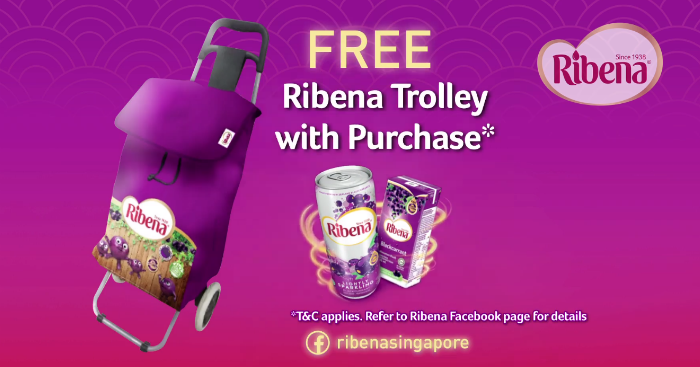 The long awaited Chinese New Year is finally around the corner! During this joyous occasion, families often gather around for the all-important reunion dinner that is replete with home-cooked food and childhood drinks. Ribena, a perennial favourite amongst children, is a fitting compliment to the delicious and abundant food put out on the dining table. With attractive promotions and giveaways lined up, there are even more reasons to mark this Chinese New Year with Ribena.
Ribena A Perfect Drink for CNY
This Chinese New Year, Ribena invites you to celebrate an Abundance of Prosperity with Purple (大红大紫, 富贵年). With its luscious dark purple colour, Ribena is a tasty health drink and a big crowd favourite amongst children. Ribena manages to achieve a natural sweet taste without adding any artificial sweetener, colouring and flavouring. Made from blackcurrants, Ribena is high in Vitamin C and healthier than regular soft drinks. It is little wonder that health-conscious parents love to buy them as treats for their children! Therefore, Ribena is the perfect drink to welcome your family and friends when they come over for festive visiting.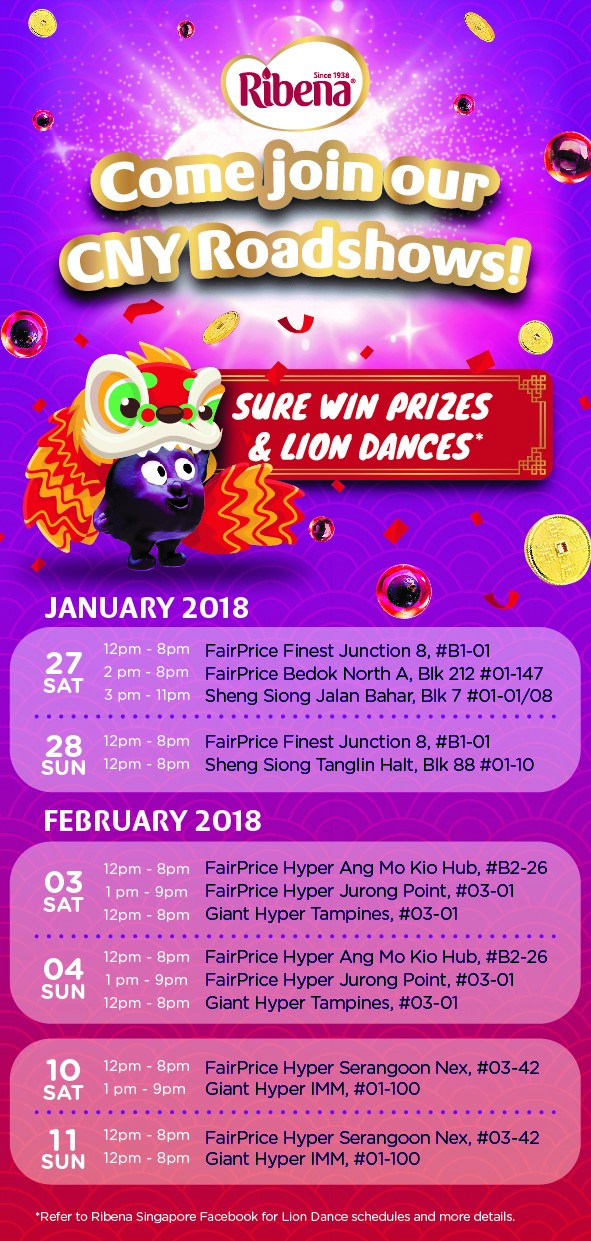 Series of exciting road shows all over the island
To mark this joyous festival, Ribena Singapore has scheduled a total of 9 roadshows starting from the weekend of 20th January till the very last weekend (11th Feb) before Chinese New Year. Attractive promotions such as receiving a limited edition Ribena Trolley worth $29.90 with purchase of Ribena products will be available at these road shows. That's right; customers who purchase a carton of 24 Ribena packet drinks (200ml ea) and 4 X 6-can (325ml) packs of Ribena Sparkling will receive a free Ribena trolley worth $29.90! The exclusive Ribena trolley serves as the perfect accessory for you to transport your Chinese New Year groceries home.
Lion Dance Performances To Drum Up The Festive Mood
From 28th January to 11th February, exciting lion dance performances have been lined up at some of the road shows. With their traditional costumes and neat footwork, the lion dance performances will inevitably drum up the lunar festive mood. Furthermore, every carton purchased from the 188 cartons made available only during the lion dance performance will be entitled to 1 complimentary Prosperity Bag and a SURE-WIN spin the wheel opportunity. Therefore, join Ribena at their roadshows where the entire family can be entertained with impressive lion performances. Purchase a carton of Ribena drinks to walk away with exclusive Ribena merchandise this Chinese New Year!
For information on the schedules of the lion dance performances, please refer to Ribena Singapore's facebook page.