Are you a Care Bears fan?
Then you surely don't want to miss out on Shein's SHEGLAM X Care Bears Collection Set at just $69.
Let's take a look at what's inside, shall we?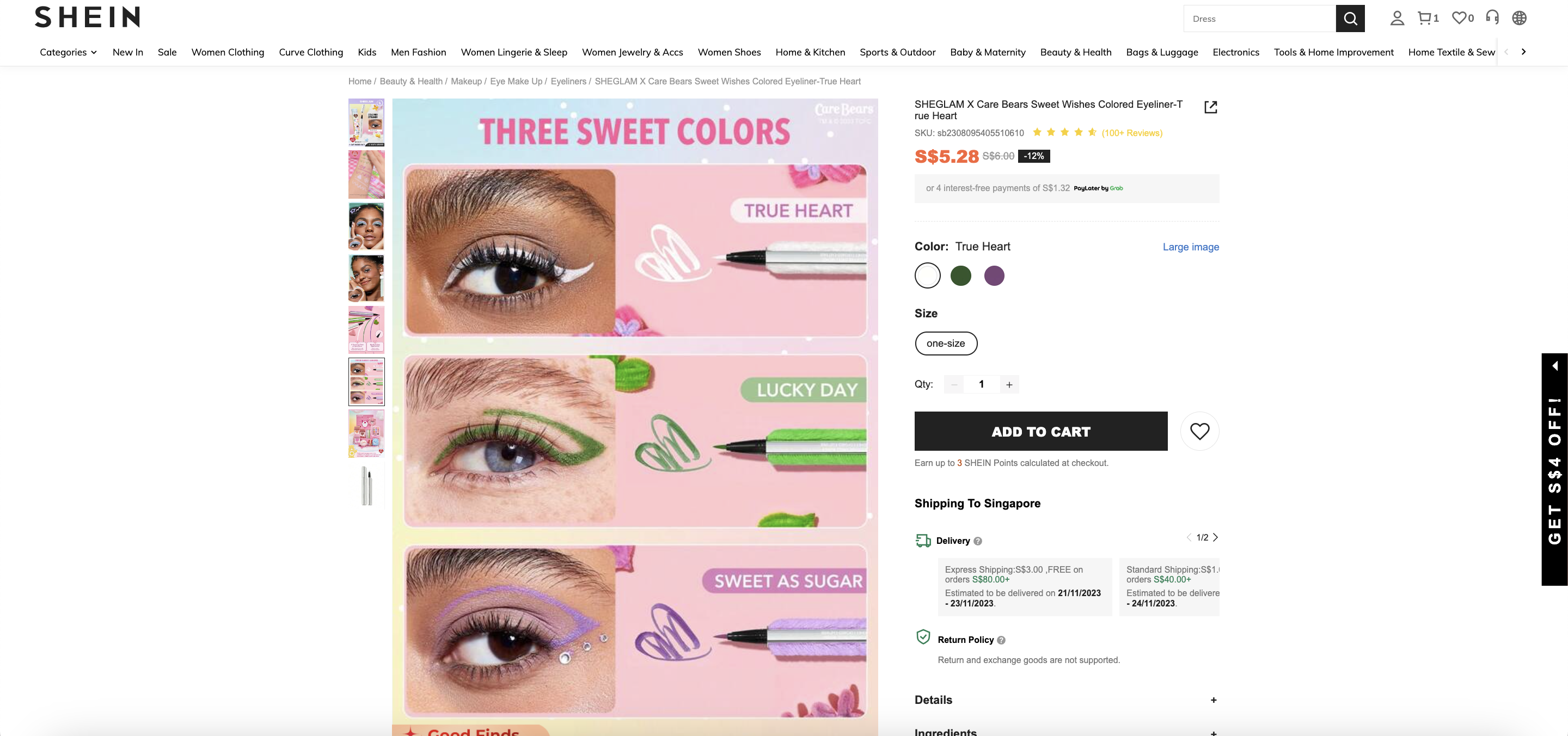 Price: $5.28 after promo (if purchased separately)
These eyeliners pack a punch of color that will light up your eyes.
The matte liquid formulas are jam-packed with vivid pigments to create lines that pop in three dazzling shades: True Heart (white), Lucky Day (green), and Sweet as Sugar (purple). Create graphic liner looks or draw sweet doodles right on your face, the possibilities are endless.
The safe, vegan-friendly ingredients mean your peepers will thank you, not sting you, while the brilliant payoff and long-lasting wear let you rock your colorful creations all day. These Sweet Wishes Colored Eyeliners are your new secret weapons for expressive, standout style.
Price: $6.16 after promo (if purchased separately)
Take a cue from Funshine Bear and add some sparkle to your day with Catch Some Fun Highlighting Puff—Sparkle 4Ever.
Shimmer and shine with this highly concentrated glitter puff ball featuring gorgeous reflective sheer glitter that can be used on your face or body. The mineral blend adds a subtle glow that captures the light just right for that Christmas night out with the girlies. Just a few swipes of this glitter puff releases a burst of sparkle that will have you shining bright all evening long.
Make memories that will last forever with friends by your side and a touch of glittery magic dust thanks to this creation.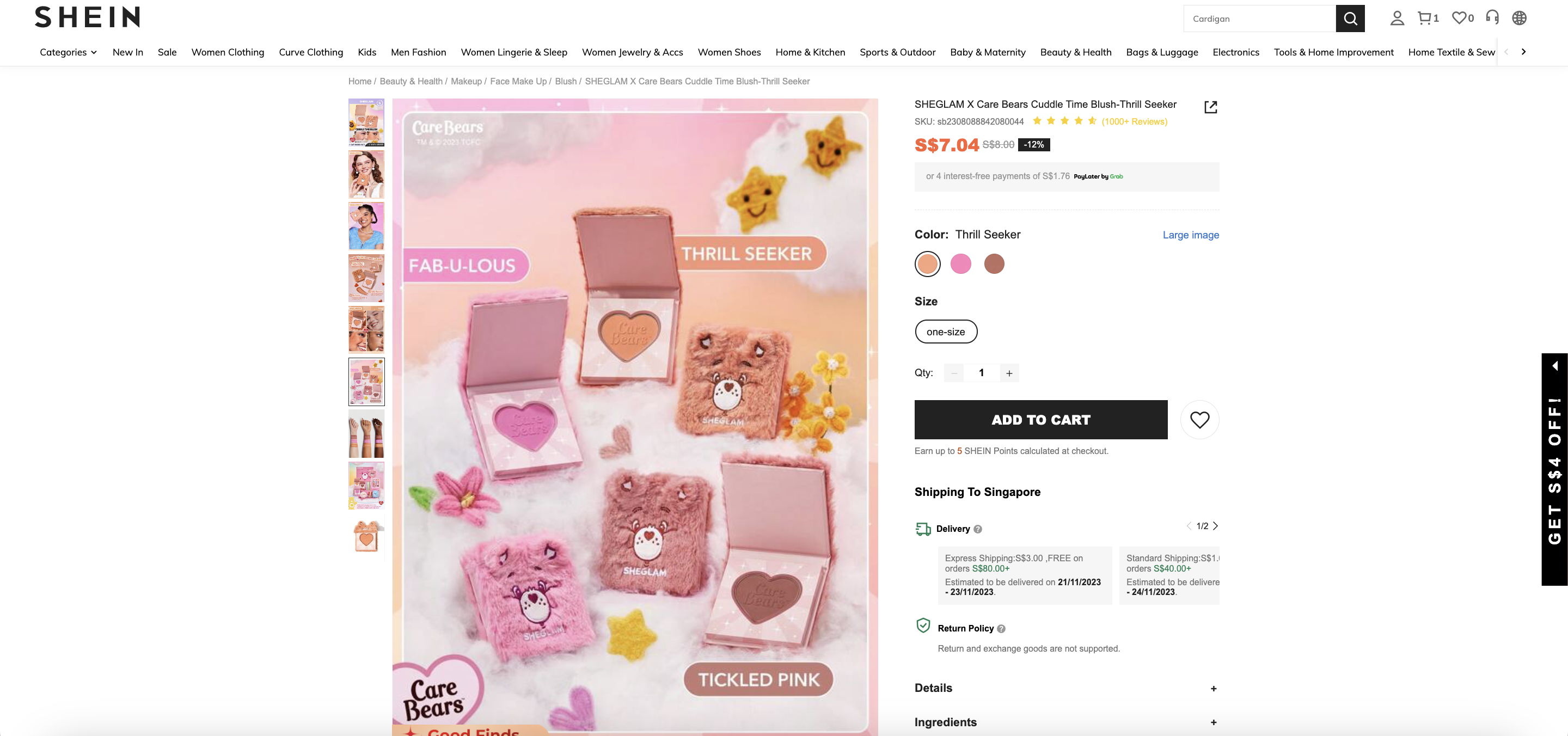 Price: from $7.04 (if purchased separately)
These cheek-popping blushes were made for cuddling up to your cheeks.
Available in three flattering shades—Thrill Seeker for a playful flush, Fab-U-Lous for a fabulous pinkish glow and Tickled Pink for a sweet tint—these highly pigmented, easy-to-blend blushes provide the ultimate sweet cheek flush that lasts.
The adorable fluffy packaging is just as lovable as the blushes inside, giving you a cheeky smile every time you apply.
Price: $12.46 after promo (if purchased separately)
This palette is your perfect partner in glam.
Featuring 12 silky mattes, shimmery foils, and sparkly frosts, you will be able to create festive looks that are huggable, just like the cuddly outside packaging. The fragrance-free formula is ideal for beautyholics sensitive to scents, while the highly pigmented shades blend effortlessly for a look that's ready to share with the world.
Slip into something glamorous, swipe on these huggable hues, and get ready for the compliments to start rolling in. This palette has everything you need to create the flawless glamorous eye makeup that's ready to be shared this festive season and beyond.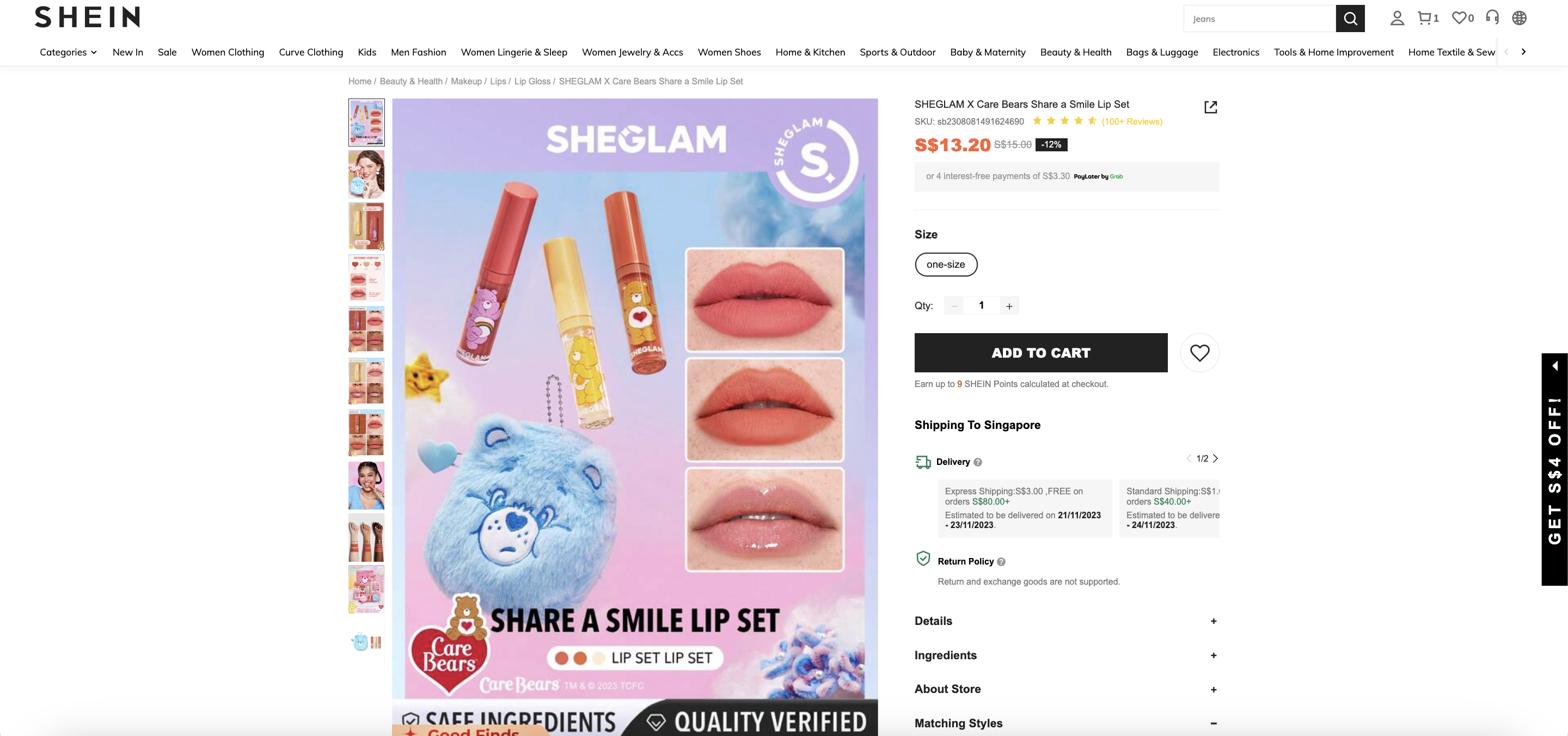 Price: $13.20 after promo (if purchased separately)
This Share a Smile Lip Set has everything you need to create three gorgeous lip looks that are full of cheer.
The two long-wearing, non-sticky matte lip colors pair wonderfully with the high-shine gloss, or wear any one on its own for a lovely lip look. The formulas are enriched with sunflower seed oil and rugosa rose flower extract for hydrated lips, and are free of alcohol and parabens.
Create custom pouts that will have you smiling all day with this joyful lip set that contains all you need to brighten up your day and someone else's.
And that's all we have for you. If you purchase Shein's SHEGLAM X Care Bears Collection Set at just $69, you will also get a FREE gift—a pink fluffy Care Bear mirror! Together with their cute Care Bear box packaging, how can any Care Bears fan say no? Grab yours at $69 before the promo ends or it gets sold out. Hurry, hurry!