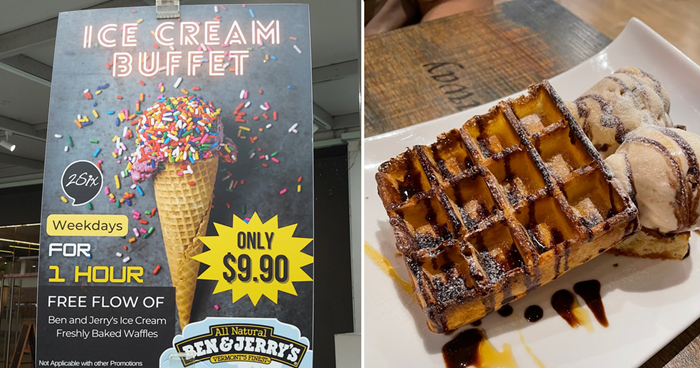 Are you a fan of ice cream and waffles? If so, then you're in for a treat! There's an exciting new buffet in town that combines the best of both worlds, and it's located at Tampines East Community Club. For just $9.90++ per person, you can enjoy unlimited scoops of Ben & Jerry's ice cream and freshly baked waffles.
This one-of-a-kind buffet is available at 2Six Cafe for one hour on weekdays from Monday to Friday, so make sure to mark your calendar and set your alarm clocks. The doors open promptly at 9am, so be sure to arrive on time to make the most of your hour of ice cream and waffle indulgence.
Ben & Jerry's ice cream needs no introduction. It's known for its creamy texture, inventive flavors, and high-quality ingredients. With this buffet, you can try as many as six flavors, from classic favorites like Chocolate Chip Cookie Dough and Strawberry Cheesecake.
But let's not forget about the waffles. These aren't your ordinary waffles – they're freshly baked and served hot off the iron. You can enjoy them plain, with butter and syrup, or get creative with topping like marshmallows.
The ice cream and waffles buffet at Tampines East Community Club is the perfect way to indulge in your sweet tooth cravings without breaking the bank. It's also a great way to spend a lunch hour with friends or coworkers. So what are you waiting for? Make plans to visit this exciting new buffet today and treat yourself to some delicious ice cream and waffles.
View this post on Instagram
Address: 2Six Cafe, 10 Tampines Street 23, #01-03, Tampines East Community Club, Singapore 527201
Operating hours: 9am–10pm (Daily)