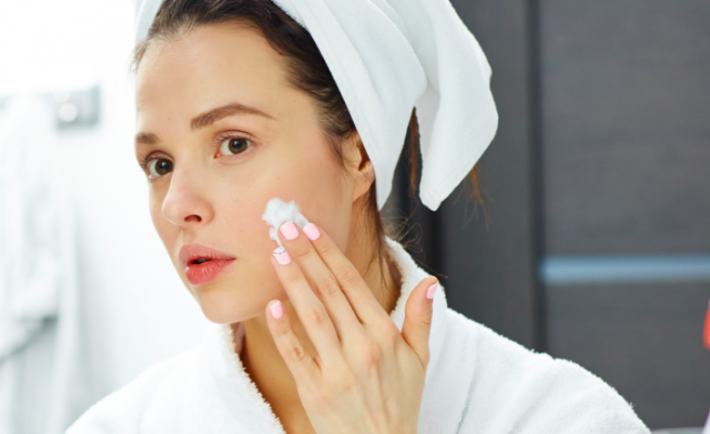 Image Credits: insider.com
Do you ever wake up in the morning feeling like your skin is parched and craving a mask?
If so, that's where overnight face masks come in. They're the ultimate beauty secret to quenching your skin's thirst as you catch some Zs.
In this post, we will explore a list of overnight face masks designed to deliver a surge of hydration while you dream. So, slip into your comfiest pajamas, and let's dive into the rejuvenating benefits of these nighttime skincare heroes.
View this post on Instagram
Price: $24.10
Get all the beauty sleep you need without clogging your pores or leaving your skin feeling dry—upgrade your nighttime routine with this 8-Hr Full Night Sleep Overnight Mask. This non-sticky gel texture mask features natural scents to help you relax and drift off to sleep. 
Formulated in Korea, it locks in moisture for up to 10 hours so you can wake up feeling refreshed and recharged. Plus, because it's free from parabens, silicone, alcohol, and mineral oil, it's gentle enough for all skin types. Make this overnight mask part of your routine and say goodbye to tired-looking skin forever.
View this post on Instagram
Price: $26
Introducing a moisturizing mask that's perfect for quenching your skin's thirst. Fragrance-free and crafted with 93% naturally derived ingredients, the Sephora Collection Overnight Hydrating Mask is here to rejuvenate, smooth, and drench your skin in 24-hour hydration.
Packed with a potent blend of hyaluronic and poly glutamic acids from natural sources, this mask acts as a refreshing "beverage" for your skin. Make this dual-purpose mask a staple in your daily routine and enjoy a consistently fresh and dewy complexion all day, err day.
View this post on Instagram
Price: from $43
Discover the power of this 10% Niacinamide Night Mask, a proven formula that works wonders to balance skin tone and minimize pores, all while nourishing and maintaining your skin's natural moisture barrier.
Enriched with 3% panthenol and eco-friendly blueberry seed oil, this luxurious, velvety mask quenches your skin's thirst, regulates oil production, and breathes life back into a dull complexion. Pamper yourself with an overnight skin transformation and wake up to a radiant, even-toned complexion.
View this post on Instagram
Price: $60
Your skin deserves a good night's rest. That's why this overnight mask is infused with 10% squalane and glacial glycoprotein to help hydrate while you sleep. As you drift off, it gets to work by stabilizing your moisture barrier and preventing excess water loss so you wake up with skin that's soft, supple, and ready to face the day.
For skin that often feels dry, tight, or flaky, this mask is a soothing solution. It helps hydrate deeply to improve the skin's resilience against environmental aggressors like harsh weather. No matter your skin type, wake up with a glow thanks to this rehydrating mask. Come morning, your skin will feel refreshed and replenished.
View this post on Instagram
Price: from $97
This luxurious elixir is skincare redefined. Infused with the finest ingredients, JYUNKA Sleep Repair boosts your skin's natural rejuvenation process while you slumber.
Rare white truffle and caviar extract deliver a potent dose of nutrients to brighten, tighten and regenerate your complexion. Pearl powder illuminates your skin with a lustrous glow. And SMART Active protects skin cells from environmental stress. Add hyaluronic acid and pure Swiss glacier water, and you have a cocktail of anti-aging excellence.
Each drop of this formula glides on like silk and works like a dream.
So here are the 5 fantastic overnight face masks within $100 that cater to your skin's hydration needs as you slumber. Adding one of these gems to your nighttime routine can make all the difference in achieving that coveted, well-rested glow. So, why not give your skin the pampering it deserves and wake up to a more radiant, refreshed complexion? Sweet dreams and happy hydrating.