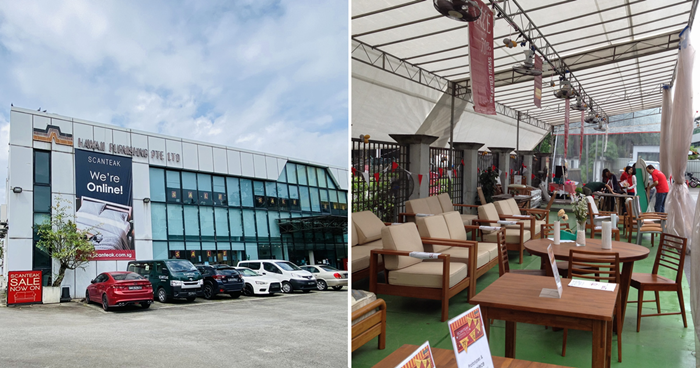 Looking to transform your home with timeless elegance and durable furniture? Look no further than Scanteak, Singapore's leading teak furniture retailer. With their impeccable craftsmanship and commitment to sustainability, Scanteak has been furnishing homes worldwide for an impressive 49 years. Now, they invite you to join them at their Trade Showroom located at 60 Sungei Kadut Drive, Singapore, from 8th to 18th June, for an exclusive sneak preview and irresistible deals.
Dates: 8 June Sneak Preview (Thu) | 9 – 11 June (Fri – Sat)| 17 – 18 June (Sat – Sun)
Location: Scanteak's Trade Showroom, 60 Sungei Kadut Drive, Singapore 729 569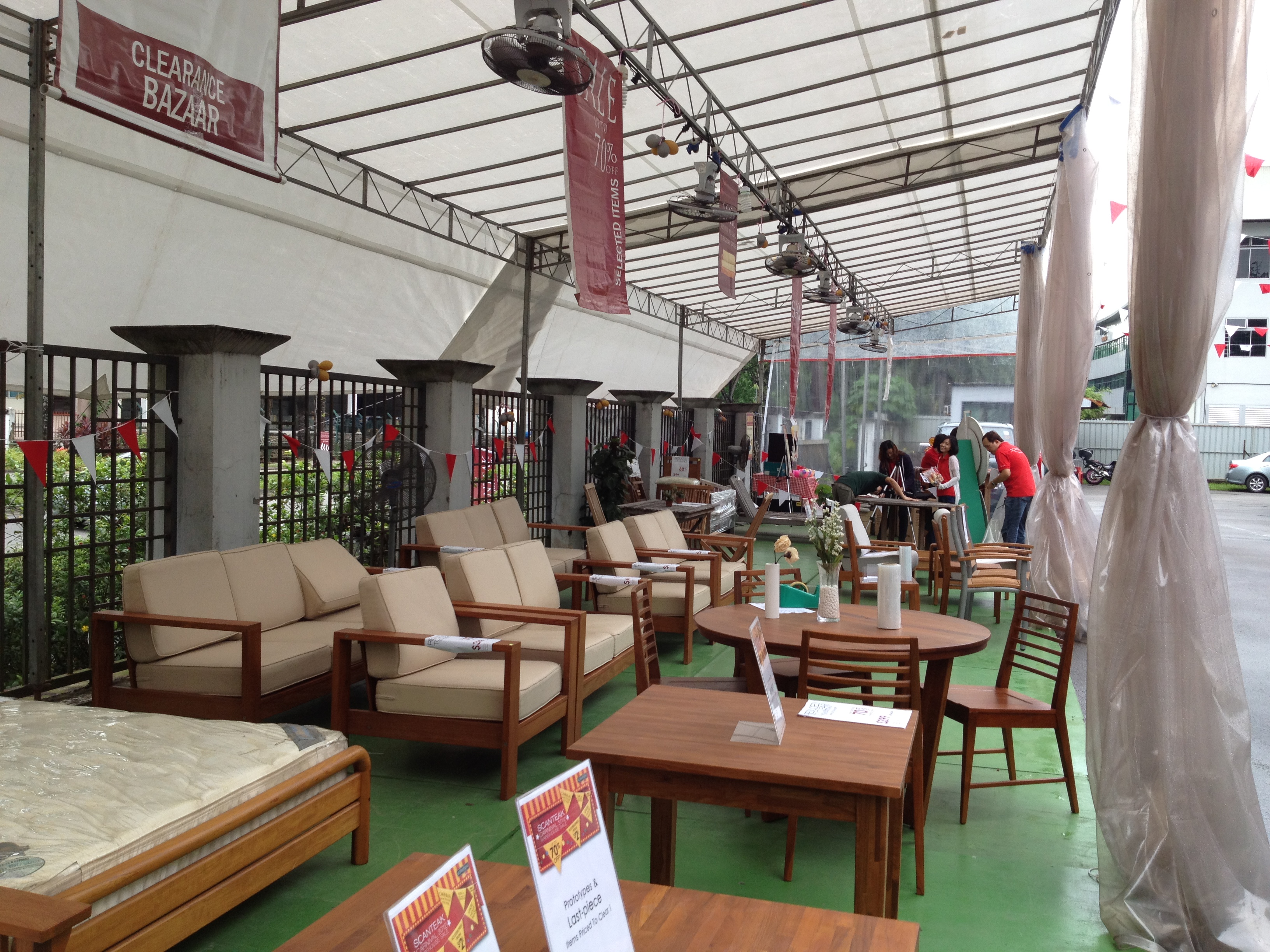 If you want to beat the weekend crowd, mark your calendars for the Sneak Preview on 8th June (Thursday). This is the perfect opportunity to grab the best warehouse deals before everyone else. Picture this: premium teak wood furniture with discounts of up to 78%, including solid teak dining tables starting from an astonishing $499! Yes, you read that right. Scanteak is offering unbeatable prices on their stunning collections, ensuring you find the perfect piece to elevate your living space.
What sets Scanteak apart is their commitment to providing hassle-free solutions for busy homes. Their furniture combines minimal and versatile Scandinavian designs with durable teak wood. Say goodbye to high-maintenance pieces that demand your constant attention. Scanteak's machine-washable cushion covers and mattress covers make cleaning a breeze. Finally, furniture that complements your lifestyle and gives you more time to focus on what truly matters – your work, your friends, your family, and even your furkids.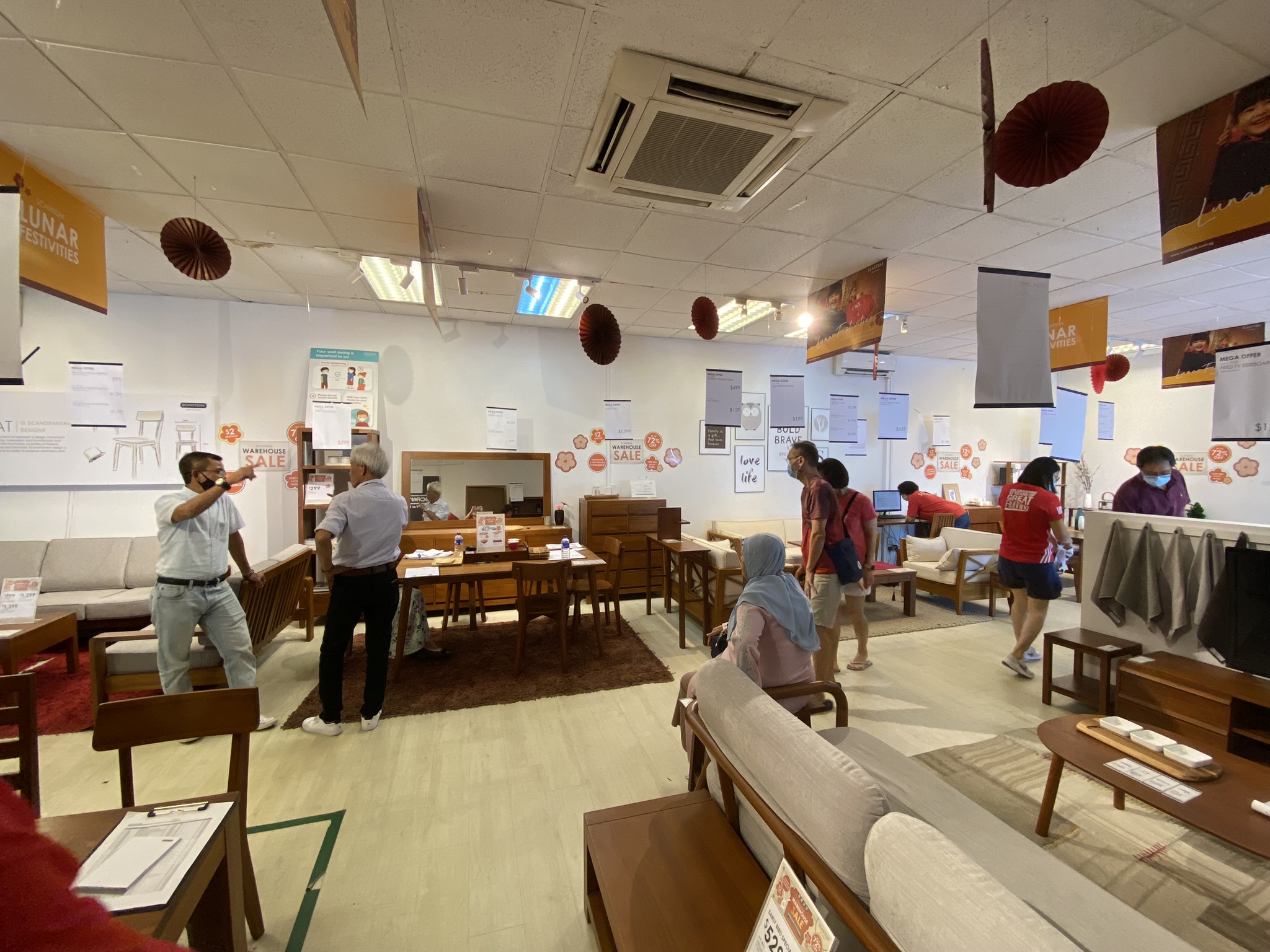 Now, let's talk about the irresistible promotions available exclusively at Scanteak's Trade Showroom during this event. With prices starting from as low as $2, you can explore a wide range of home accessories to complement your furniture. Don't miss out on the early-bird special featuring Scanteak's solid teak multi-functional LENE side table, available at a jaw-dropping price of $99.
Avail yourself of other incredible discounts that Scanteak has in store for you. They are offering a whopping 50% off on sofas, allowing you to transform your living room at an unbeatable price. Additionally, you can enjoy a generous discount of 50% off on dining chairs, perfect for upgrading your dining area. However, please note that certain terms and conditions may apply to these discounts. It's an opportunity you don't want to miss to bring style and comfort into your home without breaking the bank.
If you're in search of the ideal mattress, Scanteak has you covered. They offer a selection of mattresses that are not only designed but also made in Germany, guaranteeing exceptional quality. And the good news is, during this special event, you can enjoy a fantastic discount of $120 off for every $300 spent on these German-made mattresses*. It's an excellent opportunity to invest in a comfortable and luxurious sleeping experience at a more affordable price. Don't miss out on this chance to upgrade your sleep and wake up refreshed every morning.
For those seeking something truly one-of-a-kind, Scanteak has a special treat in store for you. They have brought in a selection of one-piece prototypes and collections exclusively from their stores in Taiwan and Japan. These pieces showcase the distinctive design aesthetic and craftsmanship that Scanteak is known for. By exploring these unique offerings, you have the opportunity to find a treasure that will make your home stand out. Don't miss the chance to discover these limited-edition items that embody the essence of Scandinavian elegance with an added touch of international flair.
Are you planning to revamp your space completely? Spend a minimum of $500 and take part in the sure-win lucky dip, where you could win exciting prizes. And that's not all! Flash your Grab, Gojek, Tada, or taxi receipt and receive a $5 rebate on your furniture purchase. Scanteak truly knows how to make shopping even more rewarding!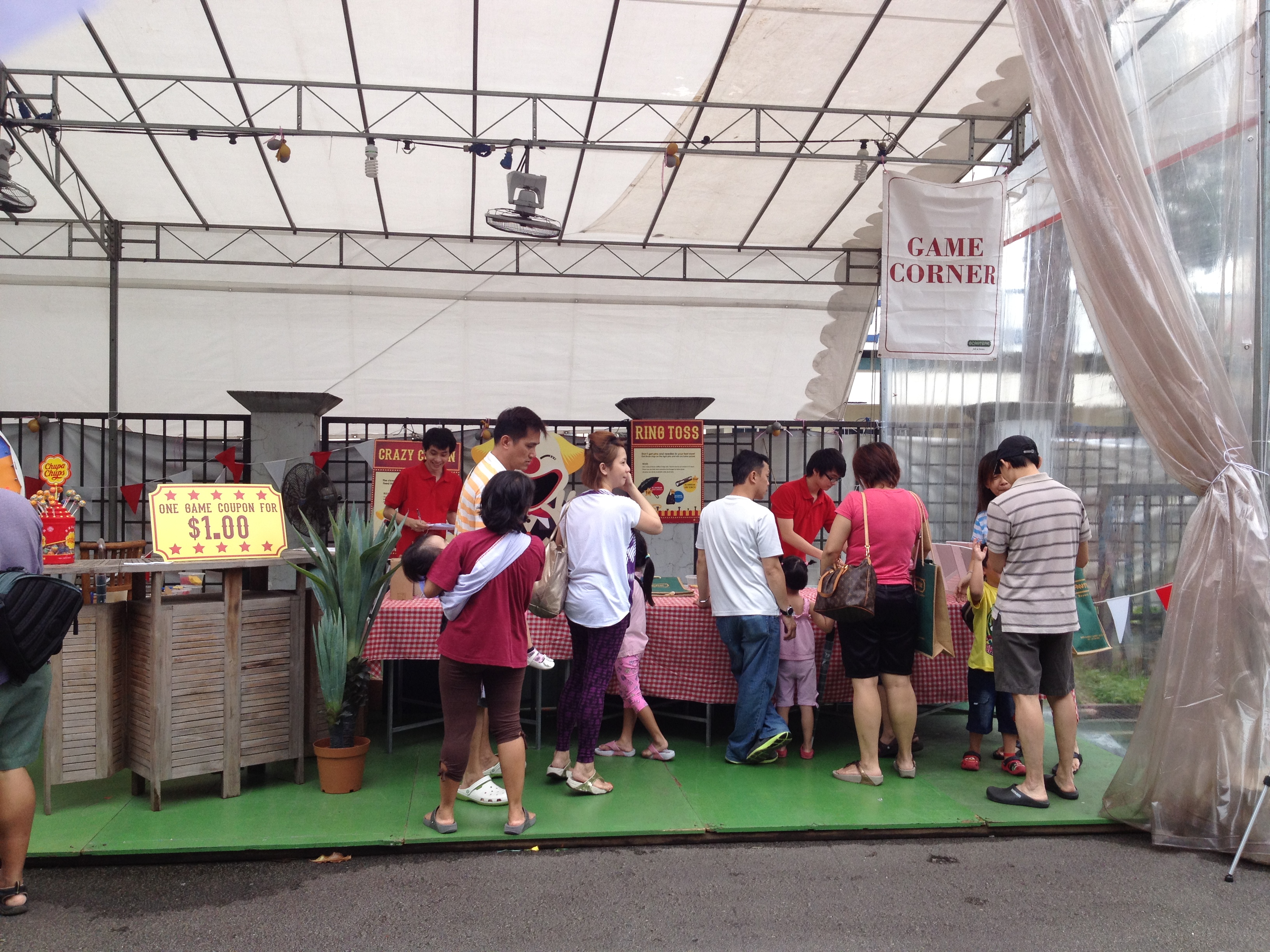 To add to the excitement, MoneyDigest readers are in for a treat. Claim an additional 10% off clearance items for even bigger savings AND a designer doorgift (no minimum spend required) when you:
LIKE ScanteakSG on Facebook
Comment #scanteakwarehousesale on their post
Tag 3 friends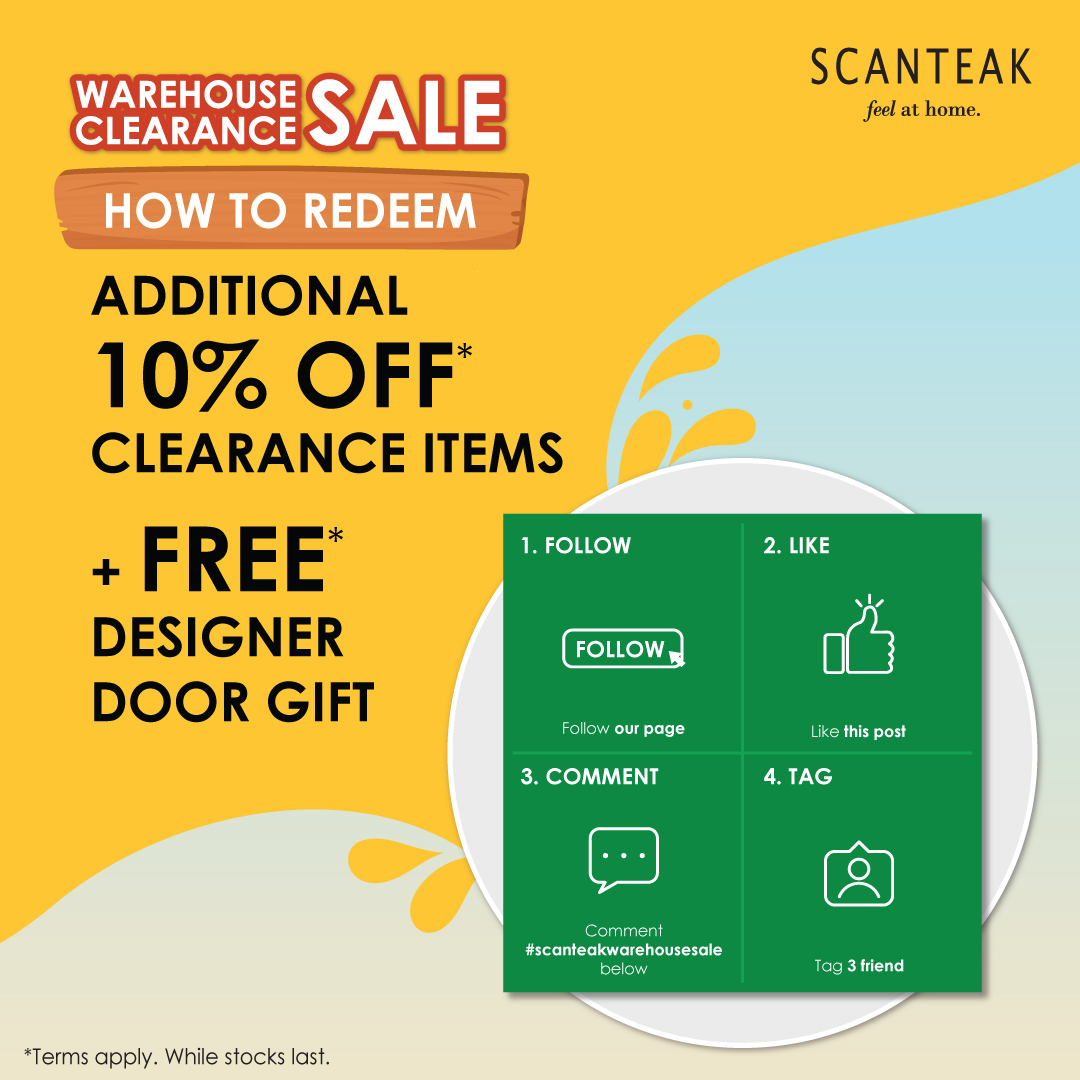 And if you visit on the event's Saturdays and Sundays, you can tantalize your taste buds with delectable complimentary satay. It's an experience that engages all your senses!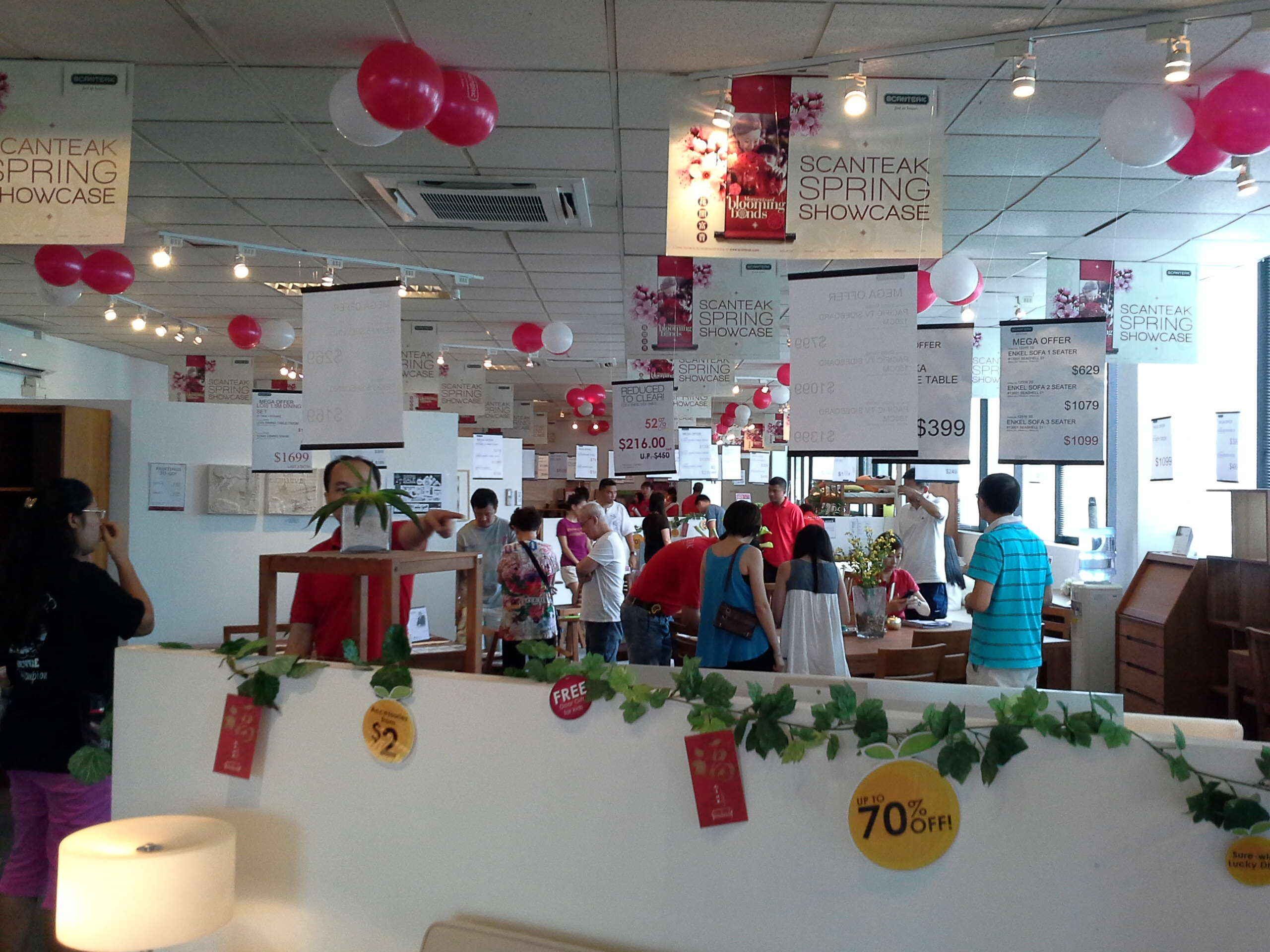 If you're worried about missing out on these amazing deals, fear not! Scanteak ensures that their promos are available while stocks last. So, head down to Scanteak's Trade Showroom from 8th to 18th June, and immerse yourself in the world of Scandinavian elegance. Don't forget to follow them on Instagram (@scanteaksg) and like their Facebook page (www.facebook.com/ScanteakSG) to stay updated on their latest offerings.
With Scanteak's commitment to quality, sustainability, and functional design, you can create a home that truly reflects your style while making a positive impact on the planet. Visit Scanteak today and discover the perfect blend of aesthetics and practicality that will transform your living space into a haven of tranquility.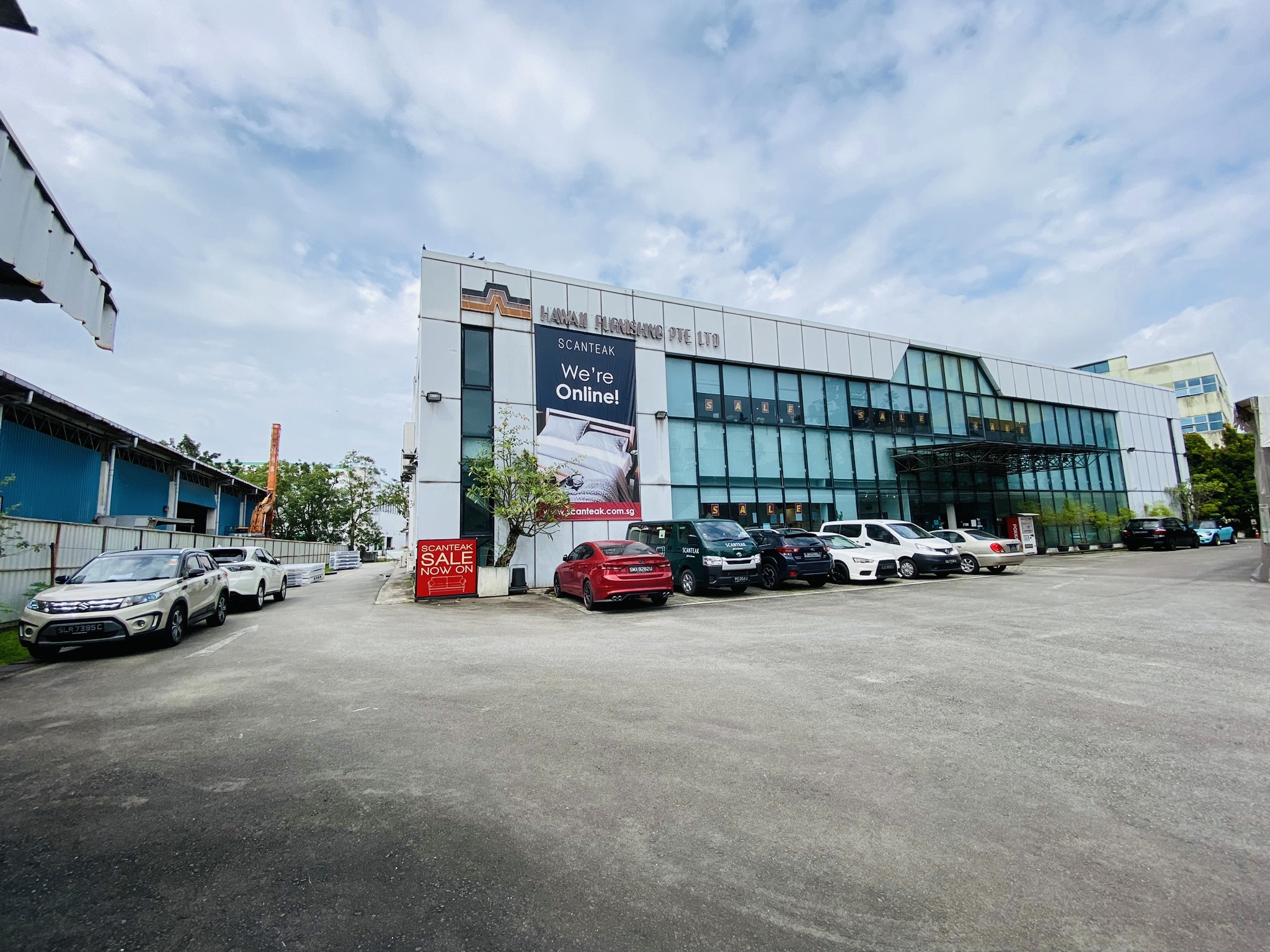 Don't worry if you're unsure about how to get to Scanteak's Trade Showroom. They have you covered with their convenient shuttle bus service. The shuttle bus will pick you up from Yew Tee MRT Station, specifically at the bus stop outside Cheers. You can catch the shuttle bus every half an hour from 10 am to 7 pm, but only on the weekends of 10th-11th June and 17th-18th June. It's a hassle-free way to ensure you arrive at the showroom comfortably and on time.
---
Scanteak's Trade Showroom, 60 Sungei Kadut Drive, Singapore 729 569