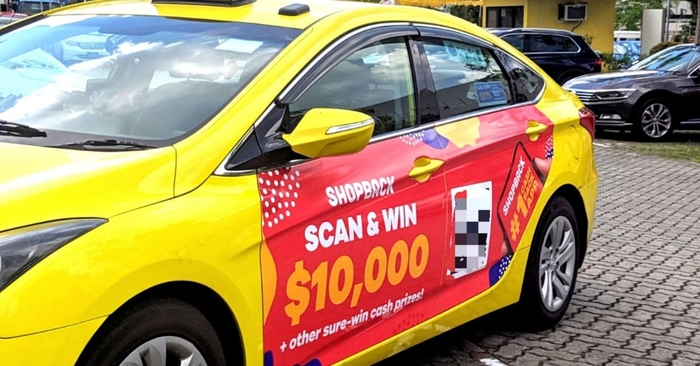 Some Singaporeans might have noticed that there are some cabs roving around the city with big ads: Scan & win $10,000. Sounds too good to be true? We dug around to find out more and here's what we discovered: 
1. Is it too good to be true?
We found that there's a campaign page published on ShopBack for quite some time regarding this Cash Cab Hunt. Most Singaporeans should have heard of ShopBack, a leading Cashback app in Singapore and quite a few other countries.

Scan & Win $10,000: Too good to be true?
2. Has anyone ever won a prize so far?
Quite a few ShopBack users have already cashed in on their rewards. We contacted the winner of $88 boosted Cashback, Ng Yu Feng, a 30 year old ShopBack user. She told us that she was excited to hunt for the $88 Cashback on 6 Dec, and shared her strategy: she "scanned almost every cab that (she) spotted" after finding out about the Cash Cab campaign. In fact, this Cash Cab Hunt has been running since the beginning of Nov and will end around Christmas. She even activated her family to capture the QR codes whenever they are on the road.
Being a Shopback user since September 2016, she has accumulated a lifetime Cashback earnings of $2048.92 with ShopBack. Her favourite online brands include Qoo10, Chopedeals, Quandoo and Shopee.  With ShopBack GO, she now also enjoys earning Cashback whenever she dines or shops in-store as well. She likes promotions by ShopBack during the Shopfest season and got so much more value from her purchases. Because of her trust in ShopBack, she did not hesitate to participate in the Cash Cab Hunt and she reaped her rewards indeed!
3. Is it complicated to participate?
The most difficult step is to spot and catch the Cash Cab. As long as you can catch it, the rest is a piece of cake. Simply scan the QR code on the Cash Cab to receive a lucky draw number. Anyone can participate, whether you are new to ShopBack or are already a ShopBack user. Then wait for 26 Dec 9PM to find out if you caught the lucky code to win $10,000 via ShopBack's Facebook page.
4. How could I catch the Cash Cab?
It's true that only 100 Shopback Cash Cabs have been roaming about, so the chance of running into it is not high. In order to help people catch the cab, ShopBack has announced a Cash Cab map to increase your chances of catching a Cash Cab.
ShopBack has revealed the landmarks that the Cash Cab will be roving about on 22 Dec from 2 – 8 pm. There will be 6 locations across Singapore where the Cash Cab can be found.
Additional easter eggs will be released exclusively through Shopback's social media channels.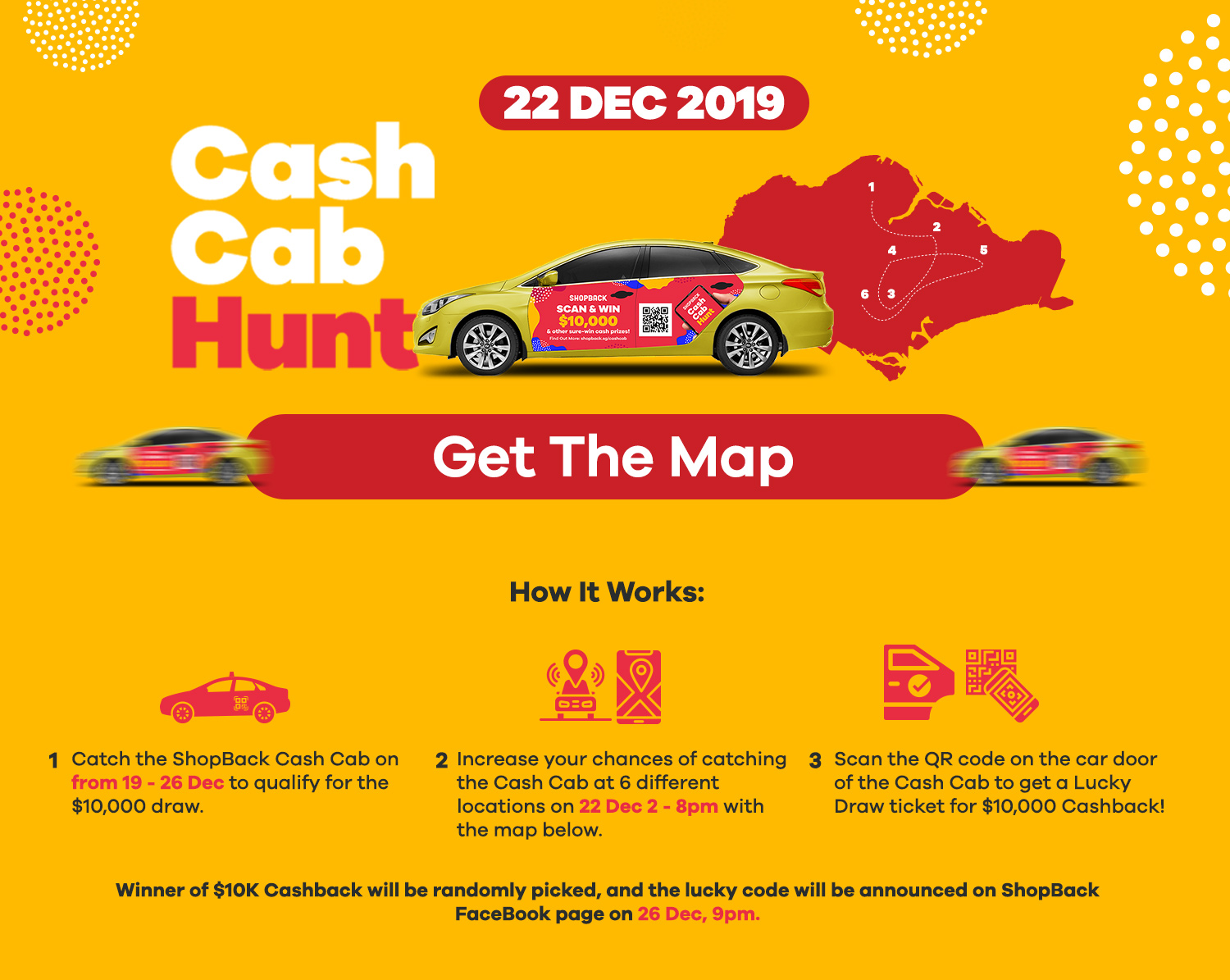 Use the map to increase your chance of spotting ShopBack's Cash Cab (as seen in image) for a $10,000 Grand Prize.
Hunting for $10,000 cash prize is not only 100% real but also easy!
 Simply follow these 3 steps:
Catch the ShopBack Cash Cab on from 19 – 26 Dec to qualify for the $10,000 draw.

Increase your chances of catching the Cash Cab at 6 different locations on 22 Dec 2 – 8pm with the

map

provided. 

Scan the QR code on the car door of the Cash Cab to get a Lucky Draw ticket for $10,000 Cashback!
ShopBack will randomly pick a lucky winner and announce on Dec 26 9PM. Really excited to see who will be the luckiest person to bring home the best New Year gift – $10,000 cash!