Shopping is Entertainment. That's the slogan for Japan's No.1 online shopping Mall Rakuten.
Launched in Singapore in 2014, Rakuten believes that shopping should be a fun experience, and they do so by creating an engaging environment for customers to do their shopping. Besides providing a platform for retailers to showcase their products, there are various interactive campaigns for shoppers.
The Rakuten Super Points was introduced as a reward program where customers can earn points to help save on their next purchase. Just like how airlines reward travellers with frequent flyer miles, Rakuten Super Points is awarded every time you make a purchase.
Rakuten carries over 330,000 goods from close to 500 merchants, with more than half of the retailers from Japan. Start your retail therapy with Rakuten today as we put together 10 Rakuten shopping hacks to help you be a smart shopper and save on your next purchase.
1. Bookmark the Deals page
This is one of the most important page you need on Rakuten. It showcases thousand of deals at up to 80% off and Buy 1 Get 1 free. It also includes a range of items from categories such as Food & Beverages, Health & Beauty, Electronics, Travel & Living, Women Apparels and many more.
*Tip: Simply drag the image below and place it in your Bookmark Toolbar on your browser.

2. Rebates, rebates and more rebates
Every dollar spent will earn you 1 Super Point and 100 Super Points = S$1 discount.
Accumulate your Rakuten Super Points to become a privileged Gold Member and once you achieved this milestone, there will be special perks and secret coupons mailed to you periodically! For example, Gold Member is eligible for the surprise Golden Member Days where you get a 24-hour Rakuten Super Points Day with exclusive discounts!

Update: Rakuten has recently launched a 5x Rakuten Super Point-back programme to help you accumulate your points faster. Every dollar spent will now earn you a whopping 5 Super Points (rather than 1) and that is equivalent to an impressive 5% rebate on any products, on any day.

Tip: Look out for Bonus Super Points Promotion Campaigns, Rakuten will reward you with 20x, 30x, 40x, etc, Bonus Super Points to help you save even more.
3. Shop on Tuesday
TGIT. Thanks God It's Tuesday! Every Tuesday, you can enjoy an additional 5% off your shopping if you pay with your MasterCard.
Tip: Remove all the MasterCard sitting in your wallet. Find out which of these cards provide more points or rewards when you charge your online purchase.
4. Shop from Ebates
Haven't heard of Ebates? You have been missing out where everyone's cashing in. Ebates is a cashback website that helps you stretch your dollar on your online shopping from over 300+ online retailers such as Groupon, Redmart, Foodpanda and more. Is Rakuten included in their cashback scheme? You bet. Register with an account with them and shop from their platform to earn an additional 5% cashback on your purchase.

5. Subscribe to Rakuten's Newsletters and Follow Them on Facebook & Twitter
Be the first among your peers to know of the latest promotions and contests! Rakuten is on Facebook and Twitter, so follow them closely on their social media accounts and sometimes it pays to be kiasu!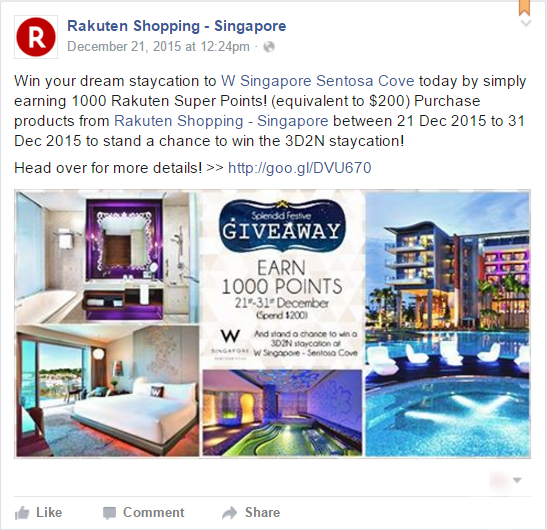 You would have missed out on a chance to participate in their contest if you've spent $190 — $10 short to earn 1,000 Rakuten Super Points! Don't miss out on such opportunities and start following them on Facebook!
Tip: There's a $288 Rakuten Super Points giveaway today on 14/1 if you simply like their page, share and comment on the pinned post today. Otherwise, there's also the Win a Free Trip to Shizuoka, Japan contest ongoing until 20/1.
6. Be a smart shopper: Know what to shop on Rakuten
If you have been a savvy shopper, you know what are the best deals to buy at Rakuten. But what if you don't? Don't worry, we have done the homework for you.
Tip: Check out the Top 100 Best Sellers to see what are the popular items on Rakuten.
7. Use the right credit card
There are several cards you can use to enjoy additional perks when shopping at Rakuten:
Citi Rewards Card: 10% off storewide with code "RTCITI10" (max discount $50)
Standard Chartered SingPost Platinum Visa Credit Card: 7% cash rebate (min $600 spend a month)
DBS Live Fresh Platinum Card: 6% cash rebate (min $500 spend a month)
MasterCard (any banks): 5% off storewide on Tuesday + any points or rewards from your bank
Tip: Tuesday: Any MasterCard | Other days: Citi Rewards Card, Standard Chartered SingPost Platinum Visa Credit Card or DBS Live Fresh Platinum Card
8. Make full use of free shipping
Don't want to pay for shipping cost? Several merchants on Rakuten offers free shipping with no minimum amount, so if you are the type of shopper that want to maximize your dollar, you can shop at their Free Shipping page. Rakuten will display all the products that are eligible for free shipping.

Tip 1: Save on shipping cost by combining orders with your friends or colleague. Some stores offer free shipping when you make a minimum spend. The key here is to buy in bulk for items such as diapers, ramen, rice seasoning, etc.
Tip 2: Most free shipping are on weekend so look out for weekend campaigns!
9. Do your homework. Use Price Panda or Priceme
Don't shortchange yourself. With many e-commerce platforms online, make sure the item you want is competitively priced. I personally use Price Panda or Priceme to compare the price to see if i'm getting the best deal. And often, Rakuten seems to edge because of the various cashback, rebates and offers.
Take for example:
The GoPro Hero 4 Black Edition is retailing at S$750 at both Courts and Challenger according to Priceme.
The cheapest set displayed on Priceme: Lazada at S$619
Galaxy on Rakuten is selling it at S$650
Although it may seems cheaper at Lazada, it is an export set that doesn't come with warranty. Whereas, the one by Galaxy (Rakuten) comes with a 1 year local agent warranty. And that is not all – Rakuten also offers 5X Rakuten Super Points which is equivalent to a 5% cash rebates. This works out to be a $32.50 discount which brings the total nett price to S$617.50! Now, which is more value for money?
*Tip: Charge your purchase with a a MasterCard and get an additional 5% discount on Tuesday + Points or rewards from your bank
10. Don't miss out the Shop Campaigns
You thought that Rakuten's campaigns was mindblowing? What if i say stores can run additional campaigns on top of Rakuten's campaigns? Keep your eyes peeled when you visit a store's page. There are certain campaigns run by stores and this include giving away free gifts and voucher when you make a purchase.
For example, Mega Discount Store is currently giving away freebies such as free bread maker and $50 voucher when you purchase certain promotional items from their shop.

Tip: Subscribe to individual stores to get the latest updates on campaigns and promotions.
We hope you find these hacks useful!
To get your started, we have collaborated with Rakuten in the MoneyDigest X Rakuten Super Points Giveaway. 2,000 Rakuten Super Points (worth $20) will be given away to our readers who have yet to sign up for a free account at Rakuten. Do note that only the first 25 valid entries qualify.
Steps:
Open a new tab in your browser and go to www.rakuten.com.sg
Input the email address you used to register on Rakuten.com.sg on this form: http://goo.gl/forms/vpwFJRTMsZ
Terms & Conditions
Only new member accounts qualify
Contest runs from 14 Jan 2016 to 10 Feb 2016.
Points will be credited into your member account on 22 Feb 2016.
Points will expire if not utilised within two months
Rakuten reserves the right not to award points to accounts deemed as fraudulent.
(This post is brought to you by Rakuten Singapore.)