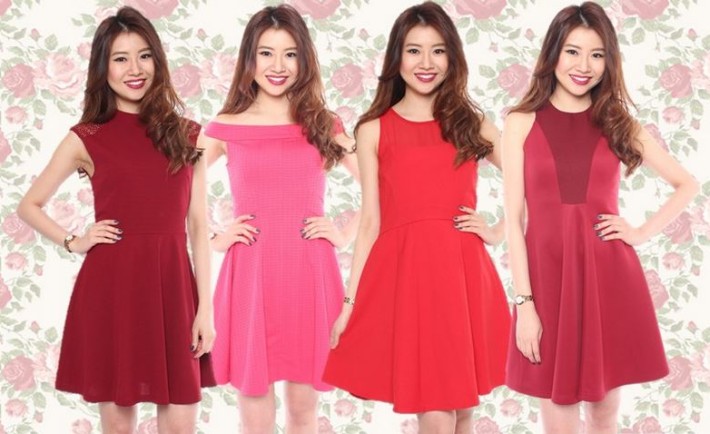 (Image: MichSara.com)
As Chinese New Year approaches, there is an increasing traffic in malls and online stores where the latest designs of outfits get snapped up in a jiffy. Many are having a headache on where to get trendy outfits without burning a hole in their pockets. In addition, many prefer to wear red, the auspicious colour, during their visits, which adds on to the difficulty to land your hands on suitable clothing for the festival. The trend of traditional costumes has returned and cheongsams have made their comeback. Many stores have brought in beautiful designs and colours and displayed their cheongsams proudly. However, most of them come with exorbitant prices due to the demand and supply during this period of time.
As the belief goes, one should wear brand new clothes, shoes and accessories when celebrating the first day of the lunar new year as it represents a prosperous new beginning. As much as we wish to have a brand new start to the new year, finding suitable new clothes could be a real pain in the neck, especially clothes that are budget-friendly and deemed auspicious. This is especially when you are someone who has to visit traditional seniors who would be particular about the colours of the outfit as well as how conservative you should look. Since different people have different demands for different kinds of outfits, here are 3 places you can shop for a wide variety of cheap clothing!
Bugis Village

Bugis Village is a very popular place for young people to shop at. That is because they sell many imported products from Thailand and Taiwan where they are cheap and trendy. The clothing are up-to-date and they have a wide variety for you to choose from. Although the area could be cramp and extremely crowded, jostling through the crowd would be completely worth it when you scavenge for the best deals in town. Many of the stalls sell almost the same thing, which means that the sales competition would be steep. Prices could go as low as $8 per clothing where they can get cheaper if you bought more and you can even bargain in some of the shops. It is a 3-storey building so if you are unable to find what you want in the first floor, you can always go upstairs where it is usually less crowded and you can comb the area at your own time. In addition, between the shops are food and beverage stalls where you can take a break and munch on your favourite street snack from all around the world. My personal favourite would be the 'I Love Taimei' stall (located at the first floor at the back facing Waterloo Street, they have several other branches as well) where I can sip on flavourful milk tea and munch on crispy aromatic fried chicken as I browse the items.
City Plaza
Many people know City Plaza to be a rundown building located somewhat opposite Payar Lebar and it functions as a wholesale centre, but not many people know that there are actually many hidden gems inside. Although the building consists mainly of suppliers, they are actually boutiques and if you were to enter any of the shops, most of them would give you reasonable prices should you ask them. They do not just do wholesale but they also sell clothing piece by piece for walk-in customers. Many online stores attain their stocks from here and don't be surprised that the products sold there are very up-to-date and of pretty good quality! If you are looking for better bargains, it would be best to go with a big group of friends or family so that you can buy in bulk and buy everything at a way better deal.
Fleas & Blog shops
The last option would be to go to any flea organised by blogshops. Many would think that fleas are where people sell their used items at a cheaper price. However, many online stores have taken this path of selling their items in fleas so that their customers can not just come down to collect their ordered items, but also to gain recognition and trust in their buyers. Due to the low rental costs, products can be sold at a more affordable price. In addition, they also sell a wide variety of products so not only do you buy clothes, you can also buy watches, shoes and even hats from there. There has been many fleas organised around Singapore, and more have appeared since it is the Valentine's Day and Chinese New Year period. One of the prominent ones would be the Scape flea where every weekend there would be many venders who set up booths right outside Scape at Orchard Road. Other up and coming fleas include those organised by Three Blind Mice, where they pool famous bloggers and popular online stores to sell their merchandise. The latest flea was held at Triple One Somerset and even City Plaza itself. More details can be found in their website: http://threeblindmice.com.sg/
If you have a busy schedule and don't want to escape the crowd, why not shop online?  There are many blog shops in Singapore and as they operate online without the brick and mortar store, they can pass on the cost-savings to the customers. Popular one includes brands like Love Bonito, MDS Collections, Mich Sara and Love & Bravery.
Blog shops also update their inventory regularly to bring in the latest trendy fashion often curated by tastemakers. For example, for the month of Chinese New Year, Mich Sara carries a range of Chinese New Year's collection that is not only fashionable but also of high quality.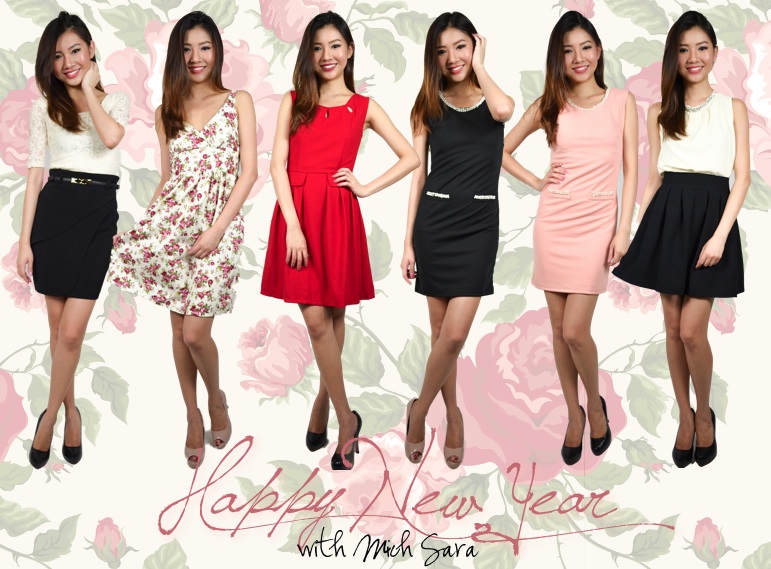 We hope we have given you sufficient tips to prepare for the Chinese New year! Non-Chinese friends should also come along to experience the hustle of the festival. All the best in attaining your last minute loots!