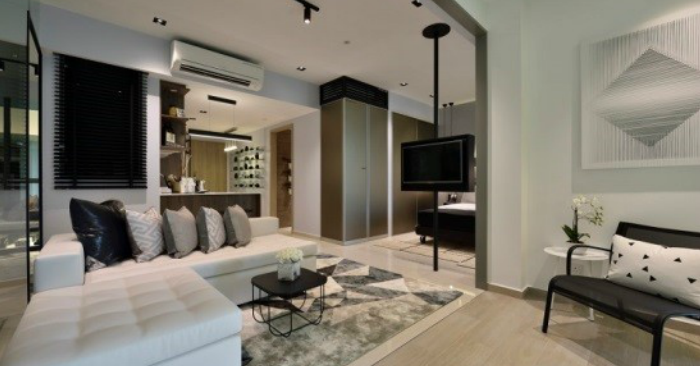 For young couples who are about to commence their journey towards matrimony, buying a house is usually a decision that they will have to make collectively. Given the cost associated with buying a house, it is hardly surprising that this is often the biggest financial commitment for young couples. Therefore, besides considering emotional factors, it is just as important to consider the financial factors behind this important decision as well. Meanwhile, an executive condominium ('EC') has often been touted for its investment potential. It remains as one of the best products for delivering capital gains within the residential segment. It is little wonder why executive condominiums have gained traction and become extremely popular amongst young couples over the years. One such project is Sol Acres, an executive condominium developed by MCL Land. Its unique offering of 1-bedroom apartments could well turn out to be a smart choice for young couples.
Investment Potential Of Executive Condominium
According to a research by The Edge Property, a price gap of about 18% typically exists between an EC and a comparable condo during sales launch. After the 5-year Minimum Occupation Period ('MOP') has been met, the price gap narrows down to 12%. 10 years after Temporary Occupation Period has been reached, whereby the EC becomes fully privatised, the price gap further narrows down to only 9%.
What this implies is that capital gains can be made as soon as the 5-year MOP is up. At this stage, owners of EC can sell their EC to Singapore citizens or Singapore permanent residents. However, if the home-owner is in no hurry to dispose the EC, possibly greater capital gains awaits when the EC attains full condominium status. This is akin to owning a long-term arbitrage opportunity.
This price-gap theory is best illustrated by recent transactions within the vicinity of Sol Acres. Hillsta, a condominium developed by Far East Organisation in 2016, is located less than 1km away from Sol Acres. Transaction prices in the past 6 months at Hillsta averaged around $980 psf, approximately 23% higher than the transaction prices in Sol Acres during the same period. Therefore, a purchaser of Sol Acres is immediately in the money the moment he or she purchases the unit.
Affordability of Executive Condominium
As aforementioned, EC are typically priced at an average discount of 18% during sales launch when compared to comparable condominiums. A significant part of this price gap is due to the lower land prices that developers pay for executive condominiums during government land sales exercises. In turn, the developers pass these cost savings to the home buyers.
In addition, government subsidies such as the CPF housing grants also help young couples to offset the downpayment required. Note that such CPF housing grants are not applicable to buyers of private condominiums.
To increase the affordability quotient further, reputable developer MCL Land has introduced 1-bedroom units in Sol Acres, an executive condominium located off Choa Chu Kang Grove. Besides boasting the accolade of being the biggest executive condominium in Singapore, it is also the only development to offer 1-bedroom units. As the 1-bedroom unit has been well designed to optimize space well, selling price starts from a very affordable $370,000. This significantly lowers the barrier of entry since a young couple with only a minimum combined income of $4,430 will now be able to meet the mortgage service ratio.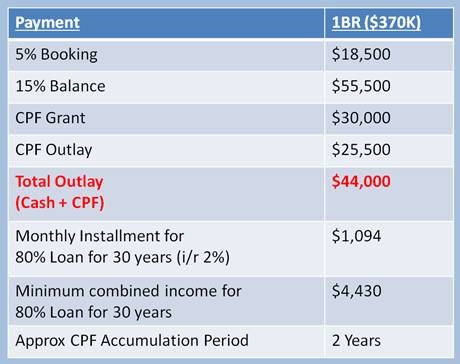 Maintenance fees starting from $180 per month are also low, especially when gym and pool facilities are included. Coupled with the current low-interest rate environment, MCL Land has truly made it possible for young couples to be proud owners of an executive condominium.
Why Sol Acres Is A Smart Choice
As the first developer to include 1-bedroom units in an executive condominium project, MCL Land has truly placed an EC within the reach of most young couples. Home-owners now has the unique opportunity of enjoying full condominium facilities while only paying prices comparable to HDB's Build-To-Order ('BTO') flats.
In addition, as it is already substantially constructed, Sol Acres is likely to achieve TOP in 1Q2018. This implies a shorter wait time as compared to a traditional BTO. It is therefore a good solution for young couples with immediate housing needs. Furthermore, sales at Sol Acres are on a first-come first serve basis rather than the traditional balloting exercise associated with BTO.
Sol Acres's 1-bedroom units are most suitable for young couples with no children or young couples who do not have plans to have children so early in their marriage life. They are therefore able to enjoy each other's companionship set within a condominium environment. Subsequently, home-owners can upgrade to a more spacious house with the capital gains made after MOP.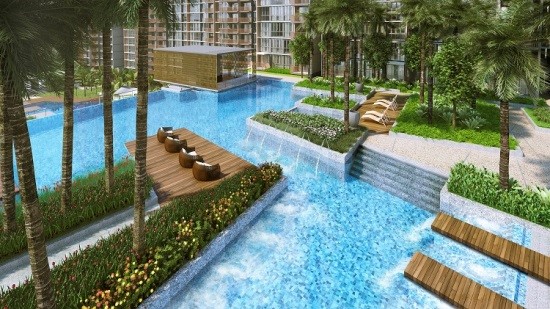 This is highly likely given Sol Acre's strong investment outlook owing to its outstanding location. It is a mere 15-minute drive away from Singapore's second CBD, the revitalized Jurong Lake District. Besides a host of shopping malls and offices, Jurong Lake District will also be the terminus for the future Singapore-KL high speed rail.  For those who do not drive, Sol Acres is also well connected by public transport since the LRT is right at its doorstep. The LRT connects directly to both the Choa Chu Kang and Bukit Panjang MRT stations, giving commuters access to both the North-South lines and Downtown lines respectively.
Visit The Showflat Quickly
Given the resurgence in the property market recently, units are going fast at Sol Acres. Only less than 60 units remain at Sol Acres. Therefore, for those who are desirous of a home with condominium facilities at BTO prices, an appointment should quickly be made.  As an added incentive, readers of Money Digest who register to view the 1-bedroom show suite can redeem a pair of movie tickets after their viewing. Hurry as only 150 pairs are up for grab.v