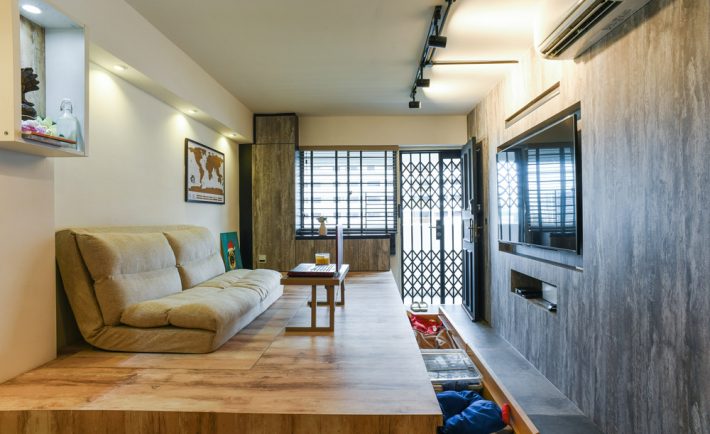 Image Credits: renonation.sg
After getting over the excitement of purchasing your build-to-order (BTO) flat, it's time to think about renovations. If you know not where to start, take it from the interior designers themselves as they share with you tips on budgeting, styles to go for, and more.
Set a budget
As with most things, setting a budget will get you started on the right track. According to a spokesman for Qanvast, the data collected shows that homeowners of new apartments spend between S$30,000 and S$60,000 on renovations while renovation costs for resale units start at S$65,000.
However, he advises homeowners to budget for an excess of 10 to 20 per cent more. "It's common for homeowners to spend more than their budget – upgrading to better tiles, adding carpentry work, or dealing with unexpected hiccups."
Also, while you might be attracted to some low-cost packages, it's good to do a background check before signing any contract. Mr Morris Teo, managing director of HomeRenoGuru, a renovation website, says: "Homeowners should be mindful when signing packages that appear very affordable. Reputable interior designers would usually include the entire renovation works in the initial contract."
Also, make sure you are getting good quality materials for the price paid. As Ms Amy Picanco, a director at Aym Design and a council member of the Interior Design Confederation Singapore, rightly points out: "While it can be difficult, try to think long term – do you want a renovation that lasts for five or 10 years? This will affect the quality of the materials you use and may push prices up. However, it could save you a lot of time and money in the long run as it will be a lasting investment."
The styles to go for
Interior designer and founder of Wee Studio, Mr Yeo See Wee, comments, "If you have 10,000 pictures of every style, that makes it very difficult for you and your interior designer to decide what style to go with." A lookbook with a few images representing the concept you like will do.
Architecturally trained interior designer Vanessa Ong suggests homeowners limit the colour and texture tones to up to five options. "Take time to observe spaces, objects, textures that inspire you or places you've visited. Your home should tell a story of who you are," she adds.
Seek approval before hacking
"Homeowners should think about how long they'll be staying in the flat and what their plans for the future are so that the flat can provide for their future needs. Erecting a wall in the future will be an unnecessary, time-consuming, and costly endeavour," said the spokesman for Qanvast.
However, if you're sure about knocking down walls to create an open-concept living space, be sure to seek approval from the Housing and Development Board (HDB) first. You can read all about demolition and erection of walls here.
Maximizing the space you have
HomeRenoGuru's Mr Teo says that new homeowners often misjudge the storage space they need. Planning with the future in mind is important. With that said, Ms Gwen Tan of Formwerkz Architects recommends homeowners to plan for more storage for future possessions.
Interior designers propose having built-in storage. For example, floor-to-ceiling shelves will help to maximize wall space and beds with storage beneath them will allow you extra space to store your stuff. Having illuminated bathroom mirror will save space as you can do away with an additional lamp.