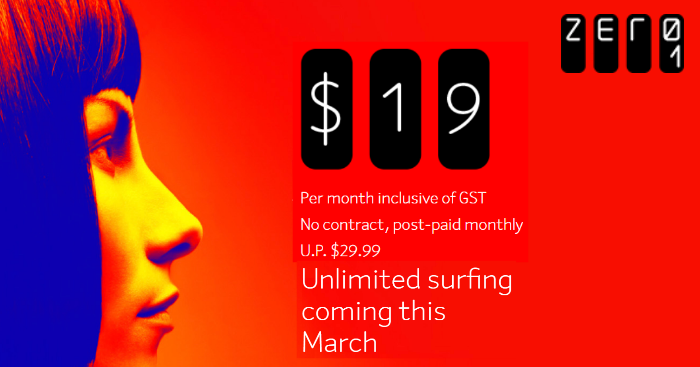 Zero1, the latest mobile service provider in Singapore is a mobile virtual network operator which partner the leading local mobile operator and share the biggest and best mobile network in Singapore.
For a limited time only, users can pre-register their interest and enjoy an exclusive no-contract unlimited data plan for only $19 per month. (U.P $29.99) The promotional price plans will be available for the first 3,000 registrations. The plan will comes with 200 minutes of local talk time 200 SMS messages and free Caller ID.
At that price, it gives other telcos a run for their money. Singtel's unlimited mobile data plan costs at least $108.80 per month while M1 costs $98 a month. Both comes with a contractual term.
Users can pre-register their interest here.
Frequently Asked Questions
1.  Why should I pick Zero1?
Unlimited data of course! We have a simple and affordable mobile plan that lets you surf all you want 24×7 so sign-up with us. No top-ups, no restrictions, no extra data charge.
2. Will I be tied down to Zero1?
There is no long 12 or 24 months contract. Use our service for 1 month and if you like it, simply continue on a per month basis. But of course if you would like to give us your long-term support, let us know and maybe, we could work out a better deal for you? 🙂
3. Is Zero1 suitable for me?
Why would it not be? Do you use:
WhatsApp?

Spotify?

Twitter?

Snapchat?

Instagram?

Facebook?

LinkedIn?
Whether you are a heavy app user or simply someone who uses your mobile for emails and news, a Zero1 plan is all you need. 
4. What payments or fees am I looking at?
We have a launch special! Sign-up on our website during our launch and enjoy a waiver of registration fee and SIM card charges. Other than that, you only need to pay for your monthly subscription charge of $19 (UP: $29.99) inclusive of GST.
Do sign up quickly as after the promotional period, there will be a one-time registration fee of $10.70 and SIM card cost of $21.40, (all inclusive of GST).
5. When can I sign-up for Zero1 mobile service?
 You can pre-register your interest now on our website. Once we are ready to launch in March, we will alert you via email.
6. Do you sell handsets?
No. Not for the time being. We want to focus on managing the mobile service experience.
7. Can I make international call?
We have tied up with ZONE Telecom Pte Ltd for international calls. You can call IDD by dialling 1511+country code+ area code + tel. no. All charges will be billed to you by Zero1. For now, you cannot make direct international calls and SMS simply by adding a '+' sign in front of a number – this function will only be available in June 2018.
8. Does Zero1 have a good mobile network ?
We are a mobile virtual network operator (MVNO) and we partner with the leading local mobile operator and share the biggest and best mobile network in Singapore to offer our Zero1 service. You can use Zero 1 with full confidence.
9. What does '3GB at full network speed and unlimited data at managed speed' mean?
For your data consumption, you will enjoy the full speed possible for your first 3GB of data usage.  After that, your internet speed will be managed and optimised for best performance. This is to ensure that every customer will be able to enjoy the best shared resources.
10. When can I terminate the service?
The minimum contract period is 1 month. You can terminate anytime by writing to Zero1 giving us 30 days advance notice.
11. Are there charges to re-contract with Zero1?
We will always welcome you to use Zero1. However, do note that you may not be able to retain your choice number. In addition, there will be a one-time joining fee of $10.70 and $21.40 for the new SIM card.