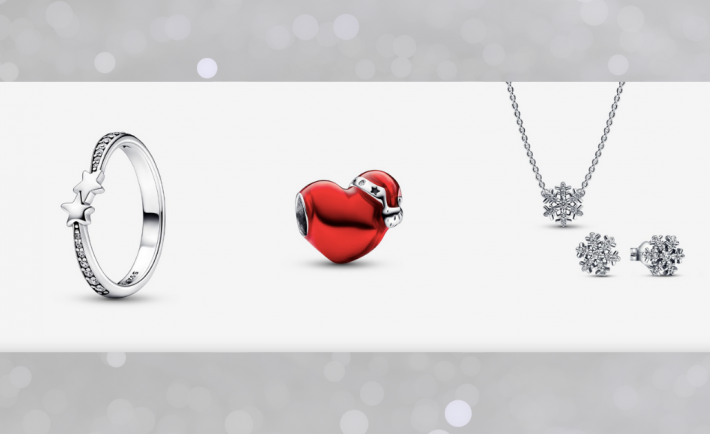 Tis' the season of giving.
Well, not quite yet but with November approaching an end, it's time to start thinking about December.
Know of a die-hard Pandora fan who could afford new gems for Christmas 2022? Read on for a list of Christmas-themed jewelry pieces from $55.20 that your loved ones will adore.
Now: $55.20
Usual Price: $69
Capture the magic of a starry night sky with this dazzling ring. Twinkling like stars in the sky, these cubic zirconias add some extra sparkle to your look. Gift this ring as a symbol of togetherness and love. This ring's sleek and simple design makes it perfect even for everyday wear.
Now: $55.20
Usual Price: $69
Add a little holiday cheer to your outfit with this Festive Mouse & Stocking Charm. This charm is crafted from sterling silver and features a Christmas stocking with true-to-life knitted texture detailing. The featured mouse comes with adorable whisker and paw details and the stocking is finished with red and green enamels. Perfect color combo for Christmas!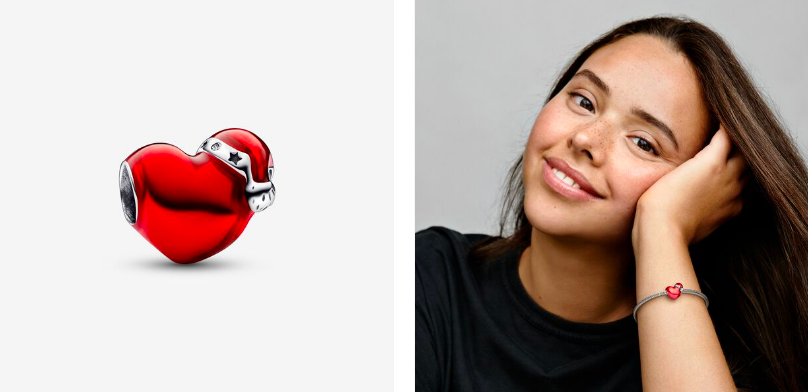 Now: $55.20
Usual Price: $69
Let Christmas take center stage! Deck the halls in vivid metallic red with this enchanting heart charm. It's sure to add a festive flair to any outfit, and with its sweet Santa hat detail, it's perfect for Christmas lovers of all ages. Add this charming charm to your favorite bracelet, or gift it to a friend who loves Christmas just as much as you do.
Now: $71.20
Usual Price: $89
Let your light shine this Christmas! These dangle charms are an excellent way to add some festive cheer. The red nose is crafted from gorgeous Murano glass, and the charm is decorated with clear and red cubic zirconia stones. They come with a unique engraving, which reads "Let your light shine." Add them to a bracelet and spread positive vibes this Christmas.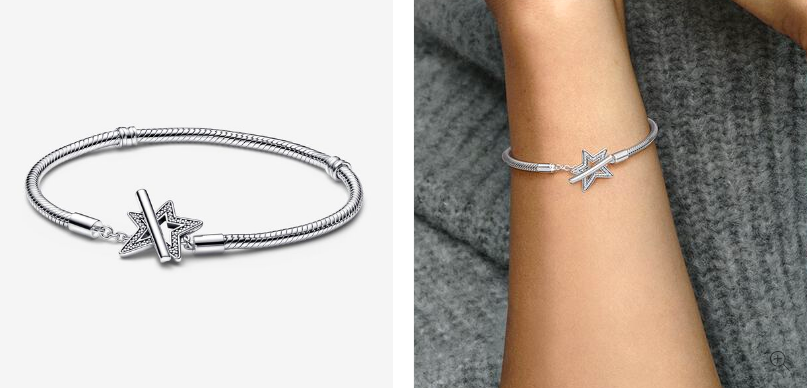 Now: $119.20
Usual Price: $149
Shimmer bright like a star with this Pandora Moments Asymmetric Star T-bar Snake Chain Bracelet. With a celestial-inspired design, this bracelet is a reflection of the sparkle of the night sky. The asymmetric star T-bar clasp in polished sterling silver puts the starry magic at the center of your styling. Whether you're going out for a drinks session or just want to add a touch of glam to your everyday style, this bracelet makes an ideal accessory.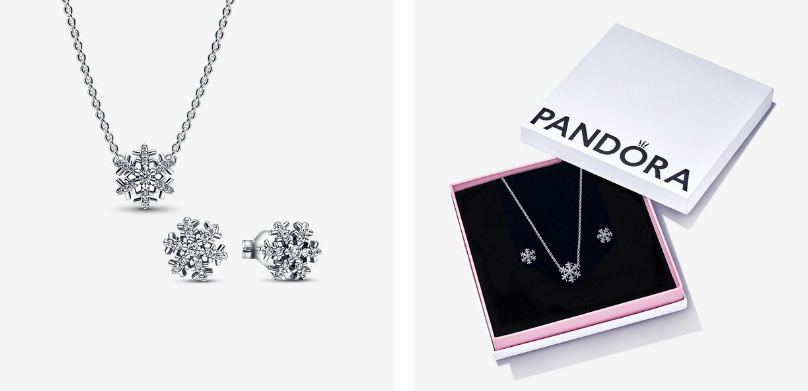 Now: $159
Valued at $198
Embrace this year's winter vibes with this charming jewelry gift set. From the moment your loved one unwraps it, this set will put them in a festive mood. Made from sterling silver, the sparkling snowflake pendant and stud earrings are perfect for dressing up any outfit. Whether your loved one is wearing them to a Christmas party or just around town, these gems will add some sparkle to their year-end mood.
For the full collection of festive-themed Pandora jewelry, click through the link to view more.
Editor's note: Prices reflected are accurate at the time of writing.