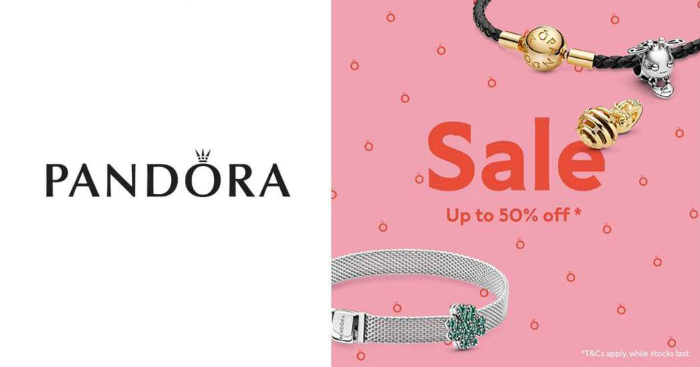 The start of June marks the arrival of Summer!
Immerse yourself in the season of energy and youth amidst the rays of the glowing sun. Celebrate cherished moments with your loved ones and treat yourself with these pieces full of sparkle and love.
From 5 June until 5 July 2020, Pandora will be having a Summer Sale with up to 50% off selected items.
Here are some highlights:
Bee Mine Bracelet Set
($327 $129)
Remind yourself that nothing is impossible with this Bee Mine Bracelet Set.
The sparkling sterling silver Bee Mine Charm paired together with the 18k gold-plated Beehive Dangle Charm symbolises togetherness and represents the idea that life is sweetest when we stick together and live in peace and harmony, much like the wonderfully intricate honeybee communities.
Lucky Clover Bracelet Set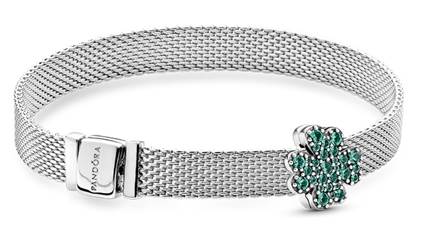 ($218 $149)
Stay lucky with the Pavé Four-Leaf Clover Clip Charm on Pandora Reflexions Mesh Bracelet.
The four-leaf clover charm serves as a symbol that brings faith, hope and love with it. With pavé green crystals on one side and polished sterling silver on the other, you can show off the charm on either side.
Celestial Stars Stud Earrings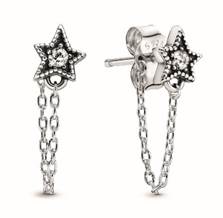 ($89 $49)
The twinkling sterling silver stars stud earrings symbolise a rush of energy within the universe taking the form of a shooting star. Wear them as a sparkling reminder to help you reach your goals and dreams.
Angel of Love Dangle Charm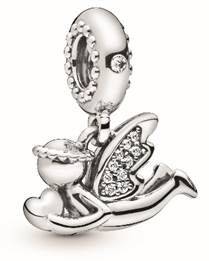 ($89 $49)
Served as a symbol of protection and love, the Angel of Love Dangle Charm is hand-finished with cubic zirconia details in sterling silver. Featuring a flying angel holding a heart, let the charm inspire both your style and mind with its message of love, caring and protection.
Pavé Heart Hoop Earrings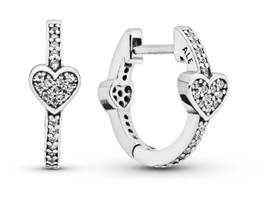 ($99 $49)
Designed to curve around your lobes, these earrings are universally flattering. The sterling silver hoop earrings are detailed with dainty hearts and set with cubic zirconia for a sparkling finish. Wear yours as a pair or style individually with other favourite pieces from the collection.
Entwined Circles Pandora Logo & Sparkle Collier Necklace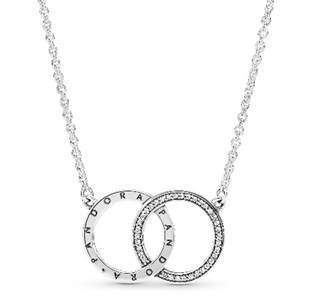 ($149 $69)
This classic sterling silver necklace is shaped with a double circle pendant as a symbol of a forever connection. One is minimally detailed with the Pandora logo, while the other with sparkling stones for a glittering finish.
Pink Abstract Leaves Charm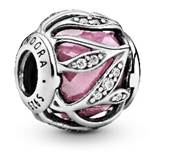 ($129 $59)
This delicate sterling silver charm features a faceted pink cubic zirconia encased in lines of sterling silver and sparkling stones. Wear the charm for a flourished look of elegance.
Disney Limited Edition Beauty and the Beast Bangle with Belle's Enchanted Rose Clasp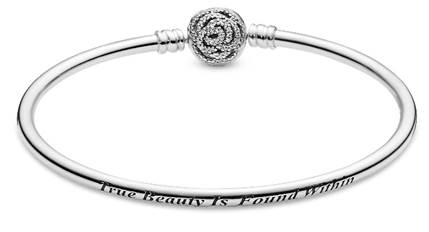 ($179 $99)
This iconic sterling silver bangle is reimagined to honour Beauty and the Beast. It features a "True beauty is found within" engraving and an intricate flower clasp based on the enchanted rose.
Click here to shop now.