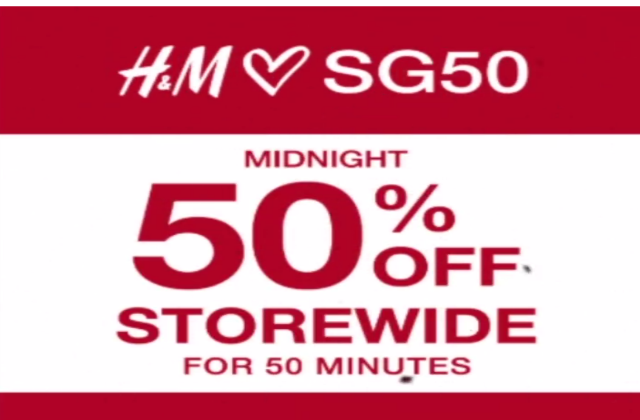 As we get ready to celebrate the start of the Jubilee Weekend, H&M has announced the greatest sale of the year.
H&M has kept us on suspense until they announced the anticipated sale on their Facebook at 12pm sharp early today. (Aug 6)
Get ready for the ultimate sale today at 12 midnight (Aug 6) where EVERYTHING will be going at 50% off, at their outlet in Orchard Building. They are not kidding about it.
Good thing don't last, so you only have 50 minutes to grab what you can in the store.
H&M LOVES SG50Join us for a night to remember at H&M store Orchard Building! Tonight at 12 Midnight, enjoy shopping with 50% off everything in-store for 50 minutes! Pop by & celebrate the start of a Jubilee Weekend in style! 12 more hours to go! See you tonight! T&Cs apply. #HMLOVESG50

Posted by H&M on Wednesday, August 5, 2015
Will we expect to see the same amount of support from fans when they launched in Singapore back in 2011?
Gather all your friends for a shopping spree tonight by sharing and tagging those who might be interested!
H&M Orchard Building
1 Grange Rd, Orchard Building, 239693
6235 1459