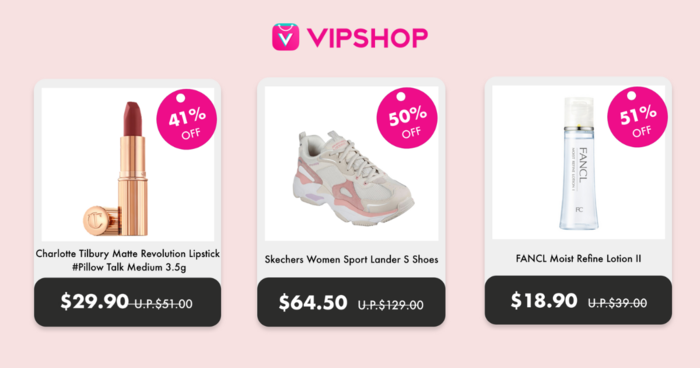 Calling all bargain hunters who love nothing more than a good deal; check out VIPSHOP for the best deals on the hottest brands in town. Plus, you get S$5 off your first purchase with each new signup!
VIPSHOP is Singapore's newest shopping app. Founded in 2008, VIP.com (唯品会) is a leading online flash sale retailer in China. In 2022, VIP.com (唯品会) introduced VIPSHOP as their first market expansion in Southeast Asia.
Shop from a curated selection of products comprising fashion apparel, shoes & bags, cosmetics, mother & kids, home & living, and more –– TLDR; SHOP LIKE A VIP and find 100% authentic, high-quality products from exceptional brands at up to 70% off just for you.
More perks from VIPSHOP include free delivery with no minimum spend required as well as a free 15-days doorstep return services so you wouldn't have to worry about buying something on impulse that doesn't fit.
Here's a download of some of the unbelievably good deals on VIPSHOP that you definitely should not miss:
1. Skechers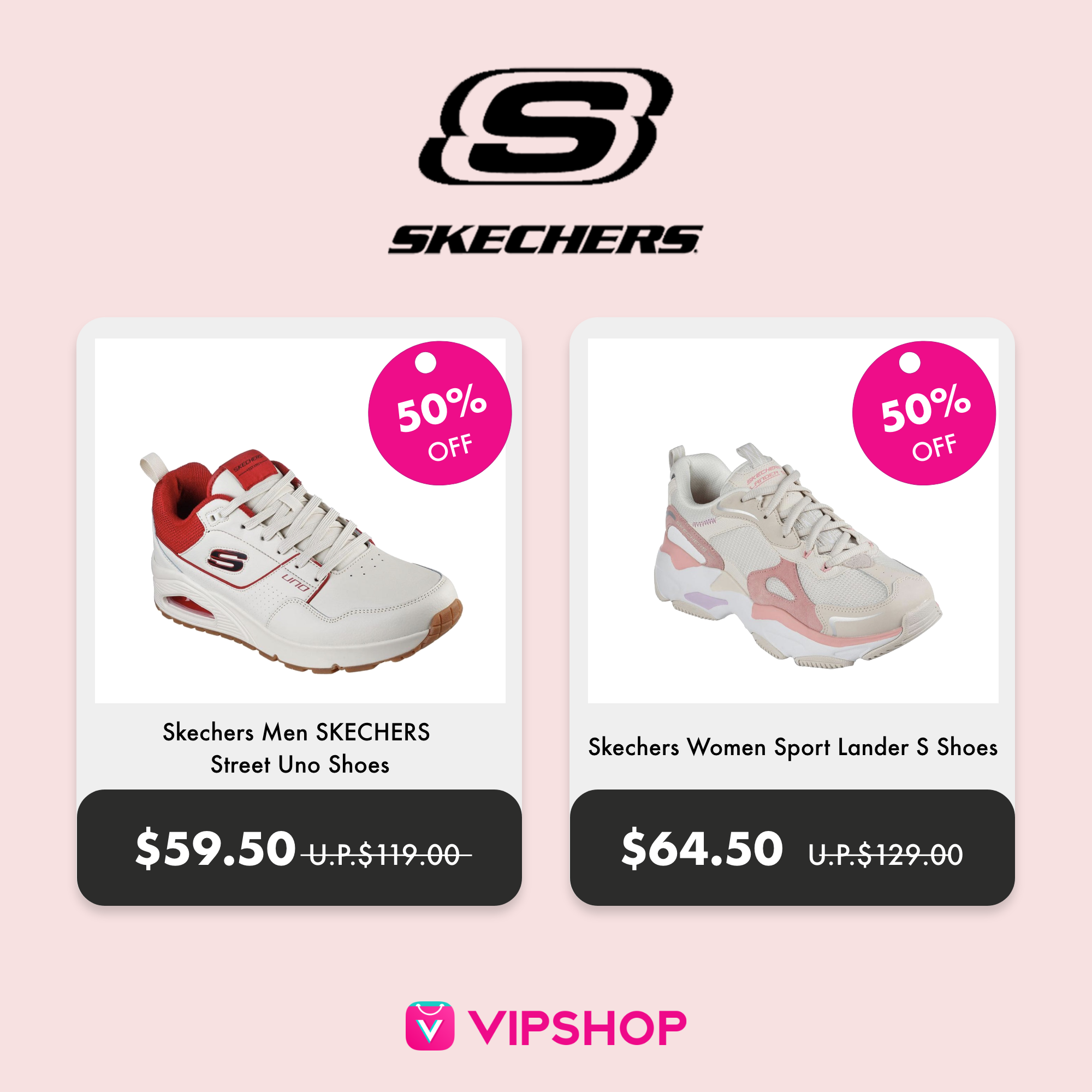 Whether it's brisk walking to work, hitting the gym or simply going to NTUC downstairs to grab groceries, a quality pair of shoes can last you a long time. Better still if they look good and feel good on the feet too! A good pair of shoes can take you places and shoes from Skechers happen to check all the boxes.
For the fashion forward few who enjoy matching your kicks with your #OOTD, the Skechers Men SKECHERS Street Uno Shoes – 232250- NTRD (special price of S$59.50, 50% off, while stocks last) may be just the right fit for you 😉 Decked in a striking red and white colour combination, this trendy classic features a smooth perforated leather upper body with contrast details in the lace-up front. The best part is that it comes with Air-cooled Memory Foam insoles and a visible Skech-air midsole so you'll never run out of style and comfort.
Ladies who prefer pretty pastel shades can opt for the Skechers Women Sport Lander S Shoes – 149895-NTPK (special price of S$64.50, 50% off, while stocks last). Adding on to the style factor, the shoe's lace-up front is crafted with suede leather and complemented with a mesh upper body for better air circulation. The Skechers Air-cooled Memory Foam cushioned comfort insole and the Good year Performance Outsole will ensure that every step you take in these shoes will be a breeze!
Shop Skechers up to 50% off on VIPSHOP now.
2. Fancl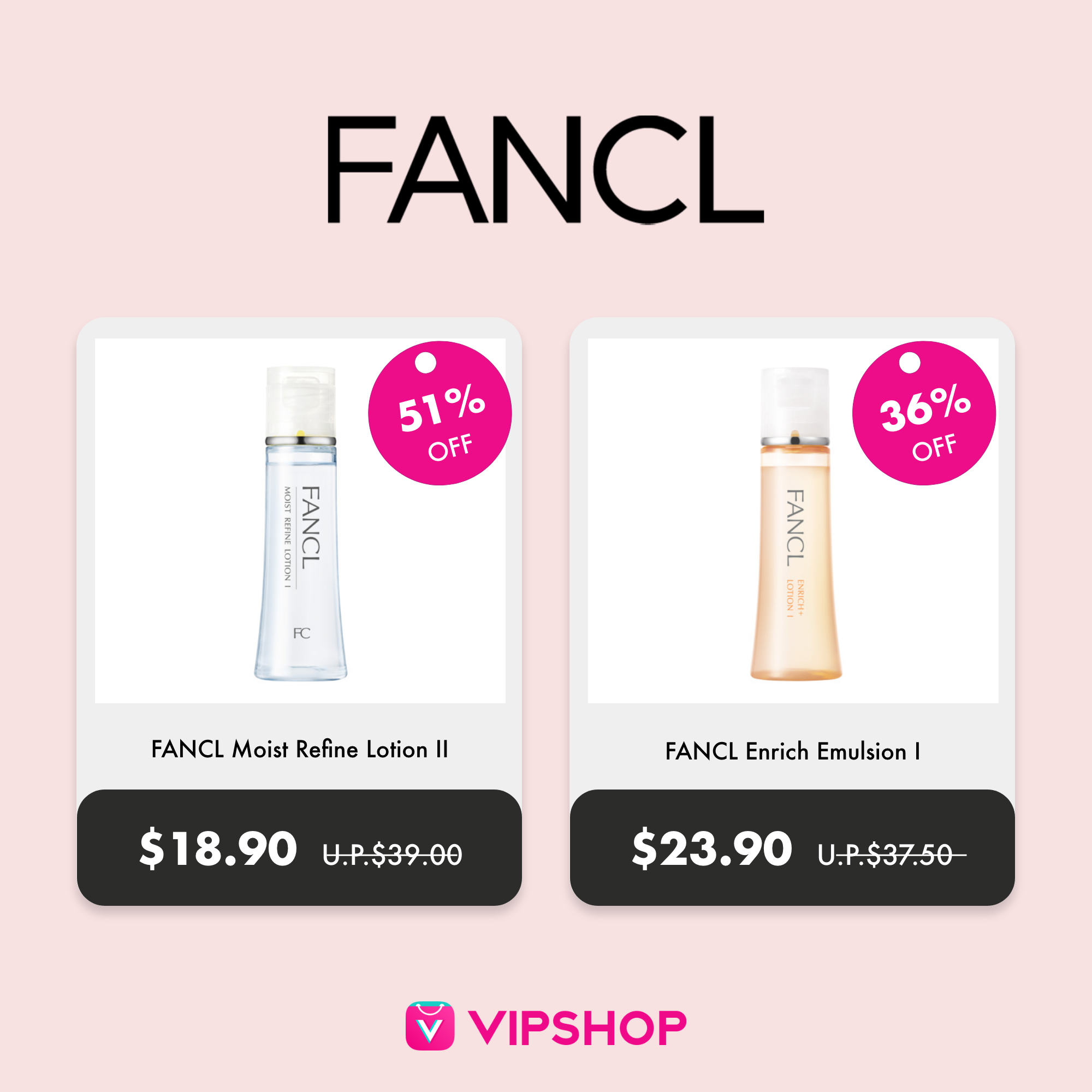 Calling all J-beauty enthusiasts: FANCL IS NOW ON VIPSHOP! Born out of the sheer desire to deliver genuine cosmetics that could beautify the skin without using damaging additives, Fancl delivers high quality products to rejuvenate all skin types. Feeling like your skin is looking dull lately from all the OT you've been doing? Pamper your skin with the Fancl Moist Refine Lotion II (special price of S$18.90, 51% off, while stocks last). With Fresh Moist Collagen and Moisturising Phospholipid as its key ingredients, the product helps restore skin moisture and smoothness so your skin only gets clearer and healthier with every use.
Who says you'd have to give up your youthful radiance as you age? Keep your skin plump and supple with the Fancl Enrich Emulsion I (special price of S$23.90, 36% off, while stocks last). Formulated with Hydrolysed Collagen that is easily absorbed, the product forms a soft veil on the skin to lock in moisture and and boosts collagen deepithin to keep your skin supple and smooth all round the clock.
Shop Fancl on VIPSHOP now.
3. Charlotte Tilbury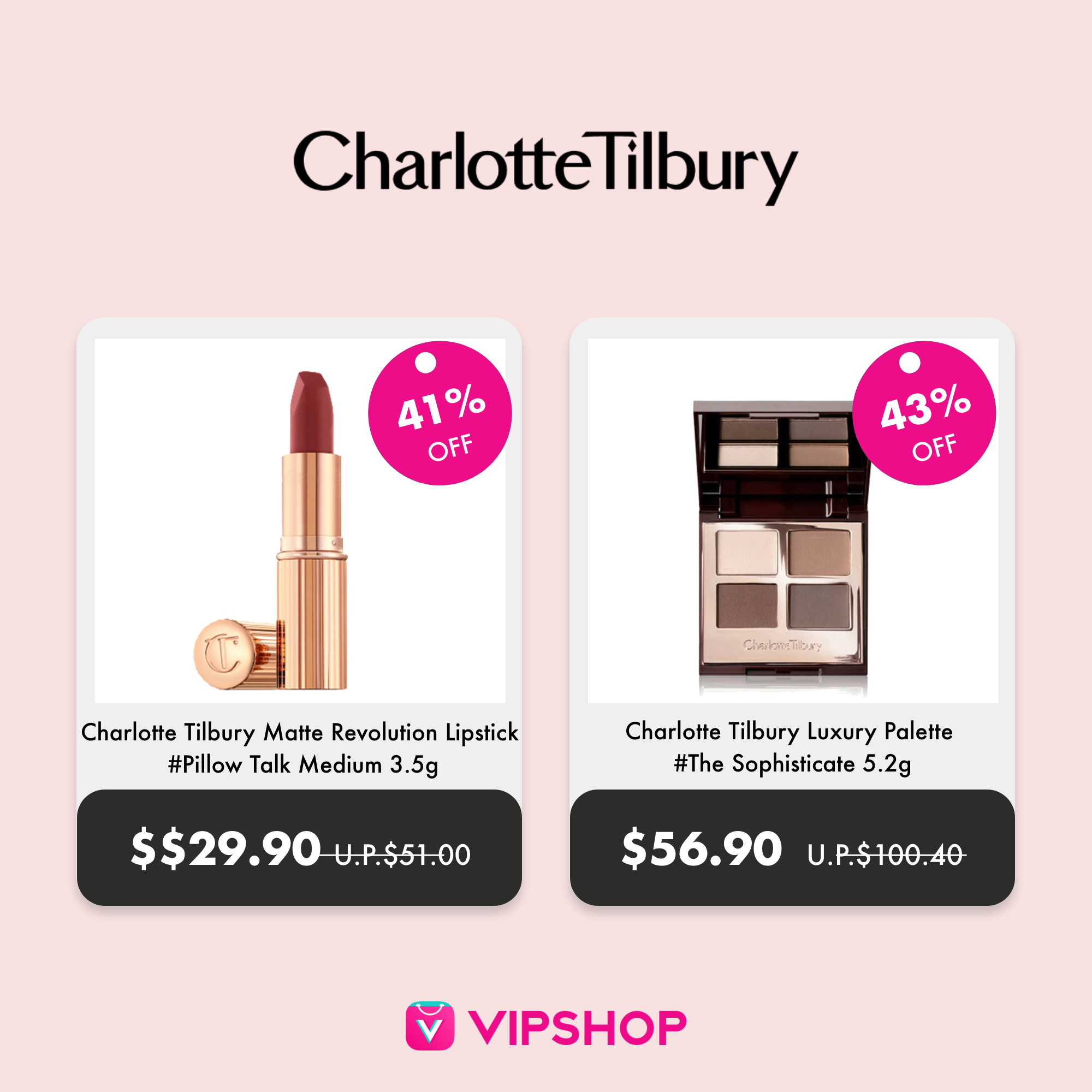 If you've spent way too much time either shopping for makeup or getting your Tiktok "For You" page peppered with viral products, Charlotte Tilbury is a brand that needs no introduction. You've spoken, and VIPSHOP has heard, so they're bringing back, at an EVEN BETTER PRICE, the crowd favourite Charlotte Tilbury Matte Revolution Lipstick #Pillow Talk Medium 3.5g (special price of S$29.90, 41% off is valid till 11Apr, 10am, while stocks last). The universally loved best-selling award-winning lipstick is formulated for everyone at every age and any skin tone. Jio your friends, grab the lipstick and go on a night out with the best lips of your life.
For those who are bigger on eye makeup, the Charlotte Tilbury Luxury Palette #The Sophisticate 5.2g (special price of S$56.90, 43% off, while stocks last) may be just the thing for you. Since we're now all about rocking the soft glam, create gorgeous low-key looks with the quartet of matte chocolate and taupe tan cream shades and you'll definitely receive not so low key compliments for looking so gorgeous.
Shop Charlotte Tilbury on VIPSHOP now.
4. Crocs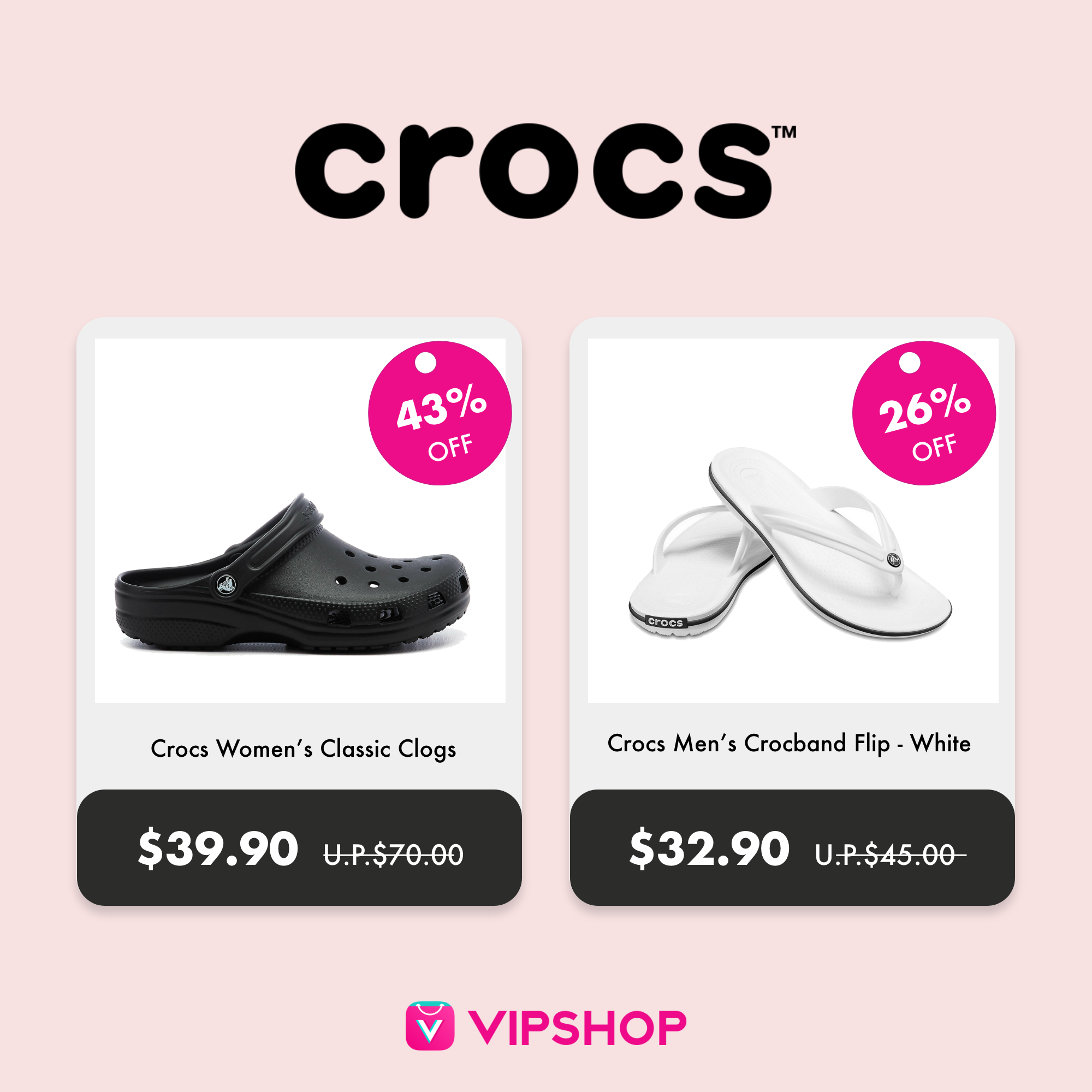 Crocs with socks, yay or nay? Regardless of whether you're for or against this rather contentious fashion trend, you can still grab yourself a pair of Crocs and wear them with or without socks for any occasion. Bringing wearers originality, versatility, and comfort, the iconic Crocs Women's Classic Clogs (special price of S$39.90, 43% off is valid till 7Apr, 10am, while stocks last) is the go-to comfort shoe for many. Don't say we bojio, get yourself a free pack of 5 jibbitz worth S$19.95 with your purchase, while stocks last!
If your bae refuses to get matching classic clogs with you because he thinks they're cheesy, consider getting him the Crocs Men's Crocband Flip – White (special price of S$32.90, 26% off, while stocks last). Sporty and lightweight with a signature athletic stripe, the flip flops make the best footwear for sunny Singapore. Made out of easy-to-clean Croslite™ material, wear these to the beach, garden, or anywhere you'd like; thank us later but your beau now has no reason to not wear matching Crocs when they're out with you.
Shop Crocs on VIPSHOP now.
5. Daniel Wellington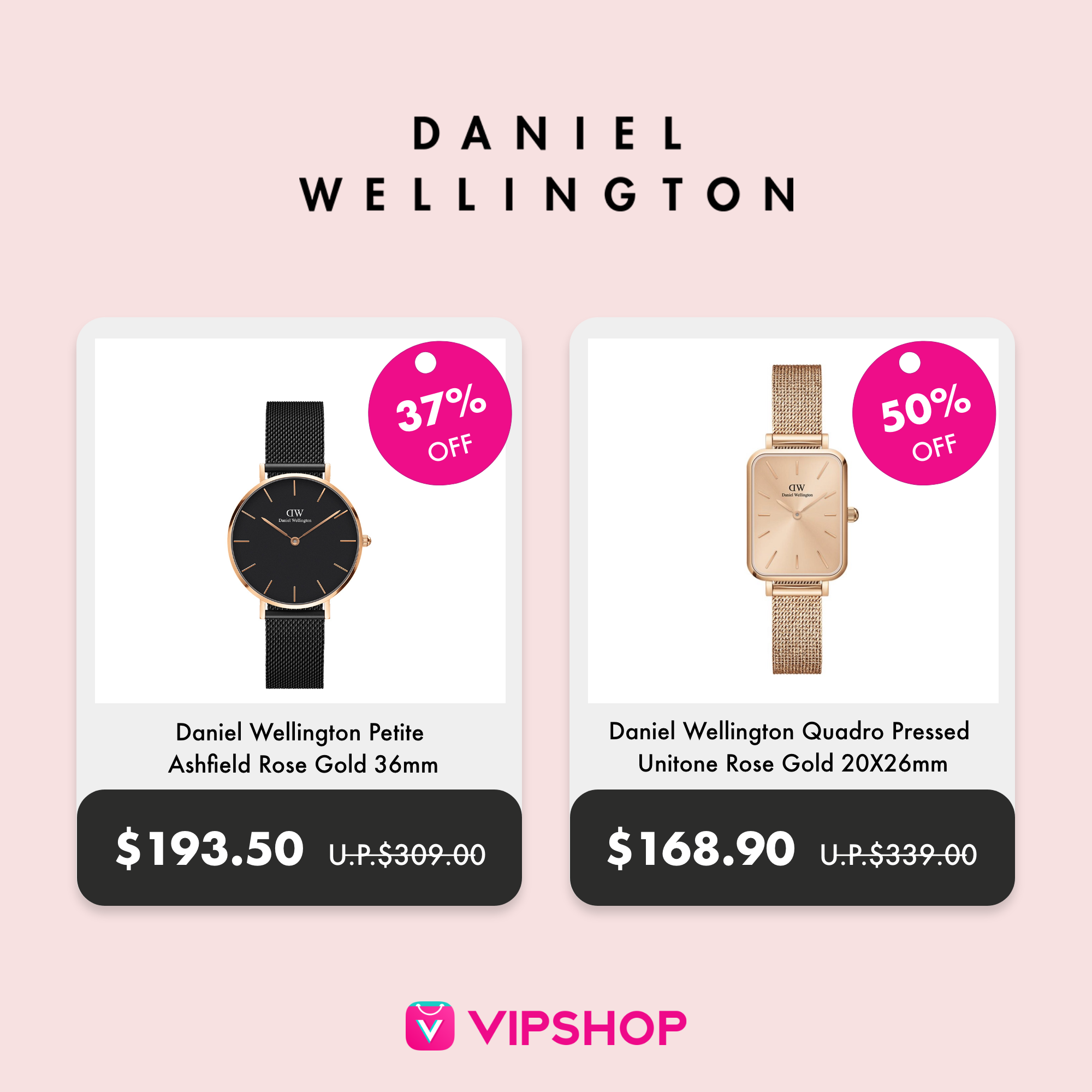 We get it. Your friend and your friend's girlfriend has one; your other friend and their boyfriend has one. Basically many couples out there are wearing Daniel Wellington watches, but really, you don't need to have someone to get yourself one too!
Coveted for their tasteful allure, the brand's iconic timepieces and accessories are worn on all occasions. The Daniel Wellington Petite 36mm Ashfield Rose Gold Black – Watches – Men Watches (special price of S$193.50, 37% off is valid till 7Apr, 10am, while stocks last) is a classic example of DW's versatile designs; this ultra-thin watch features a matte black mesh strap and a sophisticated black dial so you can look fashion forward both in and out of office.
If round watch faces are too mainstream for you, the Daniel Wellington Quadro Pressed Unitone Rose Gold 20X26mm (special price of S$168.90, 50% off, while stocks last) may just tickle your fancy. The Quadro Unitone features a seamlessly matching rose gold mesh strap and square watch dial so you can make a delicate statement on any occasion.
Shop Daniel Wellington on VIPSHOP now.
6. Sony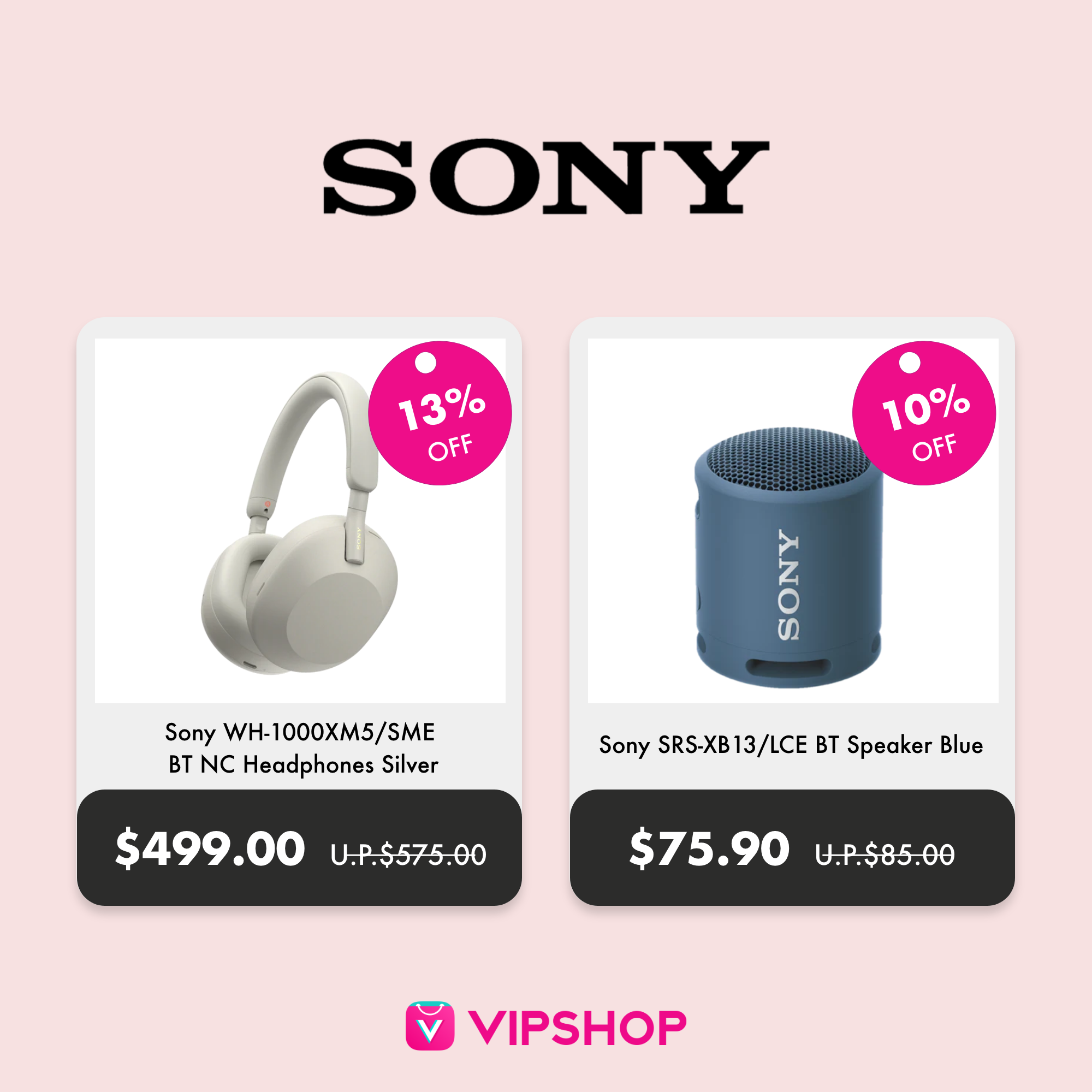 Regardless of whether you're a hardcore audiophile or simply just a subtle appreciator of good acoustics, you would have definitely heard of Sony – the renowned Japanese audio company that has released countless "Japan's first" and "World's first" products.
Leave your bulky speakers and subwoofers at home with the Sony SRS-XB13/LCE BT Speaker Blue (special price of S$75.90, 10% off, while stocks last). This compact speaker packs a punch and sports outstanding sound features such as extra bass and a sound diffusion processor for enhanced beats and a wider sound range. The speaker is also easily portable; simply grab it by the multiway strap and enjoy 16-hours worth of great sounds on a full charge wherever you go.
For those who prefer to immerse in the music world while commuting and/or take calls handsfree, the Sony WH-1000XM5/ SME BT NC Headphones Silver (special price of S$499, 13% off, while stocks last) may be just the thing for you. The ultra comfortable headphones rewrite the rules for distraction-free listening and exceptional call clarity. Two processors control multiple microphones for unprecedented noise canceling while Auto NC Optimiser automatically optimises noise canceling based on the wearer's environment. Grab yourself a pair to enjoy superior audio quality for work and entertainment.
Shop Sony on VIPSHOP now.
Amazed by VIPSHOP's wide selection of premium brands at the best price possible? Invite your friends to download the app and sign up with VIPSHOP; you and your friends will receive a S$5 voucher each with every successful sign up.
So, what are you waiting for? Grab your friends, download the VIPSHOP app, and discover other impeccable brands like Longchamp, adidas, Charlotte Tilbury, Kiehl's, Coach and more!