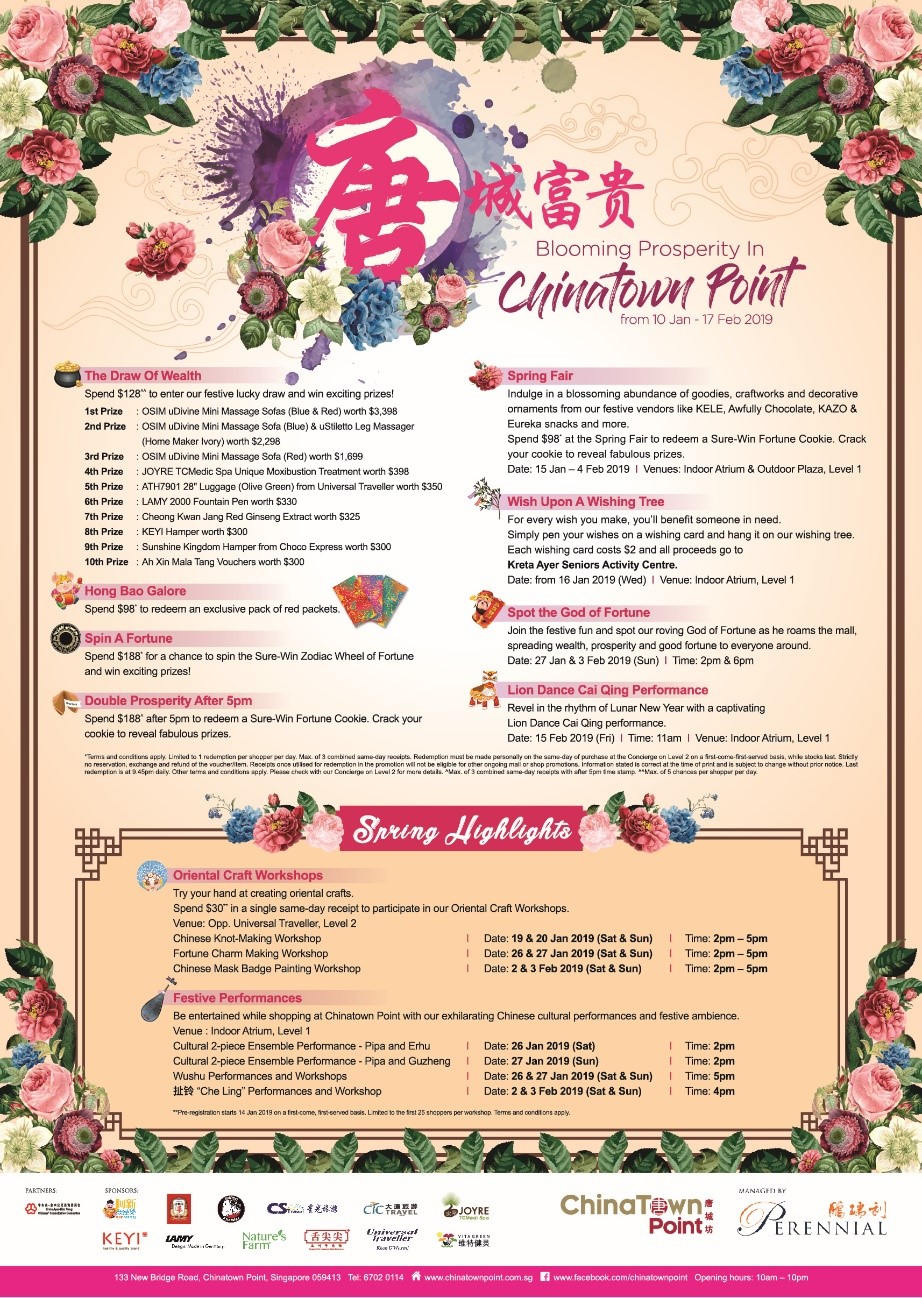 If you are still contemplating on where to shop (and eat) this Lunar New Year for your goodies, decorations and more, you may wish to consider dropping by Chinatown Point from now till 17th Feb 2019 for their festive deals! Be overwhelmed with the many vendors offering festive deals and activities for shoppers to take part as they make this Lunar New Year an unforgettable one for you and your family!
Spring Fair
For all your Lunar New Year needs, head down to the Indoor Atrium & Outdoor Plaza @ Level 1 of Chinatown Point as they partner with vendors like KELE, Awfully Chocolate, KAZO, Eureka Snacks and more to offer shoppers with CNY goodies, craftworks and decorative ornaments. If you have been lagging behind on what to stock up for your household to welcome your friends and family this Lunar New Year or in need of more snacks, satisfy your taste buds as you try out the many foods at their Spring Fair to buy! Also, remember to buy those decorative stuff to bring in the "huat" so you can win more money this CNY. *wink The Spring Fair is an all-in-one to prep you for the Lunar New Year!
To reward shoppers with their shopping at Chinatown Point's Spring Fair, spend $98* to redeem a sure-win fortune cookie, offering fabulous prizes!
Dining and Shopping Promotions
Besides these amazing deals at their Spring Fair, tenants at Chinatown Point will also be taking part in celebrating this festive season with in-store promotions for their customers till 19th Feb 2019. Indulge at restaurants like Ah Xin Mala Tang, China Classic and Hainan Street Steamboat and get deals like dining vouchers or even free prosperity Yu Sheng for you and your family to enjoy!
Aside from dining promotions, shoppers would also be rewarded for shopping at stores like Lee Heng Jewellers, Nature's Farm, Universal Traveller and more!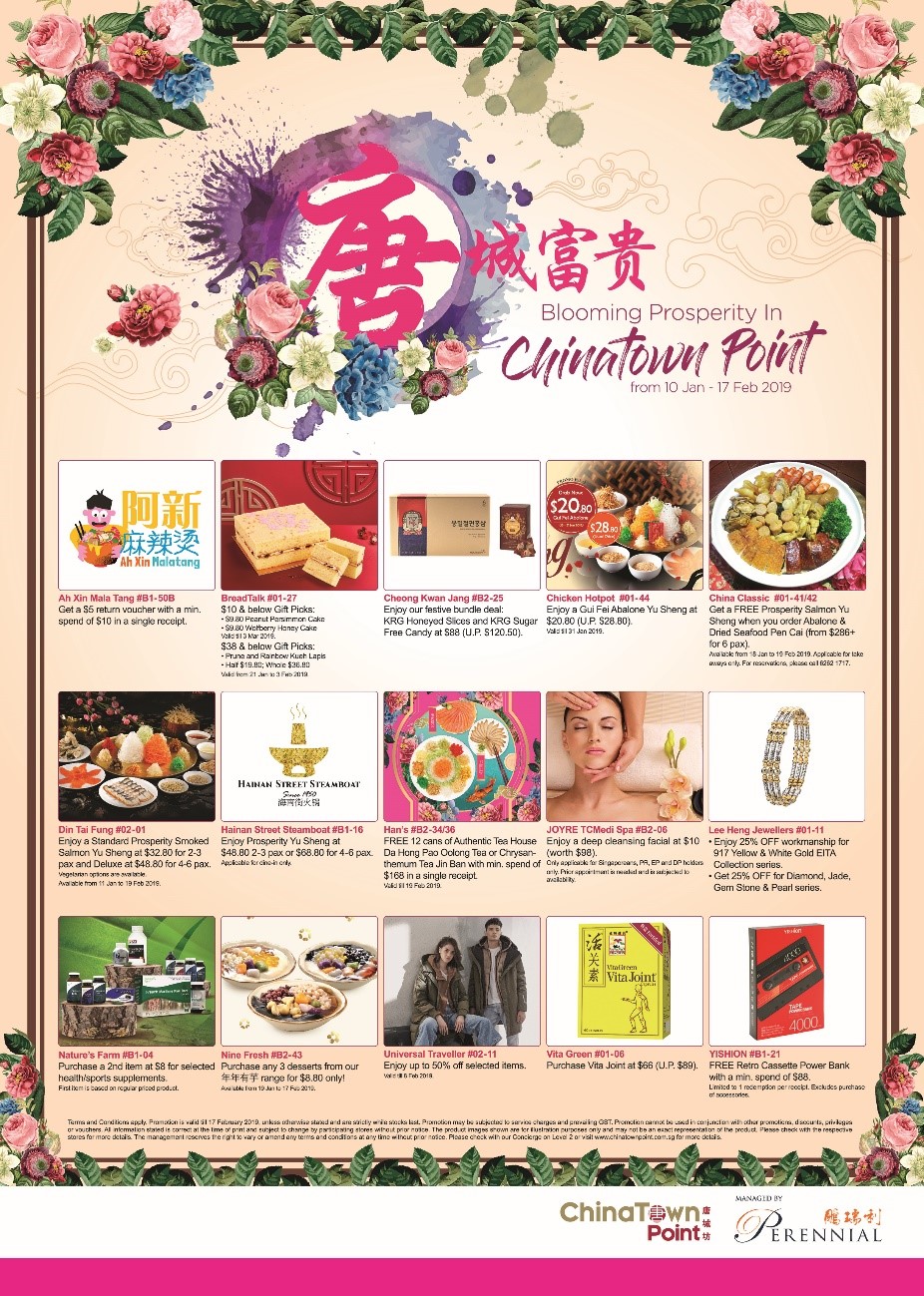 Mall Spending Promotions
To reward you shoppers for spending at Chinatown Point, there will also be promotions running from Chinatown Point themselves! Be rewarded for your spending as you stand a chance to win exciting prizes upon hitting a minimum spending! Some exciting prizes they will be giving away are OSIM uDivine Mini Massage Sofas, LAMY Fountain Pen, KEYI Hampers and more.
The Draw Of Wealth
Spend $128* to take part in the Festive Lucky Draw to win attractive prizes!
1st Prize: OSIM uDivine Mini Massage Sofas worth $3,398
2nd Prize: OSIM uDivine Mini Massage Sofa & uStiletto Leg Massage worth $2,298
3rd Prize: OSIM uDivine Mini Massage Sofa worth $1,699
4th Prize: JOYRE TCMedi Spa Unique Moxibustion Treatment worth $398
5th Prize: 28" Luggage from Universal Traveller worth $350
6th Prize: LAMY 2000 Fountain Pen worth $330
7th Prize: Cheong Kwan Jang Red Ginseng Extract worth $325
8th Prize: KEYI Hamper worth $300
9th Prize: Sunshine Kingdom Hamper from Choco Express worth $300
10th Prize: Ah Xin Malatang Vouchers worth $300
Hong Bao Galore
Spend $98* to redeem an exclusive pack of red packets.
Spin A Fortune
Spend $188* for a chance to spin the Sure-Win Zodiac Wheel of Fortune and win exciting prizes!
Double Prosperity after 5pm
Spend $188* after 5pm to redeem a Sure-Win Fortune Cookie. Crack your cookie to reveal fabulous prizes!
Other Events And Activities
Apart from all the amazing shopping and dining deals and promotions, Chinatown Point has also lined up a string of events and activities for shoppers to take part! Soak in the Lunar New Year atmosphere as you try your hand at creating oriental crafts like Chinese Knot-Making, Fortune Charm Making and Chinese Mask Badge Painting Workshops! If you would like to take part in the above workshops, all you have to do is spend $30* in a single same-day receipt and you are good to go! Below is the details for the oriental workshops:
Venues: Opp. Universal Traveller, Level 2
Chinese Knot-Making Workshop | Dates: 19 & 20 Jan 2019 (Sat & Sun) | Time: 2pm – 5pm
Fortune Charm Making Workshop | Dates: 26 & 27 Jan 2019 (Sat & Sun) | Time: 2pm – 5pm
Chinese Mask Badge Painting Workshop | Dates: 2 & 3 Feb 2019 (Sat & Sun) | Time: 2pm – 5pm
*Pre-registration starts 14 Jan 2019 on a first-come, first-served basis. Limited to the first 25 shoppers per workshop.
To add on to the Lunar New Year Ambience and to rev up your mood this festive season, there will also be Chinese cultural performances and lion dance performance too! And, to bring you even more fortune, you can also spot the God Of Fortune roaming around Chinatown Point spreading wealth, prosperity and good fortune around!
Do take note that all activities and performances only runs on specific dates, so do check out their schedules in the brochures attached!
So what are you waiting for! Head down to Chinatown Point this Lunar New Year to shop and eat to your heart's content!
Address
133 New Bridge Road, Chinatown Point
Opening hours: 10am – 10pm daily | Facebook