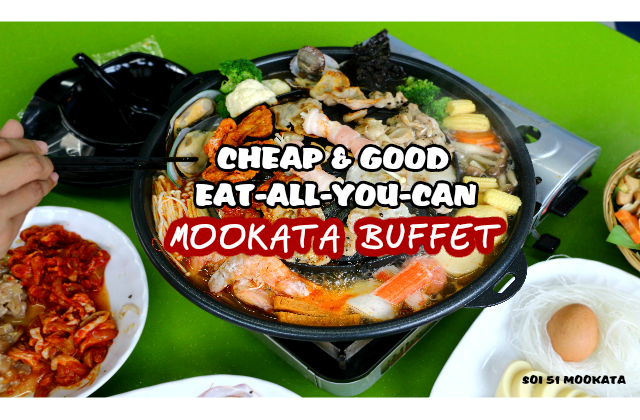 Traditional Thai-styled steamboat or Mookata, has been gaining popularity in Singapore over the years. Besides being able to enjoy your grill meats on a charcoal domed skillet, you can cook your vegetables, noodles and fishballs simultaneously with the broth in the hotpot.
Imagine having the pork lard and other flavours from your food dripping into your soup, and the homemade Thai chilli sauce where you can dip your barbecued meat in — there's no better way to fill your stomach with a group of friends or a dinner with your family members!
Customers can usually order ala-carte dishes or a combo platter which can serve 2 to 3 pax. Unfortunately, Singaporeans simply don't like the idea of limiting ourselves when it comes to good food.
We have round up 5 restaurants in Singapore that serve cheap and good mookata buffet where you can enjoy without breaking the bank.
1. Aroy Mak Mookata
'Aroy Mak' stands for 'very delicious' in Thai. Founded in 2013, Aroy Mak Mookata has gained a loyal followings over the years. Known for its eat-all-you-can Mookata buffet, it is the place to go to if you are near the Macpherson area.
Their Mookata buffet is priced at $17.80 nett (U.P $25.80) and there are over 40 dishes for you to choose from. The owner also boasts about its secret recipe marinade from Chiang Rai for their BBQ meats. They also have a premium category in their menu where you can choose from items such as fresh oysters, bamboo clam, nz mussels, air flown salmon and more. Did i also mention Wagyu Beef and Slipper Lobster?
The restaurant is also air-conditioned for your dining comfort. You can also enjoy a free Thai milk tea when you share their Facebook page.
Facebook: https://www.facebook.com/aroymakmookata
Buffet Price: $17.80 nett on weekdays / $20.80 for Fri-Sun, including eve of and on PH
Venue: 510 Macpherson Road
Operating hours: 5pm - 12.45am daily
Reservation: 8161 9780, 9382 1038
2. Soi 51 Mookata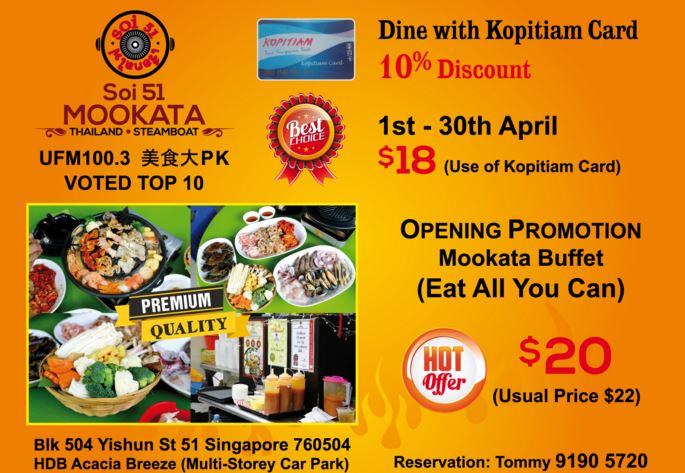 Voted top 10 Mookata restaurants in 美食大PK by UFM100.3, Soi 51 Mookata boasts an extensive menu of over 60 dishes. Their meat items are marinated with different spices such as black pepper, spicy and garlic. Seafood includes item such as scallop, bamboo clam, flower crabs. You should also try their raved after homemade chilli sauce which are so good that you can buy them in bottles at $5 each.
When we shared about their reopening at Guillemard Road last year, it has garnered over 7K shares. This time round, the owner has informed that they will be opening their 2nd outlet at Yishun and they will be offering their Mookata buffet at promotional price of $20 (U.P $22) for only one month, from 1 – 30 Apr. Pay with a Kopitiam Card and enjoy a further discount of 10% off — priced at $18!
Facebook: https://www.facebook.com/soi51mookata
Buffet Price: $22 nett daily ($20 nett for 1 - 30 Apr 2016, $18 nett if pay using Kopitiam Card)
Venue: 504 Yishun St 51, S(760504) HDB Acacia Breeze | Main outlet: 51 Guillemard Road, S(399705)
Operating hours: 5pm - 1am (Yishun) | 6pm - 1am (Guillemard Road)
Reservation: 9190 5720 (Tommy)
3. Mookata at Bugis Junction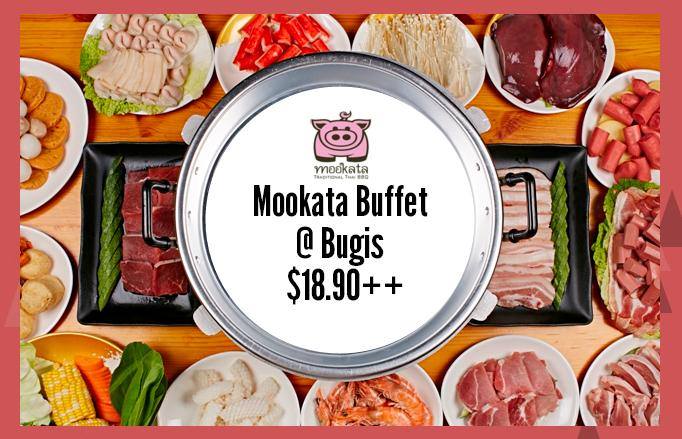 Mookata is one of the pioneer of traditional Thai BBQ and has been around since 2011. They opened their first outlet along East Coast Road, and has slowly expanded to 3 outlets in Singapore — with the other 2 outlets in ORTO and Bugis Junction.
Besides having an extensive menu in their restaurants, their condiments were homemade to 3 different level of spiciness  — from the mild to the most spicy.
When they recently announced that they are offering buffets for these 2 new outlets, they had good response. What drew our attention was the $18.90++ buffet at Bugis Junction. Where can you dine in an air-conditioned outlet located in a shopping mall at such affordable price? The catch is the offer is only from 11:30am to 4pm, from Monday to Friday. Not too bad if you are looking for a place to lunch or have an early dinner.
You can even enjoy an additional 5% off your total bill when you snap, tag, and share your Mookata facebook post.
Buffet Price: $18.90++ (Mon to Fri)
Venue: Bugis Junction Mall, #02-53
Operating hours: 11:30am - 9:30pm (last order)
Reservation: 6837 0171
4. Huay Kwang Thai Kitchen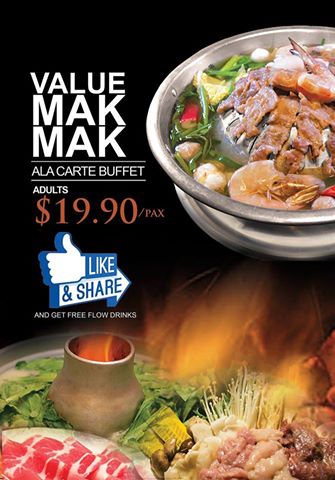 Huay Kwang Thai Kitchen has 2 outlets in Singapore: one at Thomson that opens from 5.30pm to 2am and another one at Jalan Besar from 6pm to 6am. The restaurant uses a charcoal stove which brings out the flavour as compared to electric pots.
They have recently introduced a "Value Mak Mak" Ala Carte Buffet which is priced at only $19.90/pax on weekdays, and it comes with free flow house drinks when you like and share their page. You can view the menu here.
Buffet Price: From $19.90/pax
Venue: 244R Upper Thomson Road S(574369) | No. 9 Townshend Road S(207607)
Operating hours: 5.30pm - 2am (Thomson) | 6pm - 6am (Jalan Besar)
Reservation: 8588 9990 (Thomson) | 8686 9990 (Jalan Besar)
5. Oinkata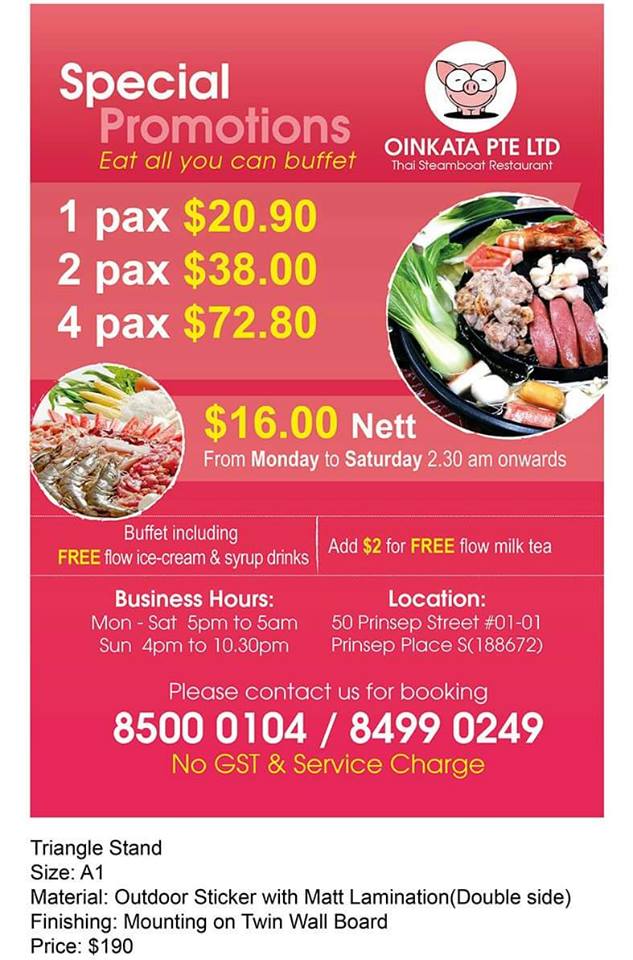 If you are looking for a no frills dining, Oinkata might be what you are looking for. The shop's interior is more of a minimalist with dark furnishings but that said, they don't compromise on the quality of their food and services. Located along Prinsep St (opposite Playnation), Oinkata has pretty good reviews from its customers.
They have recently launched a new promotion for their self-service all-you-can-eat-buffet. Priced at around $18.20 nett if you come in a group of 4 (or $19 nett if 2 pax) Their buffet comes with free flow ice cream and syrup drinks. You can top up $3 to enjoy premium items such as Mock Abalone and Baby Oysters as well as enjoying free flow Thai Milk Tea.
For those who are coming after 2.30am from Monday to Saturday can enjoy their buffet at only $16 nett.
Buffet Price: From $20.90 nett
Venue: 50 Prinsep Street #01-01, Prinsep Place S(188672)
Operating hours: 5pm - 5am (Mon - Sat) / 4pm - 10.30pm (Sun)
Reservation: 8500 0104, 8499 0249