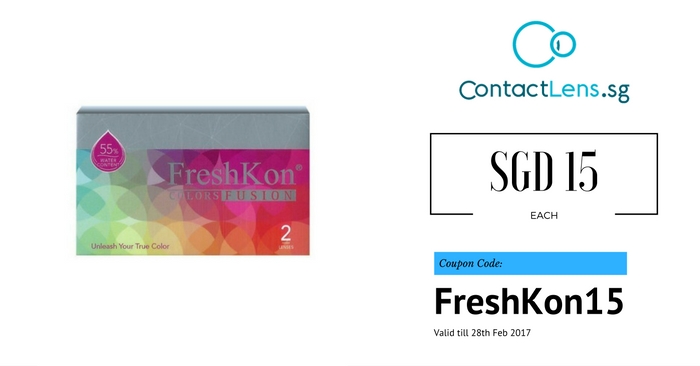 Valid from now till February, get each box of FreshKon ColorsFusionfor ONLY $15!
Yes – You read it right! That's a whopping 40% savings!
To enjoy this promotion, simply key in "FreshKon15" at the check-out page. Valid from now till 28th Feb 2016.
FreshKon was founded with a great belief – that fashion should be more than the product it inhabits; that it should be a way of life. Because stunning eyes are the natural result of a beautiful inside, which is in turn derived from a radiant confidence and renewed perspective.
FreshKon Colors Fusion is available in 12 attractive shades:
Brilliant Brown || Shimmering Grey || Blooming Pink ||Glinting Brown || Glittering Blue || Gleaming Green ||  Groovy Green || Baby Aqua || Warm Hazel || Hippie Chestnut || Perky Brown|| Misty Grey
Hydro Micro-Insulation Technology
Micro-colorants are locked and insulated, isolated from your eyes
Benefit: Superior wearing comfort & lens performance
Oxygen Permeability Efficacy
Strategic dispersion of micro-colorants does not compromise on the oxygen permeability
Benefit: Optimum oxygen flows through the cosmetic lenses, allowing for healthy and beautiful eyes
————————————————————————————————————————————–
A Little Bit About ContactLens.SG…
With years of experience, they sell 100% authentic lenses – trusted brands such as Bausch & Lomb, FreshKon, Ciba Vision and CooperVision, to name a few. From prescription lenses to cosmetic lenses for that extra oomph, we have it all!
If you're looking for greater, consistent discounts of up to 40% off retail outlets, check out their subscription purchase. No more having to run to your nearest optician when your lenses run out. They'll automatically be sent right to your doorstep! ContactLens.SG aims to be your cheapest and most trusted contact lens supplier. Check them out today at http://contactlens.sg!