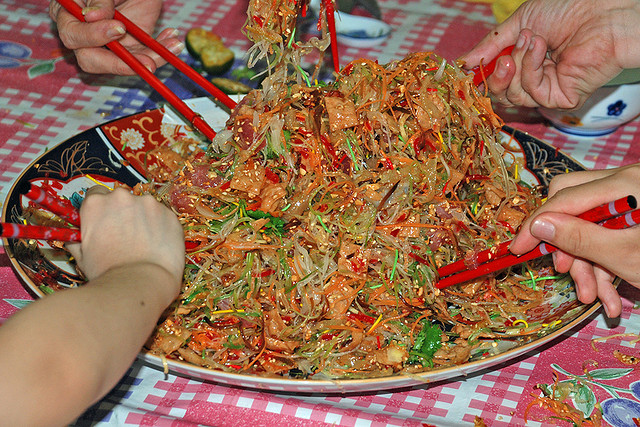 (Image credit: Choo Yut Shing, via Flickr)
As we welcome Chinese New Year in a week, many of us are busy during this period to do our shopping for new clothes, food and house decos.
It is also the time when we have the perfect excuse to put on more calories with numerous steamboat dinners as well as snacking on the CNY goodies such as Bak Kwa and pineapple tarts!
Chinese's culture is rich in traditions and superstitions and we are constantly looking for inspirations to boost our luck and prosperity.
So you want to be rich? Then eat these food during Chinese New Year to bring your luck, wealth and prosperity. (At least that's what the Chinese think)
1. Tangerine (桔子)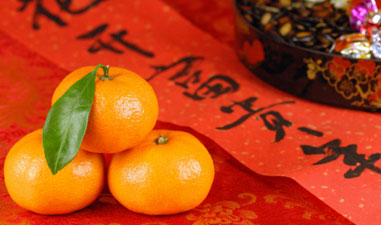 Tangerine or Mandarin Oranges are often given in pairs during Chinese New Year. That's because ju (桔) – sounds like luck (吉) and it looks like "gold" with its orange hue.
2. Raw Fish Salad (鱼生, Yusheng)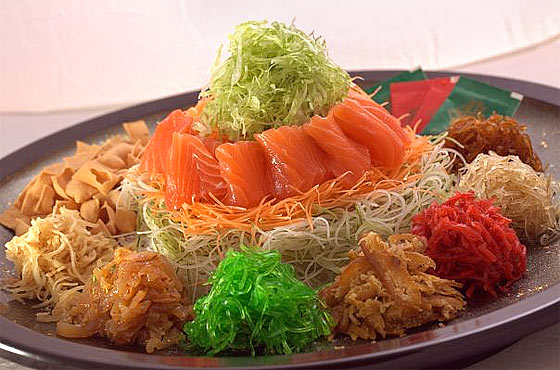 What's Chinese New Year without lo hei? Lo Hei stands for 捞起 or Prosperity Toss and it comes with different types of shredded vegetables with raw fish slices. Raw fish slices were used because 鱼生 sounds like "rising abundance" and each of the other condiments has its own meaning in the dish. For example, deep fried flour crisps were added to symbolise 满地黄金 (Floor full of gold)
3. Long Noodles (长寿面)
Longevity Noodles are often served during birthday celebrations and during Lunar New Year. The noodles, as the name suggests, comes in long strands and this symbolize long life or longevity. Do not break the strands with your chopsticks or by biting them until you put them into your mouth to chew.
4. Chinese New Year Cake (Nian Gao, 年糕)
Nian gao is very popular during Chinese New Year as the Chinese words 年糕 sounds like 年高 which can be translated to 年年高升, which means "higher year" literally or a better year ahead – with better luck, wealth and improvement in career.
5. Pomelo (Yòu, 柚)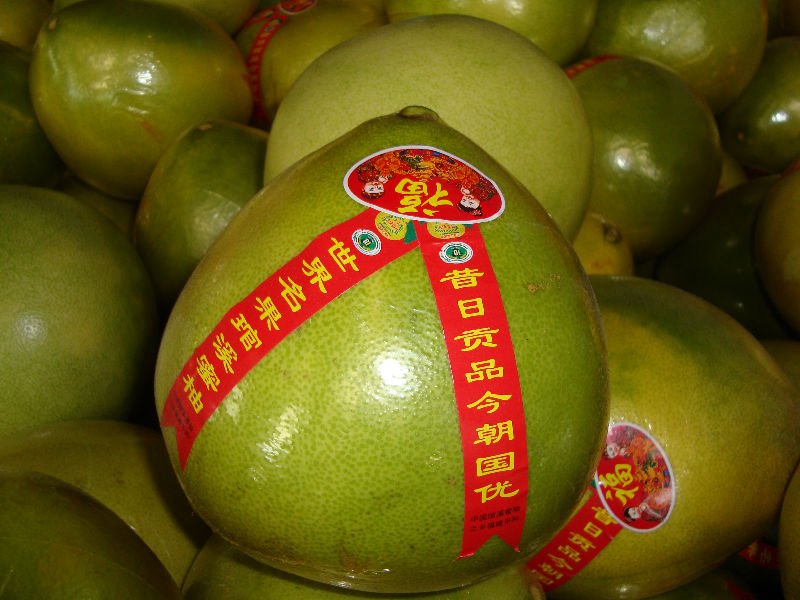 With its sheer size, pomelo is often used as a symbol of good luck.  柚 (yòu)  sounds like 有 (yǒu) which means "to have" or 又 (yòu) which means "again". It stands for continuous prosperity and abundance (again, and again)
6. Dumplings (Jiaozi, 饺子)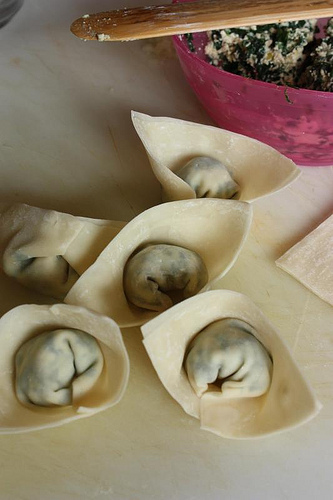 Dumplings can be eaten any other days but on Chinese New Year, it has its own meaning to the Chinese. It look like gold/siver ingots, a currency used in China long time ago. These delicious dumplings symbolise wealth on the table.
7. Lettuce Wraps
When you pronouce Lettuce in Cantonese, you get "Sang Choy" which means "rising fortune".  It is no wonder Chinese treat it as their "lucky food". You can use minced chicken and even dried oysters in the wrap. Let your creativity flows through.
8. Pineapple tart (Feng Li Ta, 鳳梨酥)
Pineapple stands for 鳳梨 (feng li) or 黃梨 (huang li) in chinese. It also means "Wong Lai" or "Ong Lai" which literally means "Prosperity Come". Its sweet golden filling looks like "gold" which is an auspicious colour for the Chinese.
9. Spring rolls (chūnjuǎn, 春卷)
At first glance, what does spring rolls look like? (Hint: Think Colour & Shape)  Right, if you haven't guess it, it looks like slabs of gold bar with its golden brown colour after being deep fried.
10. Tray of togetherness (全 盒)
You will always see this when you go visiting during Chinese New Year. Also known as the chuen hup, it packs an assortment of candies, chocolates, dried fruits, seeds and nuts in a presentable red octagonal box. It usually has 8 sections ('8' is an auspicious number for the Chinese) and each of the food items in each section has its own meaning – such as dried kumquats as prosperity and red melon seeds for happiness.
11. Dried Oysters with Black Moss (Ho Si Fat Choi)
Dried Oysters stands for Ho Si or "Good Business" and Black Moss stands for "Fat Choi" or 发财 which means "Strike Rich". When paired together, it is amazingly delicious when braised and it would often leave you craving for more.
12. San Yang Kai Tai (Goat Stew, 三羊开泰)
With 2015 being a "Goat" year, many people find Lamb/Mutton dishes to be auspicious. The Chinese for "goat" (羊) is in a Chinese character for good luck (祥 xiáng). The character "泰" (tài) means lavish and grand.
13. Bamboo Shoots (zhú sǔn jiān, 竹笋尖)
Bamboo shoots in Chinese stands for "Wishing everything to be well" and is often stir fry with mushrooms, black fungus or golden lily bubs.
14. Dragon & Phoenix (lóng yĭ fènghuáng, 龙以鳳凰) or Chicken & Lobster
What? Dragon and Phoenix? Do they even exist? Well, at least it did in Chinese's folklore. The dragon and the phoenix have positive connotations and usually symbolizes grand and grace. Not surprisingly, the creativity of the Chinese has adapted it and uses lobster (龙虾)as the "Dragon" because of the first character "龙" and chicken meat as the "Phoenix" because of its resemblance as a golden rooster. As lobsters may not be accessible to some, some uses shrimps/prawns as an substitute ingredient.
15. Red Eggs (红鸡蛋)
Usually eaten together with the longevity noodles during your Chinese Birthday, red dyed eggs can be auspicious to eat during Chinese New Year Eve with the colour red being an auspicious colour for the Chinese and it symbolises birth or a new start.
16. Pen Cai or Poon choi (盆菜) or Big Bowl Feast
This dish originate from Hong Kong as a Cantonese cuisine and it usually filled with an assortment of delicacies ranging from abalone, scallops, prawns, braised mushrooms and other vegetables. It was a dish served to the Emperor back in the Song Dynasty and it also signifies abundance and prosperity with its luxurious offerings.
17. Abalone (Bao yu, 鮑魚)
Abalone makes a popular dish for Chinese New Year and is one of the higher priced food item in Chinese New Year. It can be eaten in many ways such as being braised with mushrooms and kailan or you can simply dip it into your steamboat! "Bao" stands for assurance and "yu" stands for surplus and eating them means an abundance of surplus or wealth.
18. Golden Lily Buds (金针)
Golden Lily Buds is often one of the ingredient found in vegetarian dishes such as the Nonya Chap Chye. Best eaten when stir-fried with black fungus, tang hoon, cabbage and/or black moss. The Chinese translation for lily buds is "golden needle" and you can understand why the Chinese loves them.
19. Fried Tofu
Just look at the colour and shape! Do i need to say more to describe these 'gold bars'?
20. Rabbitfish (Pei Tor Hee, 蒸泥鯭)
Rabbitfish are highly sought after during Chinese New Year. They breed during this period, so expect to see its stomach filled with roe which is a sign of prosperity and abundance to the Chinese. Price can go as high as $60-$120 per kg during this period.
21. Whole Fish (清蒸魚
It is believed to eat with the whole fish with the head and tail intact as it symbolizes a year begining's to the end. Chinese word for fish (鱼) also sounds like abundance (余), so for this lunar new year, 祝你新年快乐, 年年有余! (Happy Chinese New Year, wishing you a year of surplus and abundance!)
*Don't finish the entire fish, as it is believed that the unfinished portion represents the "surpluses" of the coming year.
22. Leeks (suàn, 蒜)
Leek is an auspicious food for Chinese New Year because the character "蒜" in its Chinese name (蒜苗/大蒜) sounds like calculating ("算") in Mandarin, symbolizing wealth. While i'm no fan of this on other days, i will make this Chinese New Year an exception.
23. Buddha's Delight (Luo Han Zhai, 罗汉斋)
A vegetarian dish that is considered auspicious in Chinese New Year, traditionally enjoyed by Buddhists Monks. Buddhists believed that as a form of self-purification, one should maintain a vegetarian diet for the first five days of the new year. With more than ten ingredients, you will definitely taste some of the "auspicious" vegetables like fat choy and snow fungus.