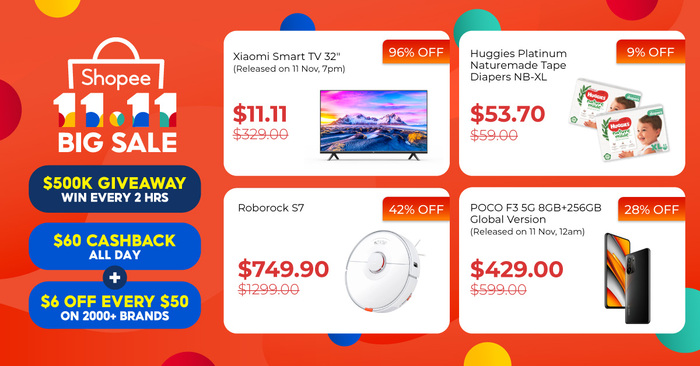 The wait is over — the much-anticipated 11.11 sale is upon us again and there is no better place to shop other than Shopee, the leading e-commerce platform in Southeast Asia & Taiwan. We're talking about all-time low prices on over 10,000 top-selling products, crazy $0.10 flash sales and mind-blowing Crazy Big Brand Discounts $11.11 deals on Nintendo Switch, 32″ Smart TV and more! Get into action before it's too late and lay your hands on the best deals with $60 Cashback All Day + $6 Off Every $50 on over 2,000 Brands! Don't forget to shop every 2 hours to get 1 chance per $1 spent to stand a chance to win $500,000 worth of prizes – only on 11 Nov during Shopee's 11.11 Big Sale!
To get the ball rolling, Shopee will be dropping $0.10 Hourly Deals at 33 time slots on 11 November during the Crazy Flash Sale. At different hours of the day, you can snag massive discounts during the midnight rush hour at 12am, 10-cent bubble tea deals at 2pm, trending TikTok deals at 4pm and brand boxes & bundles for big savings at 7pm. On top of that, go frenzy with up to 80% off over 10,000 best-selling products — you better get moving if you want to cash in on the biggest deals this 11.11! 
For those of you holding out for a new phone or a new gizmo, you'd want to catch the Super Tech Expo, offering up to 90% off best-selling electronics including deals at $1.11, $11.11 and $111.11 that will be released over 4 time slots. At the same time, you can also expect the lowest price for electronics under the Crazy Big Brand Discounts such as Apple, Dyson, Nintendo and more.
You'd want to keep an eye on the Fitbit Official Store on Shopee during 11.11 – especially if you're on the hunt for a snazzy smartwatch or a handy fitness tracker. P.S. Be the first to get your hands on their most advanced fitness tracker to date — the Fitbit Charge 5.
All of these deals are available only on 11 November. Scroll down for a sneak preview of some of the top deals on Shopee. Get ready with your fastest fingers to snag these deals!
1. Nintendo Switch Console Animal Crossing New Horizons Gen2 (Singapore Nintendo Official Warranty)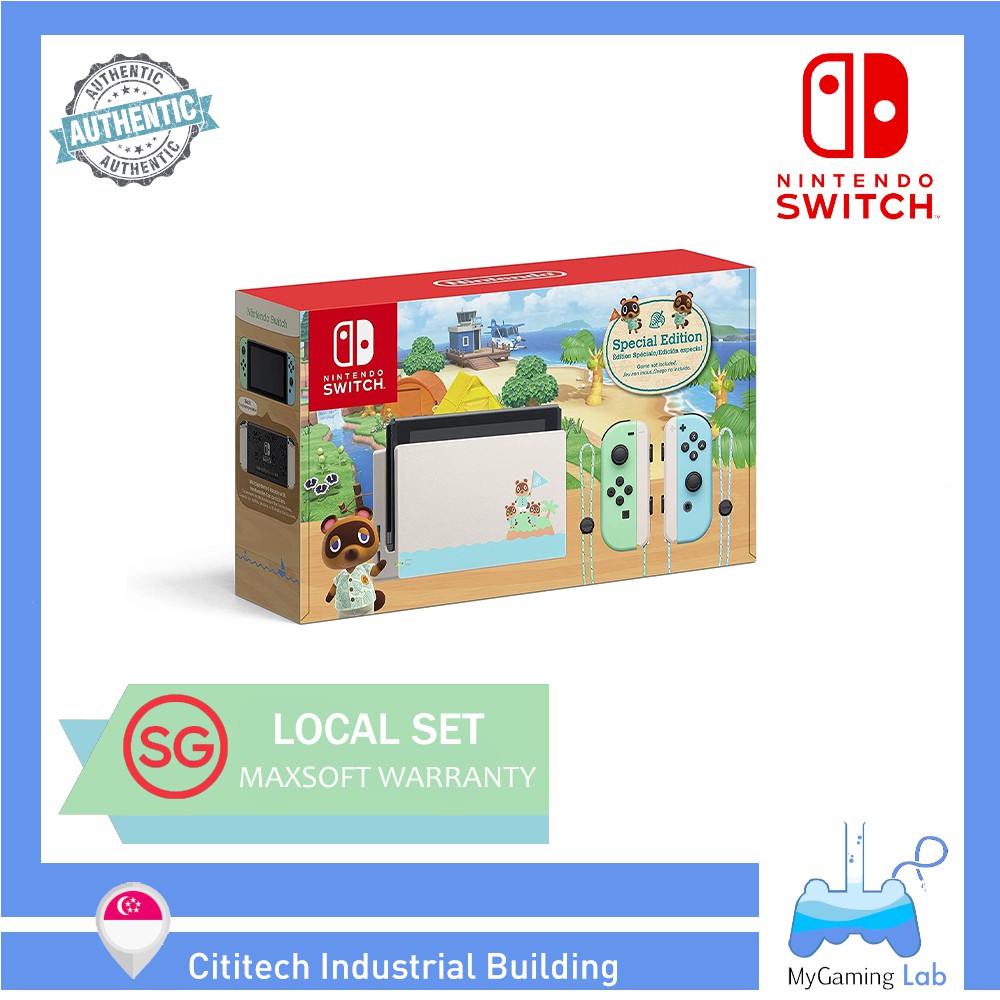 $479.00 $11.11 – Only on 11 November, 11 AM

Limited quantities only
Fans of Animal Crossing will fall in love with this Nintendo Switch Console: New Horizons Edition. The special edition model comes with a dock that is adorned with your favourite Tom Nook and Timmy & Tommy Nookling characters along with a pair of lovely pastel green and blue colours Joy-Con™ controllers. Keep in mind though – there are only limited sets available so if I were you, I will camp in-app to make sure I snag one of the highly coveted sets.
2. Cornell 2 in 1 Steamboat BBQ Pan Grill Hot Pot Set CCG EL88DT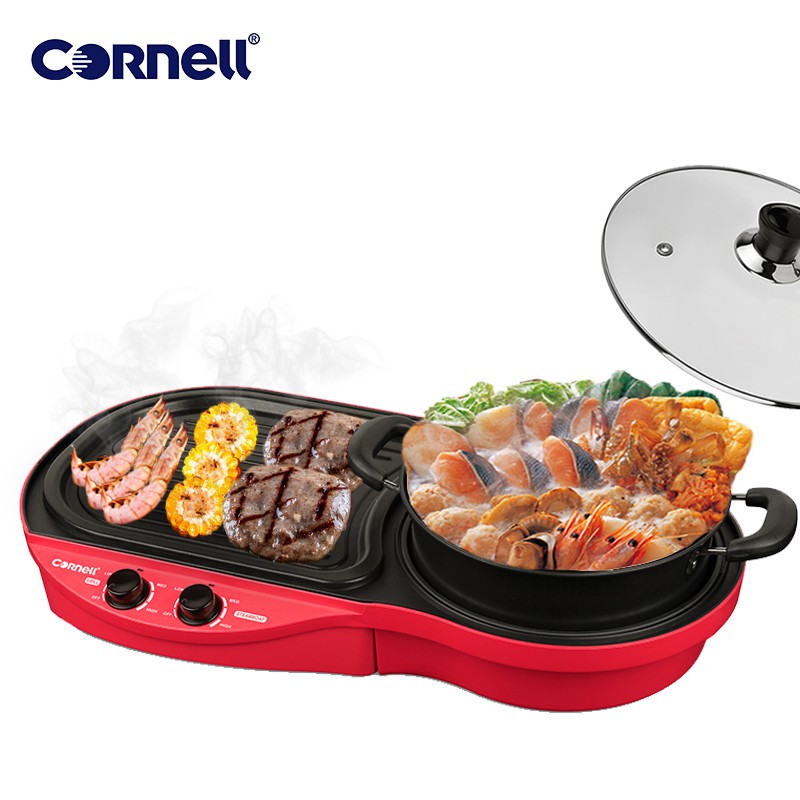 $149.00 $11.11 – Only on 11 November, 3 AM

Limited quantities only
You can now have BBQ and steamboat at the same time with the Cornell 2 in 1 Steamboat BBQ Pan Grill Hot Pot Set – all at the comfort of your own home! Enjoy your favourite shabu-shabu while grilling meat or seafood simultaneously. 
3. Xiaomi Smart TV 32″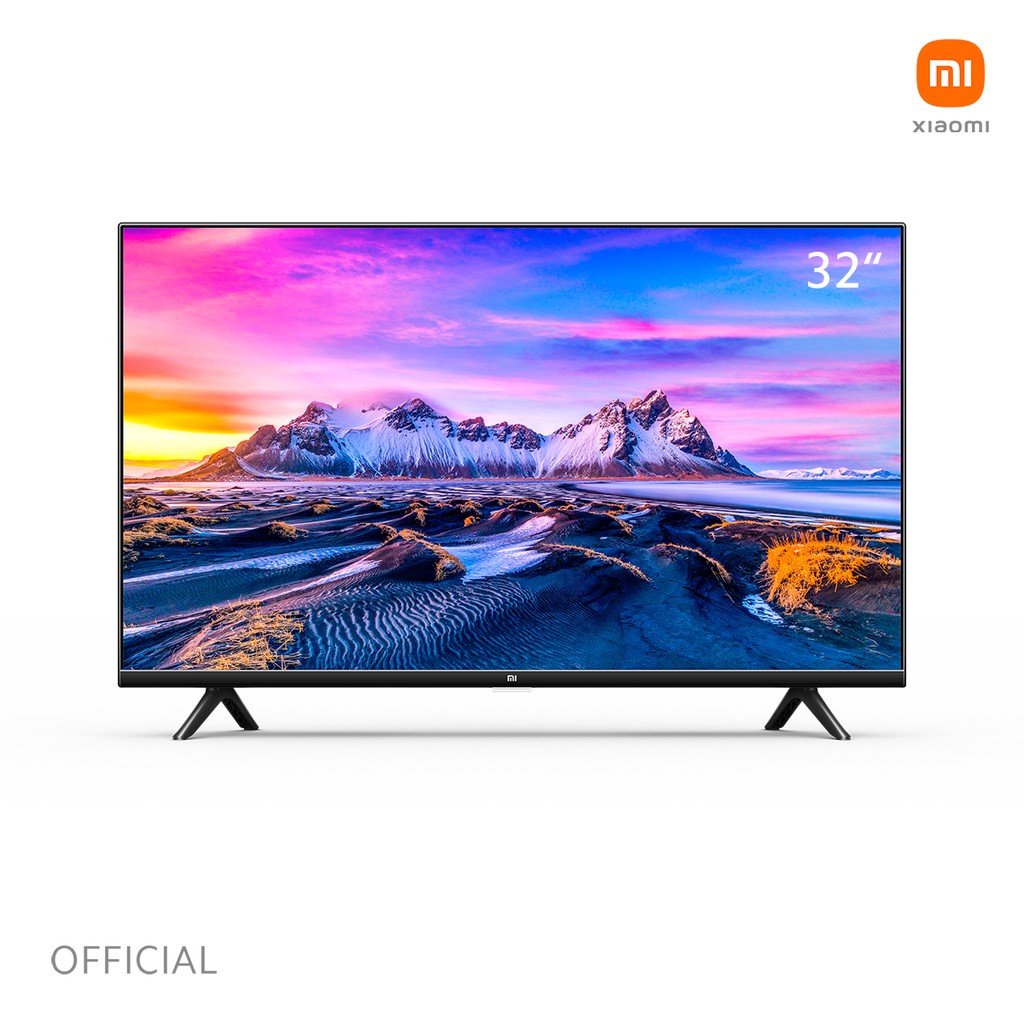 $329.00 $11.11 – Only on 11 November, 7 PM

Limited quantities only
Want to binge-watch your favourite Netflix series? Check out Xiaomi's 32-inch Smart TV that comes with all the multi-functionalities with built-in Google Assistant and Google Voice Search. With an incredible display and superb audio quality, this TV is a smart choice for those who want a features-packed Android TV without a hefty price tag. You'll need to act fast so snag a set this $11.11.
4. POCO F3 5G 8GB+256GB Global Version [1 year warranty]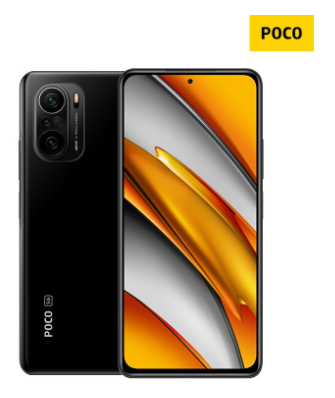 $599.00 $429.00 – Only on 11 November, 12 AM

The Real Beast, POCO F3, is the most powerful POCO device so far which guarantees faster read-write speeds for multitasking. The 360Hz touch sampling rate and the fine-tuned touch algorithm allows the phone to respond extremely fast to the touch of your fingertips. Equipped with triple microphones with 360° surround sound pick-up capabilities, be prepared for that immersive entertainment experience on the go! 
5. Huggies Platinum Naturemade Tape Diapers NB-XL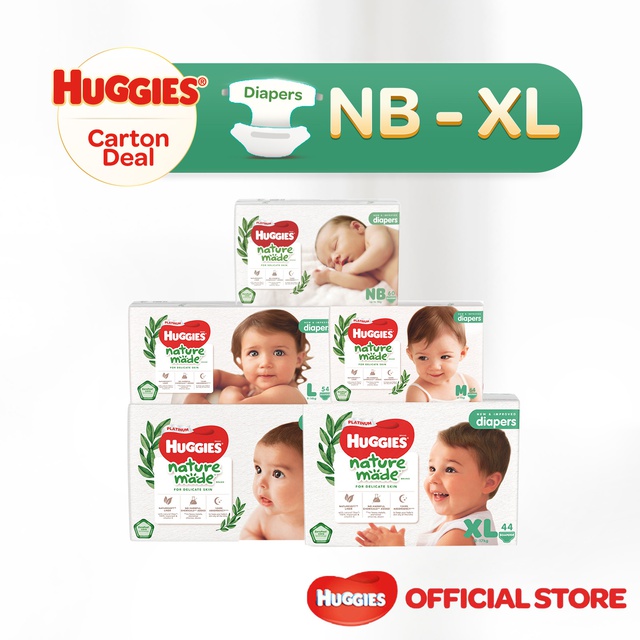 $59.00 $53.70
If you're looking for the best diapers for your little one, Huggies got you (and your baby!) covered. Made with European imported natural fiber, the Huggies Platinum Naturemade Tape Diapers keeps your baby's skin clean, dry and more comfortable. It is super absorbent so that your baby stays dry overnight while nourishing the skin with Vitamin E derived from wheat germ oil.
6. Roborock S7 UltraSonics Mopping, Break & Scrub Dry Stain, Carpet Detection, Auto Mop Lift Up, Full Silicon Soft Brush
$1,299.00 $749.00
No more manual sweeping and mopping the floor. Meet the Roborock S7 – your home cleaning assistant that combines both sweeping and mopping at the same time. Using a sonic vibration technology, this household handy helper scrubs up to 3,000 times per minute leaving behind only sparkling clean floors. It also uses ultrasonic sound to detect uneven surfaces, so that it cleans better without getting your carpet wet.
7. Baseus Earphone Portable Storage Bag Disk Case For Cable earphone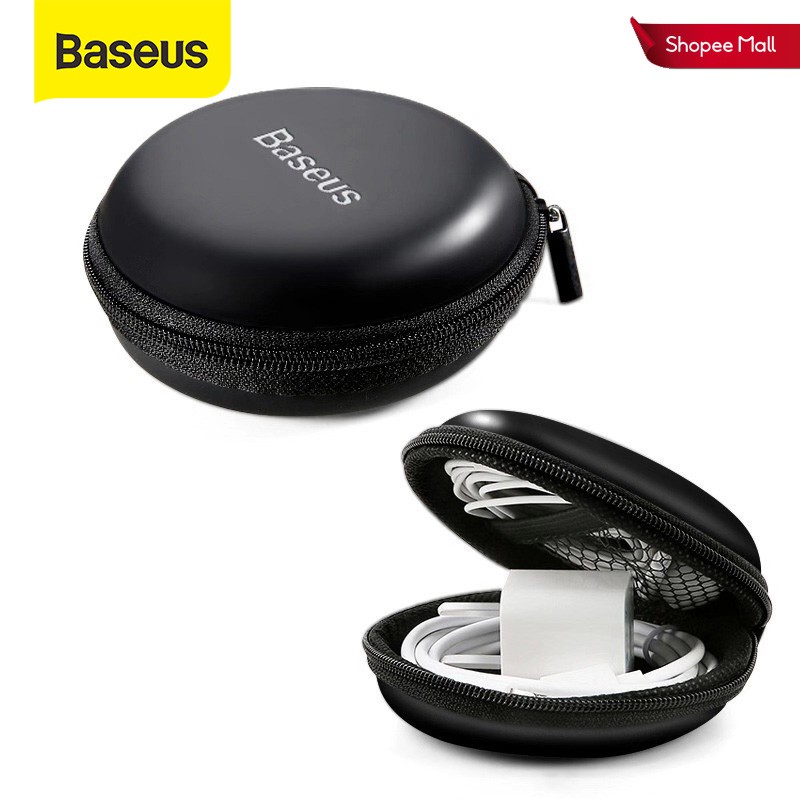 $4.50 $0.10
Store your earphones, USB cables, memory card and other accessories with the Baseus Storage Bag Disk Case. Compact yet tough, it is made from reinforced PU leather to provide the maximum protection for your electronic items while keeping dirt and dust away.
8. Ka 4in1 Antibacterial Laundry Capsule Refill Pack Detergent 36pcs x 6 Packets (Anti-Dust Mite) + Free Foaming Handwash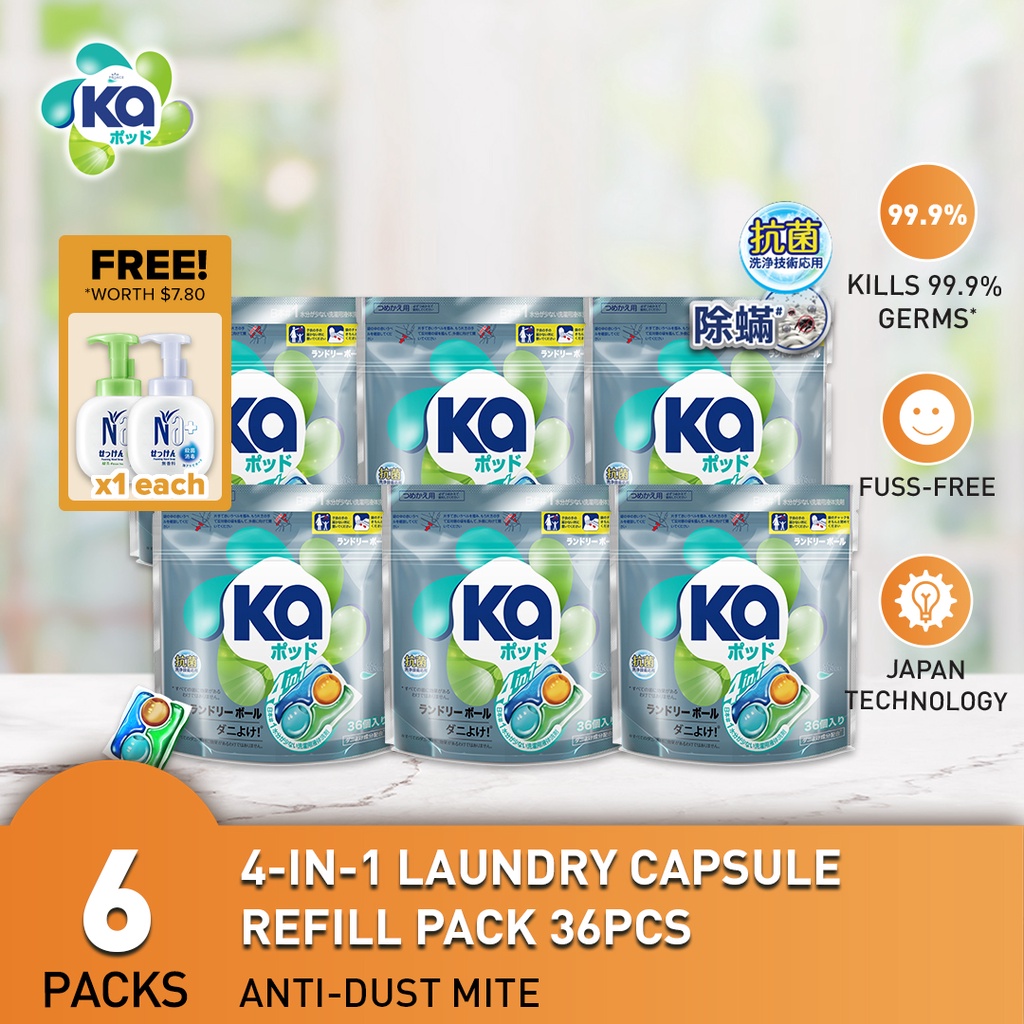 $151.20 $92.80
The Ka 4-in-1 Antibacterial Laundry Capsule is a game changer when it comes to doing your laundry. Proven to be as effective as regular detergent, these capsules are a fuss-free and convenient way to wash your clothes. No more messy spillage and measurement of detergent, it will do its work and wash up to 6kg of clothes while keeping them soft, clean and fresh-smelling.

And this is just a teaser of what you can look out for on 11 November, there's a whole lot more for you to check out on Shopee!
P.S. New Shopee users can enjoy $7 off your purchases with no minimum spend, for the first 30 redemptions only with the promo code <SHOPEE1111MD>! 
Start shopping at the Shopee's 11.11 Big Sale now!