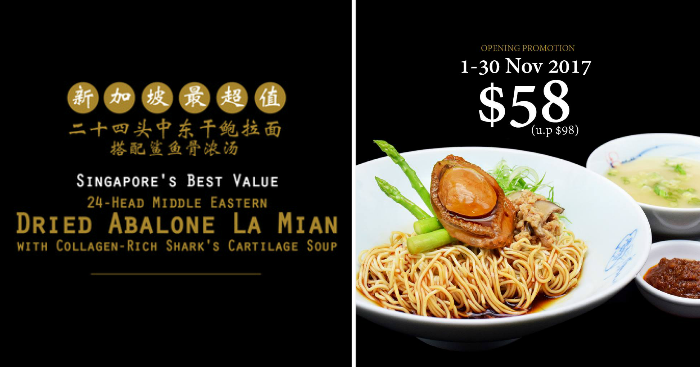 GRAND OPENING SPECIAL AT ORIENT PALACE  At $58 ONLY* (u.p $98), come savour the signature La Mian with Braised Whole 24-Head Middle Eastern Dried Abalone at Orient Palace!

Served with one of the highest grade dried abalones, braised for at least 48 hours for a smooth and springy texture, the rich and intense flavour will keep you wanting for more!

This nourishing La Mian also includes a generous serving of truffle oil, seasonal vegetables and collagen rich shark's cartilage soup. The laborious cooking method ensures all the goodness and flavours of the ingredients are fully extracted. Don't miss out this premium dish served at a pocket-friendly price!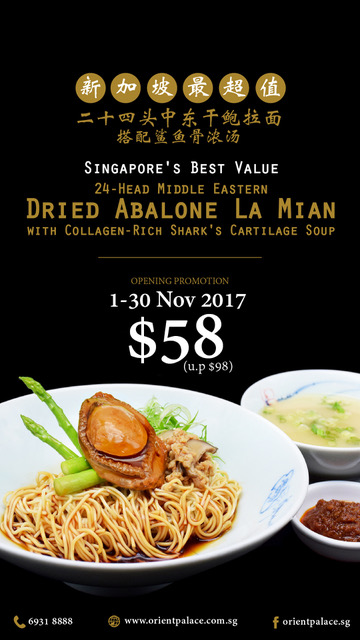 Orient Palace, a one-stop destination for dining, spa, wellness therapies and live entertainment, is the ideal venue for family and intimate gatherings with your loved ones.

Enjoy this special promotion till 30 November 2017. Call us at +65 6931 8888 for reservations today!

Add:  407 Havelock Road, #01-01, Furama Riverfront Annex Building, Singapore 169634   

 *Terms Apply.