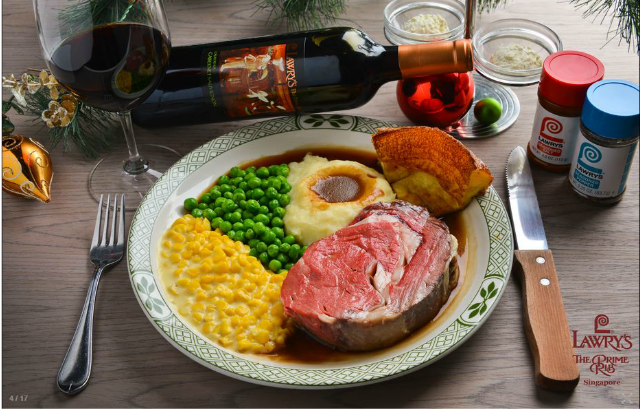 (Photo: Lawry's the Prime Rib)
*Update 22 May 2015: This deal is fully redeemed*
Singtel-Hungrygowhere has came up with some dining deals you don't want to miss!
One of which is the promo deal on Lawry's the Prime Rib.
Singtel users get to enjoy their 4-course set meals at only $50++! (U.P $120)
Perfect for a birthday and anniversary celebration.
Menu from HGW:
 Freshly Baked Classic Hard Roll
Starter:
The Famous Original Spinning Bowl Salad (A blend of crisp Romaine, Iceberg Lettuce, baby Spinach, shredded Beets, chopped Eggs and Croutons, tossed with our exclusive Vintage Dressing in a salad bowl spun on a bed of ice); OR
Cream of Mushroom
Appetizer:
Traditional Lump Crab Cake (Juicy Crab Cakes with homemade Tartar sauce); OR
Fresh Shucked Oysters (3 pieces); OR
Pan seared Hokkaido Scallops and Shrimps (Served with Strawberry & Mango Salsa)
Main:
Signature Roasted Prime Rib of Beef (Our 160gm roasted Prime Rib of Beef is carved to order and served with US Idaho mashed Potatoes, Yorkshire pudding and whipped cream Horseradish) ; OR
Fresh Fish Selection of the Day (Our fresh Fish is selected daily by our Executive Chef and varies with the season.) *Please check with your server for today's catch; OR
US Kurobuta Baby Back Rib (Served with BBQ sauce)
Dessert:
Summer Berries Cheesecake (Oven baked Raspberry Cheese Cake served with fresh Blueberries, Raspberries & Strawberries Garnished with Raspberry sauce & Pistachio Nuts); OR
Lawry's Mud Pie (Delicious dark combination of Häagen-Dazs Vanilla, Coffee & Chocolate Ice Cream on digestive biscuit, topped with Hot Fudge); OR
Lawry's Hot Fudge Sundae (Vanilla Häagen-Dazs Ice Cream, Hot Chocolate Fudge garnish with Chocolate Pavlova & Brownie)
Beverage:
Freshly brewed Gourmet Coffee or Gryphon Artisan Tea
You should be trying out their Signature Roasted Prime Rib of Beef, and if you don't what a steal this deal is: Seth Lui has wrote a comprehensive review on his blog here: http://sethlui.com/lawrys-prime-rib-singapore-food-review/
A 130g prime rib steak would have set you back $63 and considering that there is a starter, appetizer, dessert and beverage included in this package, $50 is really worth it in a fine-dining restaurant.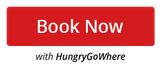 Terms & Conditions:
1. Reservations must be made through HungryGoWhere Website or via Mobile.
2. Present Singtel operator logo on your mobile phone upon arrival at the Restaurant, to enjoy this offer.
3. Reservation period starts from 14 to 20 May 2015, for dining between 14 May to 10 June 2015.
4. Minimum booking of 2 guests apply.
5. Valid daily, for both Lunch & Dinner (6:30 pm and 9 pm seatings only).
6. Not valid in conjunction with any other promotions, offers or discounts.
7. Lawry's The Prime Rib's management reserves the right to terminate the Promotion and change or vary the promotional terms and conditions at any time without prior notice.
Now watch what Jamie Yeo has to say about Lawry's: