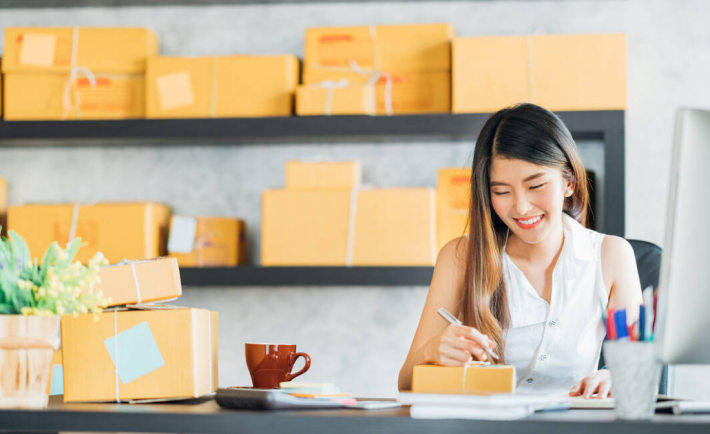 Image Credits: wsj.com
Did you chance upon a business idea recently? Or maybe you've started a home business and thinking if you should make it official? To register your home business, you will need to know the business structure you have. Checkout Pilotoasia.com for more advice and help on these matters.
There are four main types:
Sole-proprietorship (one owner) or partnership (two or more owners)

Limited Partnership (LP)

Limited Liability Partnership (LLP)

Company
You can refer to the Accounting and Corporate Regulatory Authority (ACRA) website for more details on choosing a business structure.
#1: CHOOSE A NAME AND REGISTER IT
Once you've had your business nature sorted out, it's time to choose a name. Most importantly, try to stick to these rules when deciding on a suitable name:
One that is unique to your business

Words used are non-vulgar, obscene, or offensive

Allowed by order of the Minister for Finance
After that, do a quick check via BizFile+ to see if your chosen name is available. If yes, go ahead and register your business name via BizFile+. This name application will cost 15 SGD.
During the application, you will need to identify the primary and secondary activities of your business. Choose the most relevant Singapore Standard Industrial Classification (SSIC) code corresponding to your business activity. You can search for the relevant SSIC code here.
#2: RECEIVE YOUR UNIQUE ENTITY NUMBER (UEN)
After successful registration with ACRA, you will receive your UEN.
The UEN is an identification number that is generated for a business entity. You should use it when communicating with government agencies. You don't have to pay! It is issued free of charge.
#3: CHECK WITH THE HOUSING AND DEVELOPMENT BOARD (HDB)
To proceed from here, you should know what's under the HDB home business schemes. There are two main types. Firstly, the Home-Based Small Scale Business Scheme. Secondly, the Home Office Scheme.
Home-Based Small Scale Business Scheme
To cut to the chase, you won't require HDB's approval under this scheme. As the name suggests, you will only be able to carry out small scale home-based activities. Also, it should only function as an add-on to your income. Here are some businesses that can be carried out:
Baking

Sewing services

Small group private tuition (three students or less at a time)

Work as a freelance artist, journalist, photographer, or writer

Hairdressing, beauty, manicure, or pedicure services (massage services are not allowed)
However, there are several guidelines to keep. This includes having no physical or paid advertising for the business. You must also abide by the regulations of authorities like the Singapore Food Agency (where applicable) and the Fire Safety and Shelter Department.
Home Office Scheme
You will need to apply for a license under this scheme. There are permissible and non-permissible businesses to take note. If your business falls under the non-permissible category, your flat can only be used for administrative business activities. In addition, clients or customers are not allowed to visit your home office.
Here's a quick look at the categories extracted from HDB's website:
Permissible businesses
Accountancy services

Architectural services
Consultancy services (e.g. business, engineering, IT/ management, education etc.)
Design/ advertising services
Insurance/ financial planning services
Technology-based/ knowledge-intensive business

Trading office
Non-permissible businesses
Beauty, hairdressing, or massage therapy services 

Business by building/ renovation contractors
Card/ palm reading or fortune-telling in any form
Commercial school (e.g. music school, language school, tuition centre, etc)
Conducting of dressmaking/ embroidery lessons
Food catering/ restaurants
Ophthalmic dispensary/ pharmacy/ medical/ dental clinic or veterinary medicine
Repair of household appliances, electrical products, footwear, etc.
Sales/ marketing that involves conducting seminars/ talks for large numbers of customers
Shops and any form of retail activity, including pet shops
Manufacturing, preparation, or processing of products and/ or goods such as:
Wood and/ or paper products
Watches and clocks

Other related products
#4: APPLY FOR A LICENCE
If you meet the requirements, you may go ahead and apply for a licence via GoBusiness. Formerly known as LicenseOne, it is a one-stop business licensing portal.
Meanwhile, get ready your Singpass details and credit card as you will need to pay a non-refundable administration fee of 20 SGD. The licence is valid for five years and you can renew it via the same platform.
Please contact the GoBusiness helpdesk at 6774 1430 or email them at [email protected] if you require assistance.
Operating hours:
Monday to Friday: 8am to 8pm
Saturday: 8am to 2pm
Excluding Sunday and public holidays
#5: ADDITIONAL THINGS TO NOTE
Finally, before you go and get things done, remember that your business will be subject to income tax. To be specific, any income earned or received in Singapore from trade, business, profession, and / or vocation will be subject to income tax. For more information, head to the Inland Revenue Authority of Singapore (IRAS) website.
You may also register more than one business under the same address. For example, another family member of yours is also keen to apply for a home office… He or she may do so but must be an owner, authorized occupier, or tenant of the flat.
Now, good luck and get going!