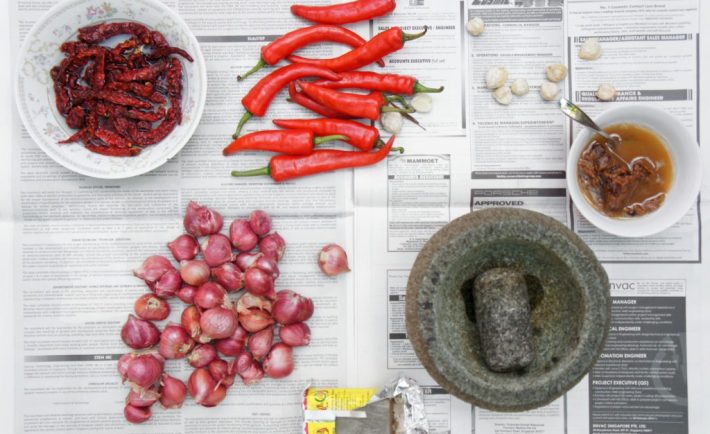 Image Credits: mummyicancook.com
Singaporeans' love for sauces will never die. Especially chilli sauce. We can't deny how good it is with almost everything. Be it fries, nuggets, or noodles, eating it without chilli sauce just doesn't feel complete. If you share the same sentiments, grab a bottle or two of the homemade chilli sauces we're about to introduce to you.
#1: @SHIOKUNTILBLUR
View this post on Instagram
The name is already a giveaway. It's so good you have to try it to believe it.
At the time of writing, there are mainly two types of chilli sauces you can purchase – the SuperShiok Sambal Original and Sambal Kicap. It's made from fresh chilli and not dried ones, in case you're wondering. They've also advertised it as non-oily for the health-conscious. It's also halal and safe for Muslims to consume.
Price: 6 SGD
How to order?
Website: www.shiokuntilblur.com
WhatsApp: 9239 4542
#2: @TINKERFUN.HOMEMADE
Tinkerfun is the brainchild of Michelle Lee, a producer that has worked on MasterChef Asia and MasterChef Singapore. She's also an ex-chef with work experiences in restaurants such as L'atelier Joel Robuchon and The Black Swan. You can expect the best blend of chillies from her home kitchen!
Other than chillies, watch her Instagram space for new food creations. We're now depressed that we missed out on her bak zhang for the Dragon Boat Festival last June.
Price: 9.50 SGD
How to order?
WhatsApp: 9772 0558
DM via Instagram: @tinkerfun.homemade
#3: @MALAHGIC
View this post on Instagram
MaLAHgic, which refers to 'mala magic, lah', is the creation of a 76-year-old grandfather. It was born out of love for his 10-year-old grandson who is a mala fanatic. Now, he's making it for you! Your bottle of MaLAHgic will not just be purely spice but a healthy and preservative-free version.
Delivery is free for purchases over 100 SGD. If not, 10 SGD delivery fee applies. You can also opt for self-collection at East Coast.
Price: 10 SGD
How to order?
Google Form: Fill up this order form
#4: @ZHEN_DE_LA
View this post on Instagram
Warning: This is not for amateurs. The spice level is no joke for some. If you're confident identifying yourself as a chilli master, then go ahead and purchase a few bottles of their fiery sambal belachan. It's the creation of Chef Jeremmy Chiam of Le Binchotan.
You can have the fiery sambal belachan chilli sauce delivered to you together with the label's Hokkien mee, flower clams, and fried chicken delights.
Price: 10 SGD
How to order?
WhatsApp: 8721 3939