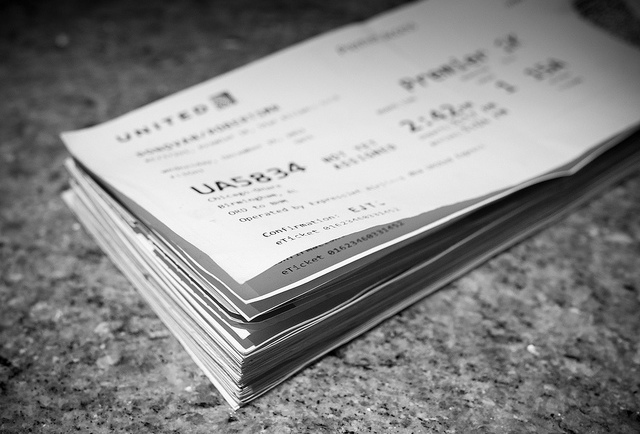 (Photo Credit: Robert S. Donovan, via Flickr)
Planning for a getaway? It's never too early to start planning for the trip. Before you get excited over your dream destination, it pays to start scouting for the cheapest tickets.
There are many factors that affect the price of the ticket. The price of a ticket may fluctuate and differs across different airlines and the route taken. Ultimately, it depends on the basics of economics of supply and demand which explains for the variation in pricing.
Here we share with you 6 tips to save on your air ticket:
1. Choose your departure and arrival date wisely
Airlines segment their market to increase their profitability. In other words, they charge different travellers different price for the same route. How do they do that? Business travellers usually travel on a Monday and return on Thursday and Friday, and flying on these days would usually be more expensive than if you travel on mid-week, say Tuesday and Wednesday. Avoid these dates if your travelling plan is flexible.
2. Buying early on the right day
While it is ideal to purchase your ticket when airlines launches a sale, you can also enjoy up savings if you make your purchase on the right day. According to flight comparison website Skycanner, it would be the cheapest to book as early as possible for budget and short-haul flights. The best time to book is 28-29 weeks ahead of your travelling date from Singapore. Whereas for full service and long-haul flight, it may be cheaper to wait, but not too long from your flight date. A general benchmark would be between 17-22 weeks ahead of scheduled flight.
3. Flying on less peak hours
If you are flexible with your travelling plan, flying on less popular hours will get you cheaper ticket. Most people do not want to reach their destination late in the evening or depart early in the morning, but as long as public transport is available to bring you to and fro from airport-accommodation, why not?
4. Use flight comparison websites
With advent of technology, the introduction of flight comparison websites have helped many individuals compare prices of different airlines at their selected date. There are many sites like SkyScanner, Kayak, Zuji and Expedia which does the job for you. Use at least 2 to make sure that you are getting a bargain for your air ticket.
5. Credit Card Perks
Before you book your next flight, check if your credit card is eligible for rebates, air miles or free travel insurance. Many banks are offering travelling credit card to chalk up your mile points which can be used to offset your next ticket or upgrade your seats. If you are a frequent traveller, you may even redeem for free tickets. If not there are also rebates and free travel insurance as an icing to the cake.
6. Shop for Travel Vouchers
You can search for travel vouchers that are up for sale on classified sites like Gumtree and STClassified. These vouchers are usually offered by individuals who have won them in lucky draws and gifts and do not intend to travel. These vouchers are usually being offered at 10-20% cheaper off its value.
7. Use our Hotels Search Engine (*Updated 9 March 2015)
Have you heard of Trivago, Expedia, Hotel.com? Yes, these hotels aggregators search thousands of hotels to find you the best deals but which one to use? Use our hotels search engine (http://hotels.moneydigest.sg) as we search these aggregators to bring you the best price guaranteed hotels.