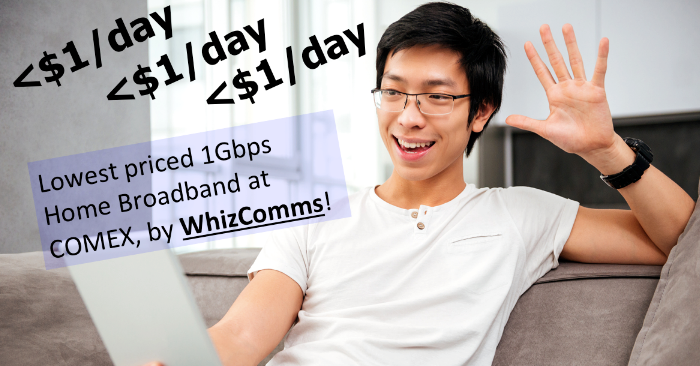 WhizComms offers the lowest priced 1Gbps home fibre broadband plan we have ever seen in Singapore. Crazily priced at an effective rate of $28 a month, you're only paying less than $1 a day for a 1Gbps home fibre broadband plan. Worry about the lock-in period? There are 12 month options available from WhizComms too! The super deal is for real at COMEX 2017, at Suntec Convention Centre. Check out booth 6329 at COMEX 2017, level 6, or find this deal online at whizcomms.com.sg!
Everybody is talking about "Mesh, Mesh, Mesh" today when they check out home broadband services. So what is Mesh Wi-Fi all about? If you often encounter Wi-Fi dead spots at home, you'll probably be keen to know more about Mesh Wi-Fi.
If you're not sure about Mesh Wi-Fi, WhizComms says you don't have to commit to anything yet. They have just launched the "Mesh Wi-Fi Ready Plan" – a plan that is exclusively available for 4 days only, during the COMEX 2017 show. Valid for 24 months at $39 per month with free 3 months of subscription, this Mesh Wi-Fi Ready Plan is especially beneficial to homeowners who are not sure if they require Mesh Wi-Fi service for their homes. With a free unit of TP Link M5 wireless router included in the package, they are able to easily maximize their home Wi-Fi coverage through the Mesh Wi-Fi solution if the need arises, from only $128 net.
Now back to the prices. Which is the cheapest Wi-Fi available at COMEX 2017? Once again, we've done the job for you. See table below!
Note – we are only comparing the below based on 1Gbps home broadband plan.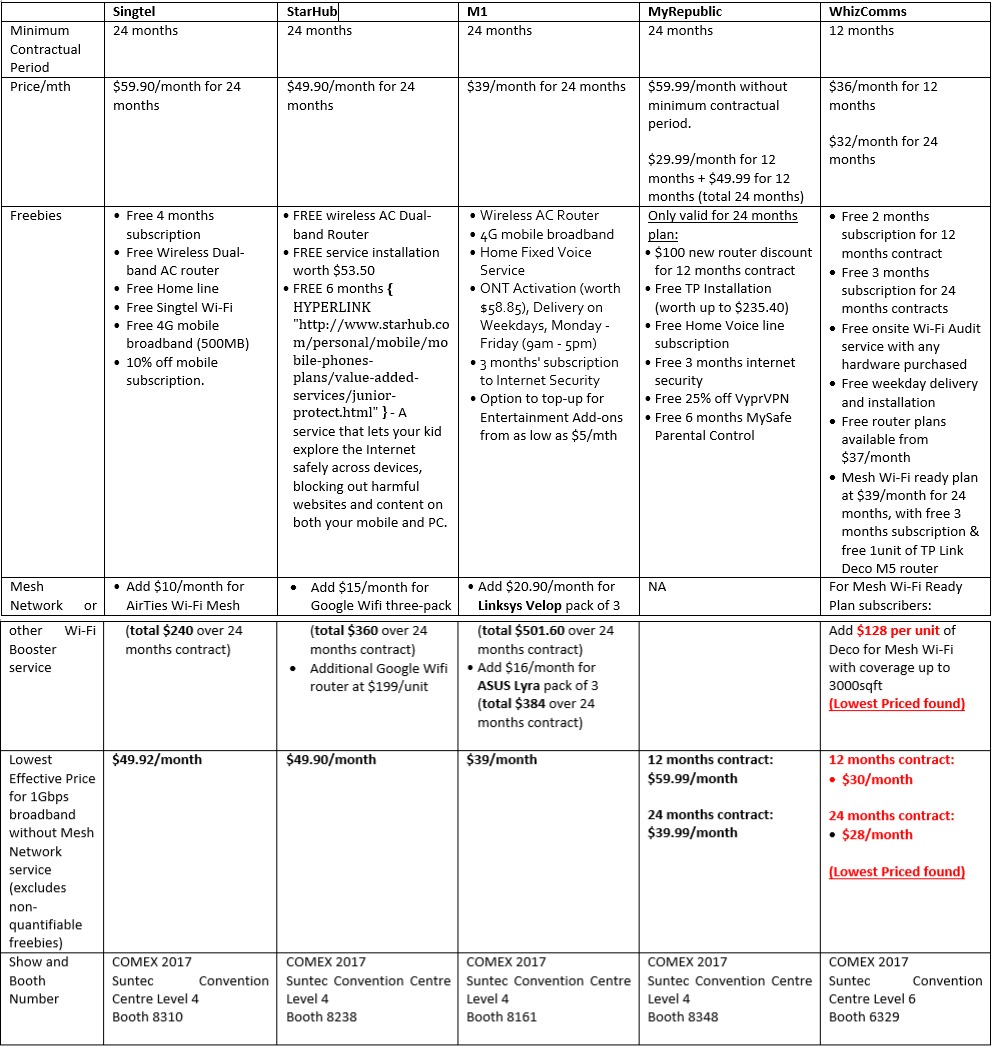 Want to save money, get the best value and with greatest convenience? WhizComms throws in free Wi-Fi audit service at your home if you purchase their accessories, they assure you convenience. Must drop by their booth at level 6 if you're at COMEX 2017 this weekend!
Want the shortest commitment for your home broadband and don't mind to pay for it? Go for MyRepublic with no contracts. Be prepared to pay $59.99/month, no free months available.
Cheapest Mesh Wi-Fi service? After doing our calculation, WhizComms is priced at $5.33/month if you spread out their $128 equipment price across 24 months.